We selected the 3 Best Chevy Spark Home Chargers. They should get its 21 kWh battery pack charged up in no time for a very low price. 2 of these are portable chargers while the third is a wall box. We'll be explaining everything from charging rate to smart features and IP Rating.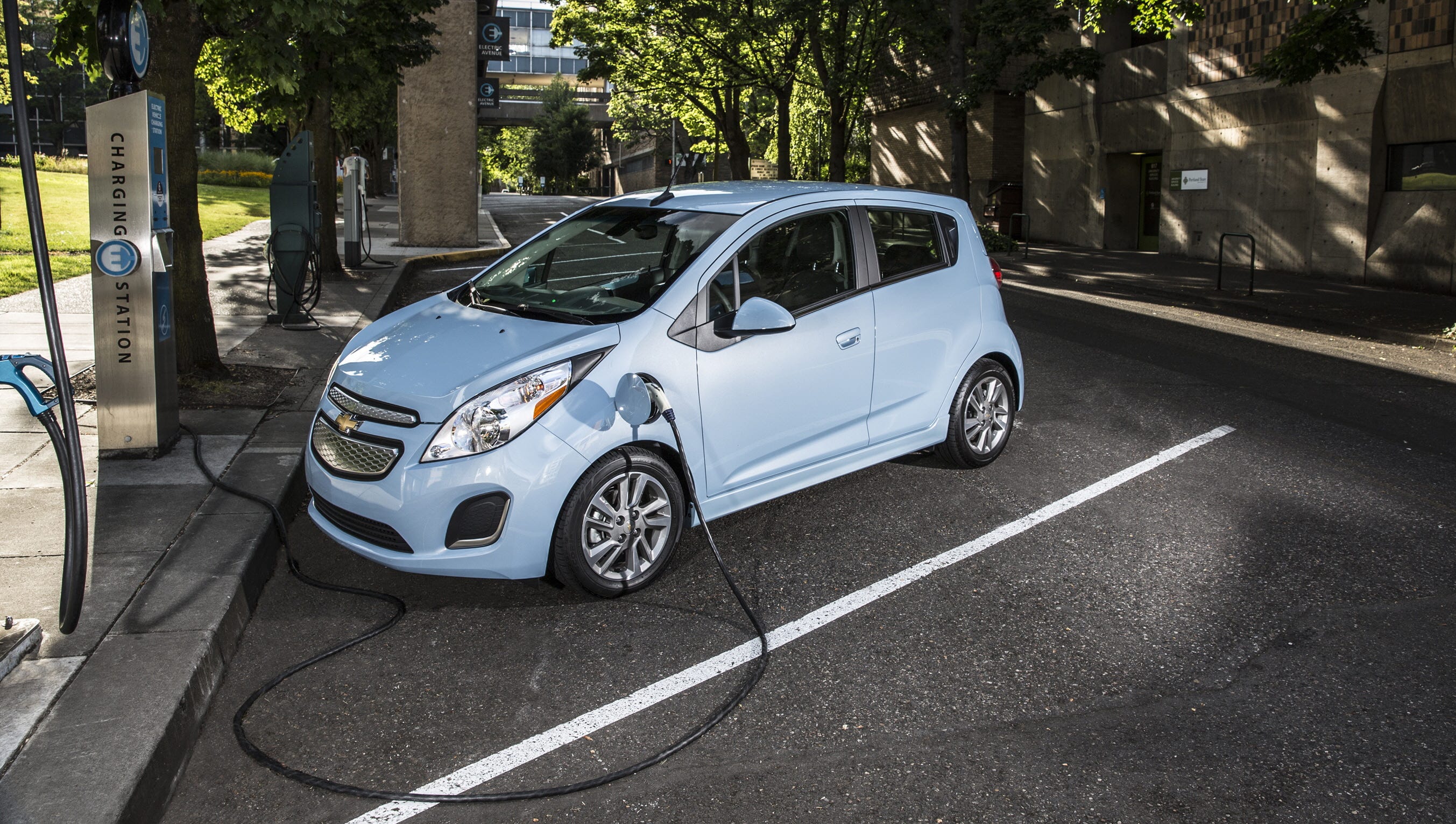 Let's have a look at each product in particular.
MEGEAR – Level 1-2 Portable EV Charger (16 Amp)
The first home charger for the Chevy Spark which we'll talk about today is the Megear Level 1-2 Portable Charger. This is one which you can just carry around in the trunk of your car. The Megear can be connected to a NEMA 5-15 typical household outlet which means it will be able to deliver 1.9 kW to your Chevy but if you plug it into a NEMA 6-20 outlet then it will deliver 3.84 kW. That's about as much as the Spark's on-board charger can take and this is why we selected this charger because in terms of charging rate, it's not worth paying more for a fast charger if you're not going to get the added benefit of higher charge speeds.
That being said, it has a charging cable which is 25 feet long, more than enough to cover most situations. The end which plugs into your car's charging port uses a J1772 connector, the exact one that you need for the Chevy Spark and basically any EV in the US and that includes Tesla cars which now come with an adapter. When you open the cap on the front-left of the car, you'll see the two charge ports. J1772 is the upper one. The charger is tethered which means you can't just switch the charge cable for another one. If it isn't long enough, you can just buy an extension cord off Amazon.
The Chevy Spark EV Charger doesn't have any smart features, not even a charge delay button so it lacks there but it is IP55 rated which means that rain and snow shouldn't hurt it and it will continue to charge. It is also covered by a 1-Year warranty.
Lectron – Level 2 Portable EV Charger (16 Amp)
Then we get to our next home charger for the Chevy Spark which is the Lectron Level 2 Portable EV Charger. This one is much like the Megear except for a few key differences. The major one is that this is solely a Level 2 charger, you can't plug it into your typical 5-15 outlet. It will deliver 3.86 kW of power and 16 Amps of current to your Spark through its 21 ft. cable. This charging cable is another one of the key difference and more precisely its length because as you may have noticed it is 4 feet shorter than the one on the Megear. It's not a lot, but if cable length is a key issue, you may want to go with the Megear.
Just a side note on the smart features. Now even though these first two lack the ability to do scheduled charging, you'll be happy to know that your Chevy Spark already knows how to do that. You can set it up from the dashboard menu because it allows you to set the start and end time for each day of the week. That way you can set it up to avoid peak energy prices and take advantage of the cheapest electricity that you can find during the late night hours.
The rest is more of the same with this charging solution because it uses an SAE J1772 connector and it too has 4 indicating LED lights, no LCD display or any smart features with the device being backed up by a 1-Year warranty. These two chargers are great value if you want to use them with the Chevy Spark because you don't need more than this. However, it is possible that you would be interested in having some smart charging features and that's what we will cover in the next charger we feature here.
ENEL X JuiceBox 32 – Level 2 EV Charging Station (32 Amp)
This is the JuiceBox. It's not portable, you need to mount it on the wall but it is a very strong home charger for the Chevy Spark and we'll explain why. First of all, it can deliver 7.7 kW of power to an EV and 32 Amps of current. Now of course we already know that the Spark can't take advantage of that because its AC charging rate is limited to 3.7 kW so you won't get any extra miles of range per hour of charge. But should you upgrade your EV at some point to one with a faster on-board charger, you might find it that you don't have to upgrade your charger as well.
The electric car charging station can be plugged into a NEMA 14-50 outlet and uses a 25 ft. charging cable with a J1772 connector at the end. So the length is good and the connector is just right for your Chevy and any EV in North America for that matter.
Indeed this charger may be considered too powerful for the Spark's battery capacity but a few places where this charger really shines and one has to do with smart features because it is packed with them. You get wifi connectivity, a smartphone app which can keep track of all your charging costs and energy usage. On top of that, you can remote control it and integrate it with Alexa and Google Assistant.
You can also do scheduled charging right from the app, no need to set it up from the car's dashboard. It can also do load balancing, so basically it will adjust its power so that it doesn't blow the fuse on the circuit, especially if another EV charger is connected. You'll find the same kind of features on devices like the Chargepoint Home flex or the Wallbox Pulsar but they are even more powerful and it might not be worth it to spend the extra money.
The good news doesn't end there because not only is the enclosure on this EV charging station beautifully designed but it also has a NEMA 4X rating which equivalates to IP66 meaning that it will continue to charge whether it is raining or snowing. This Chevy Spark charger is also backed up by a 3-Year warranty.