These are 4 Home EV Chargers which we selected for the Subaru Solterra. Two of them are wall boxes with smart charging features and two of them are portable chargers which are more flexible and have a lower price.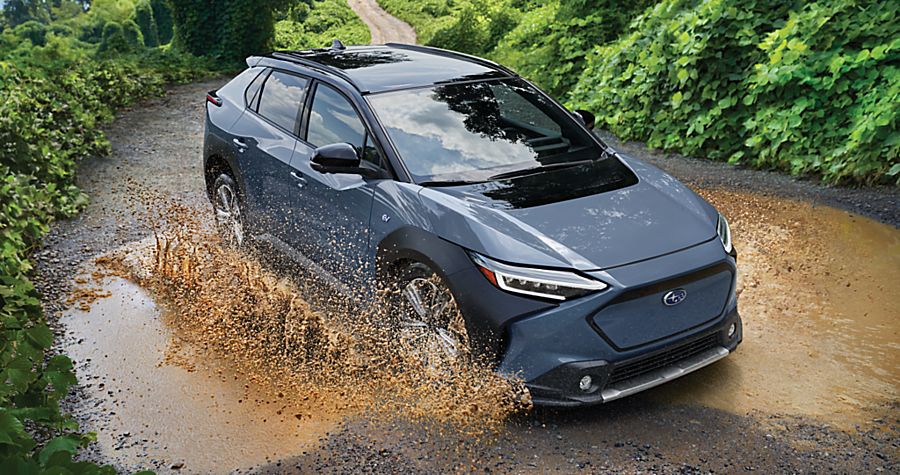 Let's have a look at each product in particular.
ENEL X JuiceBox 32 – Level 2 EV Charging Station (32 Amp)
The first Subaru Solterra home charger which we're going to talk about is the ENEL X JuiceBox 32. This is the actual optional charger which they present in their video as an alternative to the included Level 1 charger.
It can deliver 32 Amps of current and 7.7 kW of power. Now at this point you need to be aware of the fact that the on-board charger on the Solterra is limited to 6.6 kW of power so that is the most that you're going to get out of any of the chargers here. This is why we selected the 32-Amp JuiceBox to be the right option since the 40-Amp one would just cost extra without you getting any real charging speed benefit.
This Solterra charger comes with a 25 ft. charging cable which has a J1772 connector which you'll plug into your Subaru's charging port (You'll find the port on the front-left side of the electric vehicle, the AC charging port is the upper one. The one below together with the upper one are used for DC Fast Charging).
The charger itself has plenty of smart features including charge scheduling to avoid peak prices, load balancing together with wifi connectivity which keeps track of how much it costs to keep your Subaru charged up or provides real-time data on the charging process allowing you to remote control it even via your voice through Alexa or Google Assistant.
The unit is NEMA 4X rated (The equivalent of IP66) which means it is completely waterproof and dustproof. It can rain, it can snow, one thing is for sure that the JuiceBox will keep charging. It is also backed up by a 3-Year warranty.
Wallbox Pulsar Plus – Level 2 EV Charging Station (40 Amp, 9.6 kW)
Then there's our next Subaru Home Charger and that is the Wallbox Pulsar Plus, another great smart EV Charger. The version we chose is the 40 Amp which can provide 9.6 kW of power but just like with the JuiceBox, the Solterra's on-board charger will limit that to just 6.6 kW, so you can expect the same charging time.
It comes with a 25 ft. charge cable with an SAE J1772 to plug into your Subaru and a NEMA 14-50 connector to plug it into your home outlet. Alternatively, if you don't want to install an outlet, you can just hardwire it to your home circuit and just upgrade the fuse on the panel to a 50-Amp one or more and you're done.
In terms of smart features, it's the same story as before but here you also get Bluetooth connectivity in addition and it does have a solar excess function which allows it to draw power from the circuit only when the solar panels on your roof are generating excess energy. So basically given enough sunlight, you can charge your Subaru for free.
It too has a waterproof enclosure which has an IP54 rating making it suitable for outdoor installation and is backed up by the same 3-Year warranty.
Lectron – Level 2 Portable EV Charger (32 Amp)
If you don't to buy a home charging station which requires you to mount it on the wall then you can go for a portable charger. This Lectron is a solid option as a Subaru Solterra home and workplace charger.
It is fully portable, uses a cable which is 21 feet long and comes with a NEMA 14-50 connector. The Lectron can deliver 32 Amps of current and 7.8 kW to your EV. But you have to remember that this is a portable 240V charger and doesn't have any smart features.
Now even though this doesn't have the charge scheduling feature, the good news is that when you connect the cable to your Subaru, a scheduling tool will appear on your dashboard. There, you can tell it the exact time at which you want charging to commence then press the OK button on your steering wheel.
Still, there may be no smart features but there is at least an LCD display mounted on the control box which will tell you some basic info like amperage, charging rate, battery status and unit temperature. It only comes with a 1-Year warranty but this is more common in portable chargers.
Morec – Level 2 Portable EV Charger (32 Amp)
The last Subaru Solterra EV home charger we'll be looking at is this Morec portable charger. Now things are more or less the same as with the Lectron only this one has a longer cable stretching out to be 26 feet long and an additional NEMA 6-50 connector alongside the standard NEMA 14-50 one.
It has an IP66 rating so you can easily charge your Solterra in the rain or snow and the same 1-Year warranty. Out of these two portable chargers, the Morec has to be my favorite for home and workplace charging.
Regardless of which one of these home chargers you choose, they are guaranteed to charge as fast as your Subaru's charging port allows. If you want anything that's faster then you need to turn to DC Fast chargers.