The Smart EQ ForTwo is a great EV for city use but its battery capacity is just 17 kWh leading to just 80 miles of range. That's why we found 3 home chargers for the Smart that will charge it up in no time to get you going again.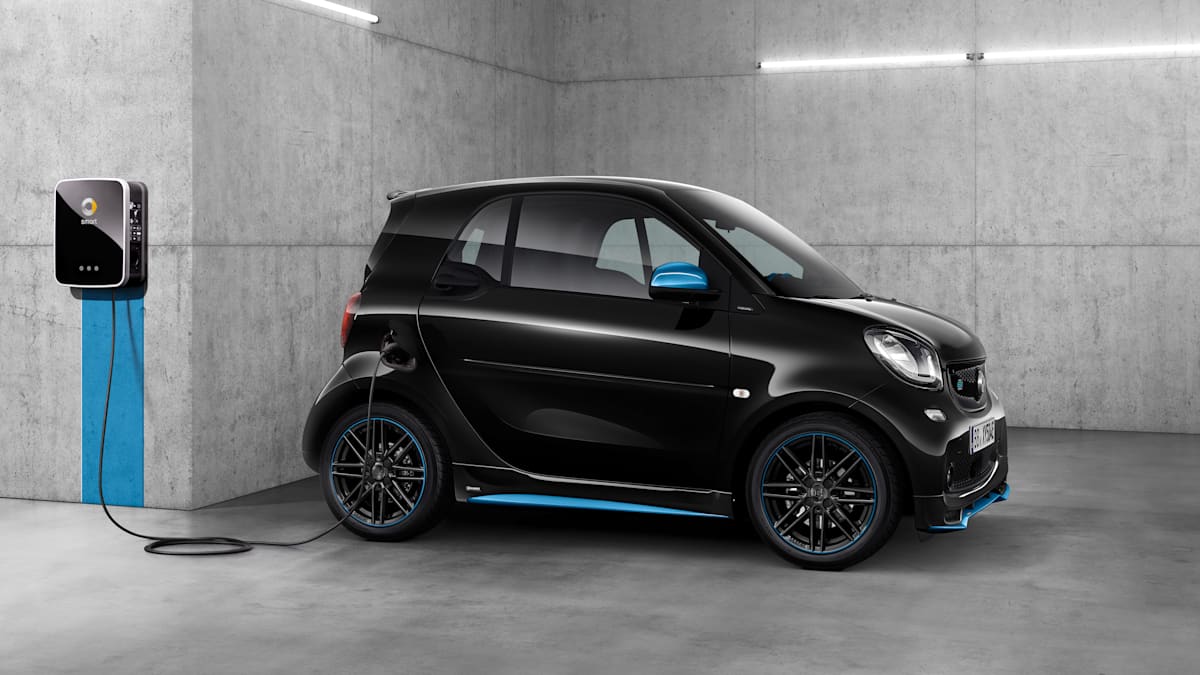 Let's have a look at each product in particular.
Juice Booster 2 – Portable EV Charger (32 Amp)
Let's have a look this first Smart EQ ForTwo home charger, the Juice Booster 2. This portable EV charger was made with a few key things in mind and the first one is to charge your Smart in record time. Sure, the battery may be small, but this one will charge it faster than any other device here because it can deliver 11 kW of power when plugged into a single-phase power source and 22 kW when plugged into a tri-phase outlet.
But it is important to note that the Smart's 7.4 kW on-board charger can only take 7.4 kW of power on a single-phase source, it can take the full 22kW from a three-phase source taking full advantage of the Juice Booster 2's capabilities. Out of all the chargers here, this one will charge your Smart EQ ForTwo in the shortest time. Because it is portable, you can just throw it in the boot of your ForTwo and have it available at hand anywhere.
Another great thing about this EV charger for Smart is that it comes with a host of adapters. Its charging cable may not be the longest at just 3.1 meters long but you can buy it in different bundles with up to 9 adapters. By default, it comes with a Type 2 connector making it fully compatible with the Smart and any other EV in Europe. The Smart actually doesn't even have a CCS port, it just has a Type 2 Mennekes port because it is not capable of DC Fast Charging.
Then there is the toughness of it and here the manufacturer is serious about things since you can actually run it over with your Smart and it won't break, it will just continue to charge. Not only that but the enclosure is tightly sealed giving it an IP67 rating which means that it can continue to charge in bad weather conditions such as heavy rain or snow. It is also covered by a 2-Year warranty, just in case.
Morec – EV Charging Station (32 Amp)
Then we have the Morec, another great Smart ForTwo Home Charger. This one can deliver 7.68 kW of power to your Smart and 32 amps of current. It does that through a charging cable which has a whooping 6.1 meter length and comes with a Type 2 connector making it fully compatible with the Smart EQ ForTwo Coupe and Smart EQ ForTwo Cabrio.
This is not a portable charger, it is a wall box which you need to mount on your wall and hardwire. Now whether you mount it in your garage or outside, it doesn't matter because it has an IP66 rating and it will be able to withstand heavy rain and snow without any issues. It is also covered by a 1-Year warranty.
Now like the others, this charging solution doesn't have any kind of smart charging features however one advantage is the fact that it comes with an LCD display mounted on it which will tell you some real-time charging info like actual power delivered, voltage, amperage and the battery status.
QubEV – Level 2 EV Charging Station (32 Amp)
The last Smart EQ ForTwo home charger on our list is the QubEV. This one is an untethered charger which doesn't even come with a cable, you only get the wall socket with the connector type being Type 2. The advantage here is clear because you can buy whichever charge cable fits your situation and budget better.
The QubEV can deliver the same 7.2 kW of power to your Smart and 32 Amps of current, guaranteeing that it will max out your on-board AC charger in terms of single-phase power rate. You can adjust the amperage to be anywhere from 10 Amps to 32 Amps. Given the Smart's small battery size, it should do the job in a few hours. Just like the Morec, it doesn't come with a connector for a home outlet and instead you need to hardwire it to your home circuit. It's 3 wires and an upgraded fuse on the panel, something which a licensed electrician should be easily able to do.
This is not a smart home charger either but unlike the Morec, there's nothing to indicate the charging rate, voltage and amperage because you only get an LED indicator. It too has an IP65 rating so you can install it outdoors without any issues. It is also covered by a 1-Year warranty.
These are our 3 portable chargers and charge stations for Smart EQ ForTwo. Regardless of which one you choose, the Smart EV ForWwo charging time is likely going to be within 3-4 hours at most. One of the biggest disadvantages of this car is that it can't take advantage of DC Charging networks, so no rapid charging for now.