We selected these 3 devices to be the best choices for charging a Peugeot E-308 at home. There's a portable EV Charger and two home charging stations which you mount on the wall and we'll be comparing them all.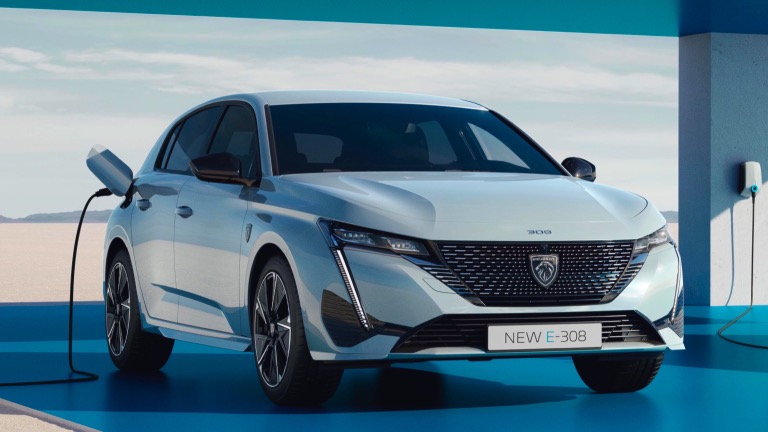 Let's have a look at each product in particular.
Juice Booster 2 – Portable EV Charger (32 Amp)
And we start with the Juice Booster 2 which is certainly the toughest home charger for your Peugeot E-308 and most likely the fastest too. It can deliver up to 11 kW of power to your electric car when plugged into a single-phase power source. Now coincidentally, this will match the charging capacity of the on-board charger fitted on the Peugeot. But when plugged into a three-phase power source, the Peugeot can deliver up to 22 kW however there are very few electric vehicles equipped with chargers which can accept more than 11 kW of power during AC Charging (NOT DC Fast charging, that's a different story and different port).
The Juice Booster 2 comes with a 3.1 meter cable, a Type 2 connector to plug into any european electric vehicle and can be bought as part of different bundles which include adapters and connectors to plug it into any outlet and any EV on the planet. The Peugeot E-308 and Peugeot E-208 for that matter are equipped with a CCS port located on the rear-left side, right where you'd expect the fuel filler cap to be on an internal combustion vehicle. For AC charging, you'll only be using a part of that port and for DC fast chargers (usually the ones at the public charging stations) up to 100 kW you'll be using the entire port.
But at the beginning of this article we mentioned that this is the toughest Peugeot E-308 charger so why is that? It's because it has an IP67 rating meaning the enclosure is practically sealed and no water or dust can get inside. It can continue to charge even if it's standing in a puddle of rain or buried under snow. You can also run it over with your E-308 and it won't crack and continue to charge.
No smart charging features though, just an LED indicator and that's it. The charger is covered by a 2-Year warranty which makes it the one with the longest one here out of the three.
Morec – EV Charging Station (32 Amp)
Now we get to the Morec which is a home charging station for the Peugeot E-308 which you need to mount on the wall. It can deliver 32 Amps of current and 7.68 kW of power. Now the first thing you may have noticed is that the on-board AC charger of the Peugeot can take more and that is true, but 7.68 kW is a really fast charging rate by itself and given that the E-308's battery size is only 50 kWh, it will fully charge overnight.
This device comes either with a whooping 6.1 meter EV charging cable in Germany or as an untethered version in the UK. To connect it to your home circuit you'll need to hardwire it because there's no outlet connector. It's a standard 3-wire job and any licensed electrician should easily accomplish the task. One thing to not forget is to upgrade the fuse on the electrical panel since usually the standard issue ones are 10 or 16 Amps. You'll need at least a 40-Amp one.
Just like with the Juice Booster 2, there are no smart features on this particular model however Morec has created a wall box which is sold in Europe that actually comes with wi-fi connectivity and a smartphone app, though there is a price difference. There is an LCD display on the box itself which will show you how fast it is charging, the status of the battery, actual amperage and voltage plus some other key info.
The wall box itself is IP66 rated so you can be sure no water or dust will get inside even during heavy rain or snow plus the device is covered by a 1-Year warranty.
QubEV – Level 2 EV Charging Station (32 Amp)
Last but not least, we've got the Qubev, a 32-Amp home charger for the Peugeot E-308. This is basically a charging socket which you mount on your garage wall or outside. It doesn't have a cable, just a Type 2 socket so you can buy whatever charge cable you think best suits your needs.
It doesn't have an outlet connector either, so you'll need to hardwire it, but just like with the Morec, it's not a hard task. The charge power is rated at a maximum of 7.2 kW meaning it will charge your Peugeot electric vehicle in about the same time. Given the battery capacity of the E-308 and E-308 SW, both should easily charge overnight. But unlike the other one, it doesn't have an LCD display, just an LED indicator. You can adjust the power to be anywhere from 10 to 32 Amps and it comes with a host of safety features including Overload protection and fault current protection.
The enclosure itself also has an IP65 rating so it can withstand heavy rain and snow without any issues making it completely suitable for outdoor installation. There are no smart features on it, so for example if you want to schedule the charging times to take advantage of cheaper electricity at night, you'll need to use the built-in scheduling function on your Peugeot.
So whether it is the Peugeot E-308 or the Peugeot E-308 SW, these three Home EV Chargers are guaranteed to have you covered. If you've got a different EV, have a look at our other articles which cover charging solutions for EVs like the Ford Mustang Mach-E, Hyundai Ioniq and other popular electric cars.