These are 3 home chargers for the Polestar 2 which we think are worth considered before you buy one. They're all fully compatible with the Polestar's CCS charging port and can charge the 69 kWh or 78 kWh battery pack in record time.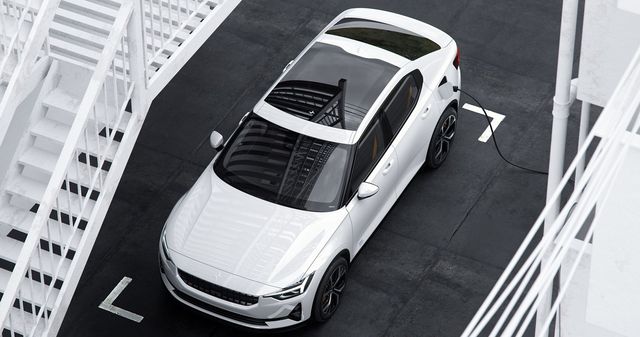 Let's have a look at each product in particular.
Morec – EV Charging Station (32 Amp)
Now the first Polestar 2 Home Charger we'll be looking at is this Morec charging station. This is a wall box which you need to mount either inside your garage or outside because it has an IP66 rating meaning that it is completely waterproof and can continue to charge your Polestar under heavy conditions such as rain or snow. This charging solution has a 7.68 kW charging rate which is on par with the charging speed that the Polestar 2 can take from a single-phase power source.
It has a charging cable which stretches out up to 6.1 meters long, more than enough to cover any situation and that cable uses a Type 2 connector which is not only compatible with the Polestar but also most electric vehicles in Europe. The device itself doesn't have a plug so you need to hardwire it directly to your home circuit, something which a licensed electrician should easily be able to do or you can just do it yourself. Don't forget to also upgrade the fuse on the electrical panel because the standard ones usually can't take more than 16 Amps.
Now this particular one doesn't have connectivity or smart features but Morec has come up with a version which does have these. Now having smart features isn't a must for charging but it's something nice to have as a bonus. It does come with an LCD display which will give you the full picture on the charging process, how much power is actually being delivered to the car, voltage, amperage and the battery status.
Every Morec charging station is covered by a 1-Year warranty.
QubEV – Level 2 EV Charging Station (32 Amp)
Now let's look at our next Polestar 2 Home Charger which is the QubEV. Now when you buy the QubEV, you just get the wall charger without any cable because this is an untethered charger which means you get to buy and connect whichever charging cable you want. You can't plug it into your home outlet either and instead you need to hardwire it to your home circuit. This is a 3-wire job, something that a licensed electrician should easily be able to do. Whichever cable you're getting, make sure that it has a Type 2 connector (Standard in Europe) on the charger end because that's the socket which you'll find on the QubEV.
This is a 32-Amp charging station which can deliver up to 7.2 kW of power to your Polestar, meaning that it should have no problem to charge the Polestar 2 overnight. It doesn't come with smart charging features such as wifi connectivity or a smartphone app to track your ev charging costs, it's quite a simple device. It only uses one indicator light to tell you the charging status. It comes with an IP54 rating which means that the enclosure itself is waterproof and so this Polestart home charging station can be installed outside. It is also backed up by a 1-Year warranty.
Juice Booster 2 – Portable EV Charger (32 Amp)
Then we get to our last Polestar 2 Home Charger which is the Juice Booster 2. This is a portable EV Charger which means it can be your home and workplace charger not to mention the fact that you can use it while traveling as well. The reason we say that is because this one has a few particularities, the first of which is the fact that it comes with a host of adapters for every type of EV plug and home outlet out there, whether it is the UK, Europe, US or Asia. The bundles come in different prices with the most expensive one being the Master Traveler set which comes with 9 adapters.
The next great thing about this Polestar charging device is the fact that it has an IP67 rating. This means it can rain or snow on it and it will never stop charging. An IP67 rating is really strong, it means it uses a completely sealed enclosure. It's also tough, so you can actually run it over with your Polestar and it won't break and keep on charging making it one of the toughest chargers for the Polestar 2.
Last but not least, there's the power because this is a fast charger. When plugged into a home outlet with single-phase current it can deliver 11 kW of power to your electric vehicle but when plugged into a tri-phase power source it will deliver 22 kW of power. That's rapid charging and it is also as fast as AC charging goes at the moment but most on-board AC chargers won't be able to take the sheer amount of power since they're limited to either 7 kW or 11 kW. If you want faster charging then you'll need to turn to DC fast charging stations which you'll usually find in the public networks from providers like Chargepoint.