We've selected 4 Perfect Home Chargers for the Mazda MX-30 which should charge it up to its entire 35 kWh battery capacity in no time. We'll be looking at everything from charging speed, smart features and connectors to guide you as an MX-30 owner to the best charger.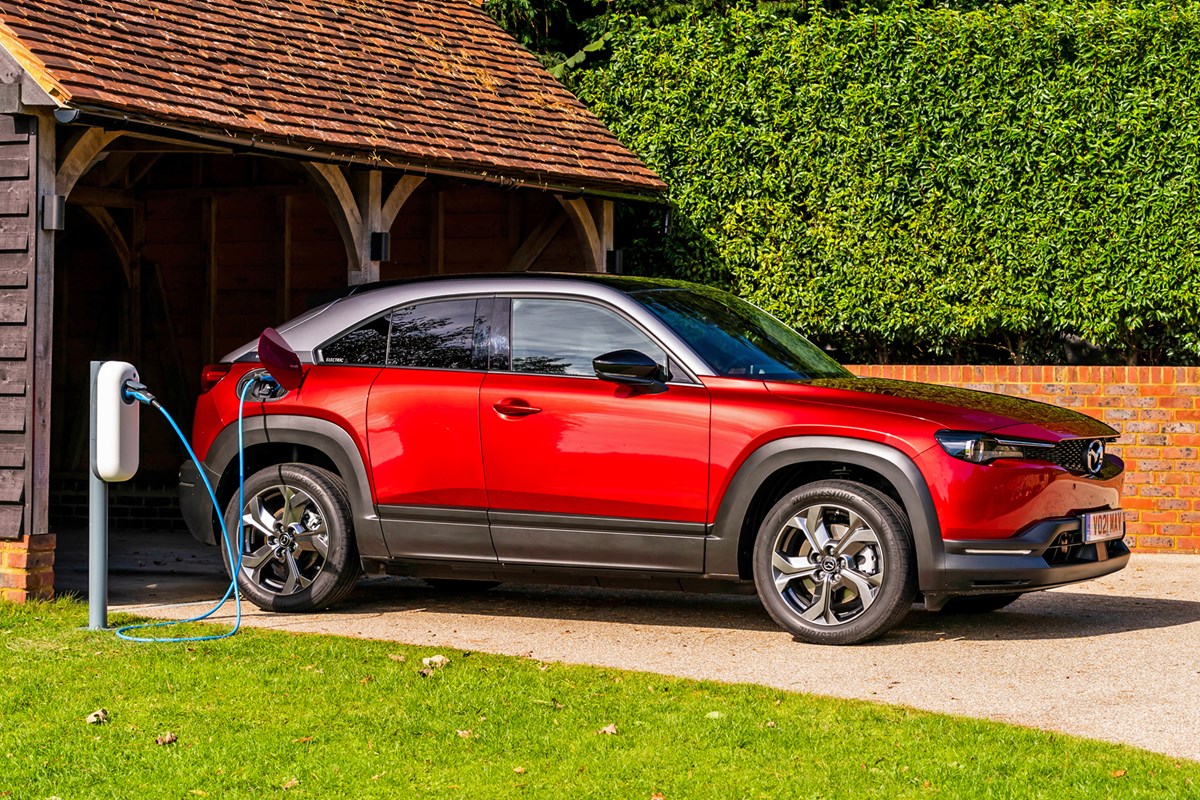 Let's have a look at each product in particular.
ENEL X JuiceBox 32 – Level 2 EV Charging Station (32 Amp)
The ENEL X JuiceBox is one of our top picks for the best Mazda MX-30 Home Charger. This is a wall-mounted home charging station which comes in 2 versions, a 32-Amp and a 40-Amp one. We'll be looking at the 32-Amp one because the Mazda MX-30's on-board charger is limited to 6.6 kW charge speeds anyway which means that there's no point in going for the 40-Amp one in this case since it vastly exceeds the car's charging capacity but also only differs in power. You'll find the same smart features and weather protection on the 32-Amp model. The capacity is more than enough to get the Mazda to 100% battery charge within a few hours since the battery pack on this EV is quite small.
So the unit uses a NEMA 14-50 connector to plug into your home outlet and a J1772 plug to connect to your Mazda. Now obviously if you buy your Mazda EV in the US, it will come with a J1772 outlet so it is fully compatible. If however you buy it in Europe, it will come with a CCS connector port which is basically composed of a Mennekes Type 2 and a DC fast charging plug. The charging cable is 25 feet long so there's plenty of it to stretch it out wherever you need it to go.
It comes with very interesting smart features like Wifi, Load Balancing, Scheduled Charging together with a smartphone app which allows you to control it remotely, get real-time charging data and also a detailed log of all your charging sessions telling you how much energy you've used and how much it costs you to keep your EV running. On top of that it also has Alexa integration if you want to control it using your voice. The charger is pretty bulletproof since it has a NEMA 4X rating, the equivalent of IP66. What does that mean? Well, it means that your Mazda MX-30 can be charged in the rain, heavy snow or unbearable heat. It is also backed up by a 3-Year warranty.
Wallbox Pulsar Plus – Level 2 EV Charging Station (40 Amp, 9.6 kW)
Then we have another great Mazda MX-30 home charger, the Wallbox Pulsar Plus. This one is available in North America as well as in Europe. The Wallbox comes in two versions, a 40-Amp and a 48-Amp one. Obviosuly, given the Mazda CX-30's on-board charger, it doesn't make sense to go for the 48-Amp since its just excess power which you can't really use, so we'll focus on this 40-Amp version which can deliver 9.6 kW of power that will be limited to 6.6 by the Mazda's charger.
The Wallbox uses a charge cable that is 25 feet long with a
Type 1 J1772 connector for the North American version and a Type 2 Mennekes connector for the european one with a different charge port. When it comes to plugging it into your home outlet, you can do it using the NEMA 14-50 connector included or directly by hardwiring it to your home circuit.
Then we get to the smart features and those are plenty here because not only does it have wifi connectivity but also bluetooth meaning that you can connect to it via a smartphone app. Apart from that, it can do power sharing, schedule charging times but also it has the ability to charge the car only when the solar panels on your roof are producing excess energy.
The device itself is IP54 rated making it suitable for indoor and outdoor installation and it is also backed up by a 3-Year warranty.
Morec – EV Charging Station (32 Amp)
And now we get to the Morec wall box which is our third Mazda MX-30 home charger. What you need to know about this particular charger is that this is available in Europe as well as the US but now we'll focus on the european version. This one, like the JuiceBox can also provide 32-Amps of current to the electric car and deliver 7.68 kW of power. Given the Mazda MX-30's small battery size, it should take just a few hours to charge it. It comes with a very long cable which measures 6.1 meters and uses a Type 2 connector to plug into your Mazda EV. There's no Schuko connector or any of that to plug it into an outlet and instead you will need to hardwire it. We've noticed that this is the situation with most european wall chargers.
There are no smart features on this Mazda MX-30 charging device, but you do get an LCD Screen showing you key charging info like power, amperage, voltage, unit temperature and so on and Morec now sells another charger which also has smart fs EV Charging station's enclosure is IP66 rated so no problems with bad weather there and there's a 1-Year warranty for the entire unit.
Juice Booster 2 – Portable EV Charger (32 Amp)
And finally we get to one of the most popular chargers, the Juice Booster 2. This can also be your perfect Mazda MX-30 home charger but only in Europe. Sure, lately the J+ Booster has been selling in the US but that is a different thing. This one is portable so it can do home charging as well as workplace charging since you can just put it in the boot of your car.
The Juice Booster 2 was designed with 3 principles in mind: toughness, power and compatibility. It is tough because it has an IP67 rating meaning it will keep charging your Mazda MX-30 even if it gets flooded but also allows you to drive your Mazda over it and it will still continue to function.
It is powerful because it can deliver 11 kW of power through single-phase current and up to 22 kW through three-phase current and yes, it comes with connectors for both power sources by default. Now 22 kW is the closest you can get to rapid charging with AC chargers. It is also compatible with most outlets and EVs because you can buy it in different bundles where they give you loads of adapters and accessories.
These are the 4 Mazda MX-30 EV Chargers which we think will manage to keep you from having to rely on public charge stations. Now public charging options like Chargepoint stations are always a good option but it's always better when you leave your house with a full charge. Even Chargepoint have figured this one out, so they created the ChargePoint Home Flex in addition to their vast charging network.