These are the 3 Home Chargers for the Volvo XC40 Recharge which we consider are worth buying. The reasons for that include their fast charging speed, IP rating and cable length amongst others. Have a look at our reasoning and find out which is the right one for your electric Volvo SUV.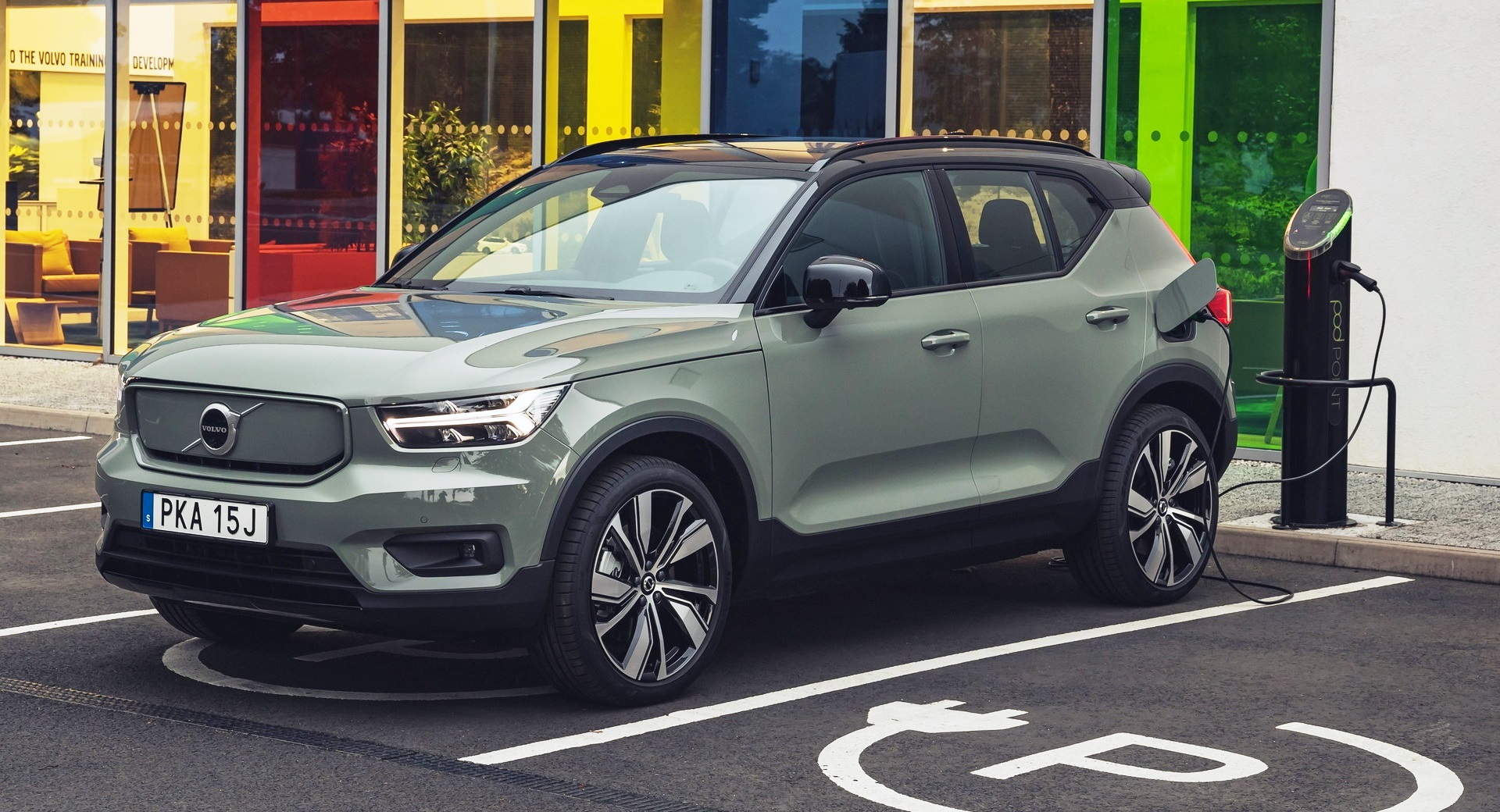 Let's have a look at each product in particular.
Juice Booster 2 – Portable EV Charger (32 Amp)
The first Volvo XC40 Recharge Home Charger is the Juice Booster 2. This one is considered to be the toughest and most durable out of all the chargers listed here. It's portable so you can carry it around in the XC40's boot and make it not only your home charger but also your workplace or travel charger. Now when I say tough, I really do mean tough. It has an IP67 rating which means your Volvo will keep charging even if the charger is literally in a puddle of water or buried under a pile of snow. Moreover, you don't have to worry about running it over with your XC40 because it can take that as well, it won't break.
Then there's the power, lost of it. This charger can send 32 Amps of current to your Volvo at a charging rate of up to 11 kW on single-phase current and 22 kW on tri-phase. Now bear in mind that the on-board charger of the XC40 Recharge is limited to a little over 7 kW rate when provided with a single-phase power source so it can't really match what the charger is really capable of. Still, even with the large 82 kWh battery capacity it can fully charge your Volvo XC40 overnight, meaning you don't need to worry that much about charging time. Also, very few electric vehicles can accept AC rapid charging at 22kW.
The cable on this Volvo xc40 charging device is 3.1 meters long and uses a Type 2 Mennekes connector making it fully compatible with the Volvo XC40's charging port. However, you can get this charger as part of all kinds of bundles which include plugs and adapters for any EV and any outlet in the world. It doesn't have any smart features, just a LED indicator bar and it comes with a 2-Year warranty.
Morec – EV Charging Station (32 Amp)
Then we have our next Volvo XC40 Home Charger, the Morec EV Charging Station. This 32-Amp wall box can deliver 7.68 kW to your Volvo so it is perfectly on par with the on-board charger's capacity. That power is delivered through a long charging cable which measures 6.1 meters. The end that plugs into your Volvo uses a Type 2 Mennekes connector but there isn't a plug to connect it to a power outlet. This means you'll have to hardwire it to your home circuit directly, something really easy to do for a licensed electrician.
The Morec can be installed indoors and outdoors because it comes with an IP66 rating meaning that it can withstand not just heavy rain but also snow and large amounts of dust since the enclosure is properly sealed. Every Morec home charging station comes with a 1-Year warranty. What is also nice is that it has an LCD display mounted on it, something which the Juice Booster lacks. There you will find real-time charging info like actual amperage, voltage, power delivered and other helpful info. There's even a smart version of this charger which includes wireless connectivity and a smartphone app.
QubEV – Level 2 EV Charging Station (32 Amp)
Then we get to our last Volvo XC40 home charger and that is the QubEV. What makes this different from the other two is the fact that it is an untethered charger. What does this mean? It means that you can disconnect and replace the charging cable depending on what length and connector you want. But it is also worth pointing out the fact that it is sold without a cable, so you'll need to factor in the price of a charging cable when purchasing. You can buy any cable you want as long as one end can fit the Type 2 connector (The european standard).
It can deliver 32 Amps of current and thus 7.2 kW of power making it on-par with the on-board charger of the Volvo XC40 EV. At this rate it should easily charge overnight in 10-12 hours. Plug it in at 8 pm and it should be fully charged in the morning.
This EV charger also has an IP65 rating meaning it can be installed outdoors without any issues. No smart features, no display, just an LED indicator light and that's all. This one has the shortest warranty of all the chargers here, just 1 Year.