We selected 3 perfect Home Chargers for the Genesis GV60. They are all Level 2 and as fast as possible. Two of them are wall boxes and one is portable, but they are all guaranteed to get the job done and have great customer ratings.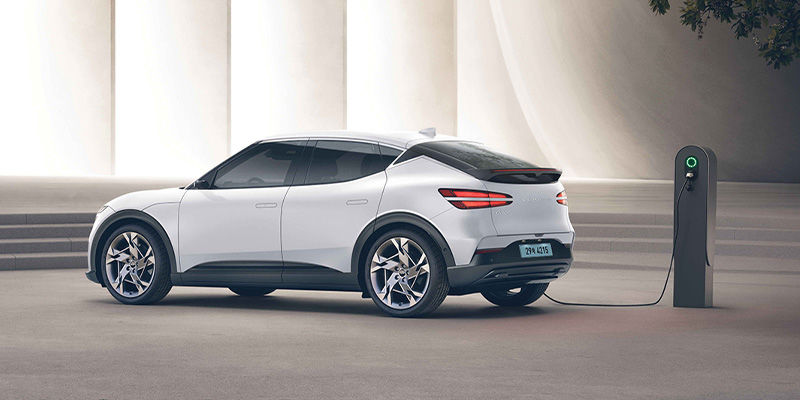 Let's have a look at each product in particular.
ChargePoint Home Flex – Level 2 EV Charging Station (16-50 Amp)
Before we get into the details of the chargers, let's just talk about the Genesis GV60. It has a battery capacity of 77 kWh. Now that is considered large by today's standards and the vehicle itself is compatible with 3 charging modes: Level 1 AC Charging, Level 2 AC Charging and "Level 3" DC Fast Charging. The Level 1 chargers are the ones which can plug into any 5-15 household outlet, but they are extremely slow. The chargers we're going to present here are Level 2 chargers which are much faster. If you need DC Rapid charging, you're not going to get that at home, you need to use the public charging networks for that.
Now, the ChargePoint. Why is it the perfect Genesis GV60 home charger? Well first of all because it can deliver a whooping 12 kW of power and 50 Amps of current to your electric car which the Genesis's on-board charger will gladly accept since it has an AC Charging rate of up to 11 kW. So even though your EV Charging station might be more powerful, the Genesis GV60 EV charges at a maximum rate of 11kW (This is applicable to AC charging NOT DC rapid chargers).
It has a charging cable which stretches out to be 23 feet long and uses a J1772 connector, making it fully compatible with your Genesis GV60. You'll find the SAE J1772 port on the rear-right side of your car, it is the upper one. The lower part is used in conjunction with the J1772 one to make up what is called CCS (Combined charging system). To connect the ChargePoint to your home circuit, you can plug it into a NEMA 14-50 or 6-50 household outlet but in order to get maximum power out of it, you'll need to hardwire it to a 60-Amp circuit since the outlets can't max out its power.
This Genesis GV60 charger also has smart charging features because it has a wifi connection and a smartphone app to remote control it. You can check the charging status, get detailed charging logs on each session and even go so far as to use your voice to ask it how much it cost you to charge your Genesis EV in the past month.
One of the issues with the ChargePoint is that you need to install it somewhere indoors since it only has a NEMA 3R rating and thus could be affected by rain. The device is covered by a 3-Year warranty and 24/7 support from ChargePoint.
Emporia Smart – Level 2 EV Charging Station (48 Amp)
Our next home charger for the Genesis GV60 is the Emporia Smart EV Charger. This one can deliver up to 48 Amps of current to your EV and 11.5 kW of power, so realistically it is going to be just as fast as the ChargePoint in terms of charging time given that the on-board charger is limited to 11 kW. The charge speed is more than enough to fully charge the 77 kWh battery pack overnight.
It has a 24 ft. charging cable which uses an SAE J1772 connector to plug into your Genesis so it is fully compatible. To connect it to your home circuit, you can either plug it into a NEMA 14-50 outlet or hardwire it. The unit is IP66 rated making this one specifically suited for outdoor installation, doesn't matter if it is heavy rain or snow, it will work regardless and keep on charging.
Now Emporia is a company which focuses on energy saving products and software so it's not really a surprise that their charger was built around this idea. For example, you can setup the device to only draw power from the excess solar energy being produced by the solar panels on your roof, essentially charging your electric vehicle for free. It can also be setup to avoid charging during peak times and take advantage of cheaper electricity rates. The way you do all of these is through the smartphone app because the Emporia does come with wifi. The unit is also backed up by a 3-Year warranty.
Mustart – Level 2 Portable EV Charger (40 Amp)
And finally we get to the Mustart, our last Genesis GV60 Home Charger. This one unlike the previous two is a portable charger which means it can act as a home or workplace charger because it is small enough to fit in the trunk and can just be carried around. But just because it is small, do not think that it doesn't pack a punch because it can deliver 40 Amps of current and 9.6 kW of power to your GV60.
The cable is long too because it measures 25 feet, longer than both the previous chargers we reviewed. At the end of that cable you'll find the same SAE J1772 charging port and to connect it to your home circuit you can use the 14-50 / 6-50 plug. Sure, it doesn't come with any smart features but it costs considerably less than both the wall boxes. Portable chargers in general have a tendency to cost much less and come with only the bare minimum features. But the good part is that for example for charge scheduling you don't need a smart charger since you can rely on the built-in function from the Genesis. And in the case of this one it actually has something the other two charging stations don't and that is a little LCD screen showing you the real amperage, power delivered, battery level together with a timer.
The control box is also IP65 rated so it doesn't matter if it is left out in the rain to charge, it will keep on going and it is backed up by a 2-Year warranty.
So whether you own the GV60 or the electrified GV70 or GV80, these three chargers will have you covered in any situation. If you liked this, have a look at our other articles which also cover the right chargers for cars like the Mini Cooper, Kia Niro, Nissan Ariya and the Hyundai Ioniq.