So you've just bought your Mini Electric (Mini Cooper SE) and you need the right home charger for it. We selected 3 perfect EV chargers that will charge its 33 kWh battery pack in no time with one of them being smart and another one as tough as steel.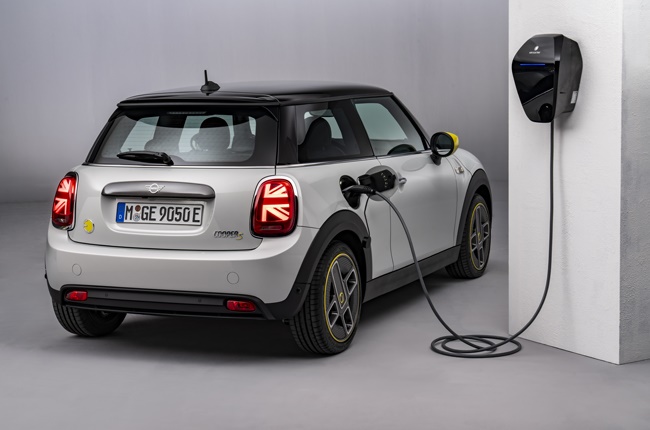 Let's have a look at each product in particular.
Wallbox Pulsar Plus – EV Charging Station (7.4 kW)
The first Mini Cooper SE home charger that we want to write about is the Wallbox Pulsar Plus. This wall charger can deliver 32 Amps of current and 7.4 kW to your Mini Electric. This is exactly as much as the Mini's on-board AC charger can take on single-phase current.
It uses a cable which is 5 meters long but there's an option to buy it with a 7-meter charging cable. It will plug into your Mini's charging port via a Type 2 Mennekes connector which is the standard throughout Europe. The wall box itself needs to be hardwired as it doesn't have an outlet connector.
The charger is packed with smart features like the ability to use excess energy produced by the solar panels on your roof, power sharing which is the ability of the charger to throttle its power usage in order to accommodate other chargers on the same circuit. It also comes with wifi and bluetooth connectivity so you link your smartphone to it via the Wallbox app. Through it you can remote control the charger, get critical charging info on the real amperage, voltage and power delivered to your Mini Cooper SE as well as the battery status. Along with those, you can find out how much it costs you to run your Mini every month because it keeps track of your energy usage and costs.
This home charging station can be installed inside your garage or outside because it is IP54 rated so it won't stop charging even if it rains heavily. It is also backed up by a 1-Year warranty but optionally, you can extend it to 3 years.
Juice Booster 2 – Portable EV Charger (32 Amp)
Then we have our next Mini Electric home charger and that is the Juice Booster 2. This device was created with the idea in mind that it needs to be the toughest portable charger on the market. Not only is it IP67 rated which means it can literally continue charging with water pouring over it but you can actually run it over with you Mini and it will survive. Now the Juice Booster 2 can do AC Charging at a maximum rate of 11 kW if you plug it into a single-phase power source or 22 kW if you plug it into a 3-phase power source. So it is important to know that the charge speeds are limited by the Mini's on-board charger because this particular device can handle much more.
The charging cable is a bit short at just 3.1 meters but we'll forgive it for that given its extrem toughness. It comes with a Type 2 connector which is fully compatible with your Mini but the great thing about this particular charger is that you can buy it in different bundles which can include charging port adapters and outlet adapters to charge your Mini literally anywhere in the world. The most expensive one is the Master traveler set which includes 9 adapters.
Because it is portable, it can do workplace charging as well as home charging just as well and it can travel with you in the boot of your car. Sure, we all know how small the Mini's boot is but it will still easily fit this one. It is also backed up by a 2-Year warranty.
Vorsprung – Portable EV Charger (10 / 13 / 32 Amp)
Then there is the Vorsprung, a portable EV charger which is fully compatible with the Mini in terms of the connector type that is used and the charging rate. It can deliver anywhere between 10 to 32 Amps of current to your Mini which translates to anywhere from 2.2 kW to 7.4 kW of power.
It comes with a cable that is 5 meters long so it is quite a bit longer than the one you get on the Juice Booster 2 and uses the same Type 2 connector which you'll find on any EV charger and electric car in Europe. You also get a UK plug so that you can connect it to your household outlet. Like all portable chargers, you won't find any wifi connectivity or smart features because these devices are meant to be as simple to use and as low cost as possible.
It does have a strong IP66 rating which means that it will have no issues whatsoever with charging your Mini if it starts to rain or snow and it is backed up by a 1-Year warranty which can be extended to 3 or even 5 years.
We consider these three devices to be reliable and solid charging options for your Mini Electric. Regardless of which mini cooper SE charging solution you choose, you are sure to get the shortest charging time you can at home.