We will review and compare Flir's professional thermal camera line-up composed of the new XT cameras and find out how they stack up against their older counterparts

Everything from image resolution, to battery life and connectivity will be taken into consideration to help you understand how to tell the E4,E5, E6 and E8 apart because the differences are subtle

Here is our thermal cameras guide for the Flir E5-XT vs E6-XT vs E8-XT vs E4 vs E5 comparison: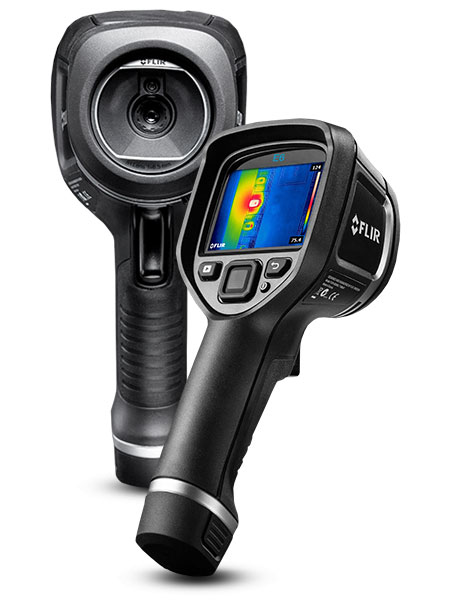 Let's have a look at each product in particular.
FLIR E5-XT
Let's start with the Flir E5-XT thermal camera. It is part of Flir's new generation of handheld cameras, the Flir EX-series cameras with an extended temperature range, basically the previous models were all improved.
It has a 160 x 120 thermal resolution with 19,200 pixels to show and even though that is a high infrared resolution itself, it actually has the a lower resolution than the rest of the infrared cameras in the XT line-up. There is also a visual camera on the back and the images are combined together using the MSX image enhancement technology to create thermal images in which the details are perfectly distinguishable. The MSX technology is currently the best image processing
The Flir E5-XT has all three connectivity options: Wi-fi, Bluetooth and micro USB. That way you can download the pictures via USB cable or send them to your smartphone via the wireless connectivity. At this moment, the device cannot stream video via wifi, only using the USB cable. But you can tether it to your smartphone via the Flir Tools app and send captured thermal images together with the temperature measurement.
Because it is an XT model, this handheld thermal camera has a wide temperature range that spans between 4°F to 752°F (20°C to 400°C) with a thermal sensitivity of 0.10 C and a +/-2°C measurement accuracy.
The device is in an enclosure that has an IP54 rating, meaning it is waterproof to the extent that you can hit it with hard water splashes, but also dustproof. Like most cameras from Flir Systems it has an internal memory instead of an SD Card slot. The manufacturer has been steadily dropping memory card slots in the last years and substituting them for fixed internal memory.
The great thing is that the thermal images are stored in radiometric form with all the temperature data embedded inside them for every pixel. It also has a 4-hour battery life which should be enough for professional use.
FLIR E6 XT
So how is the Flir E6-XT different? For that we will compare the Flir E5-XT vs Flir E6-XT. The main difference is in the infrared resolution. The E6-XT has a higher image quality with a 240 x 180 image resolution. It has more than two times the number of pixels.
The E6-XT has an even wider temperature range from -4°F to 1022°F (-20°C to 550°C), so it can measure negative temperatures. Its thermal sensitivity is also better, with the camera being able to react to a 0.06 C temperature difference.
Both infrared thermal imaging cameras have bluetooth, micro USB and Wifi connectivity, the same internal memory and 4-hour battery life. You will notice that the refresh rate is the same at 9Hz with cameras that cost much less, but that's not because its image sensor isn't capable of a higher frame rate, but because the EAR export regulations limit any thermal imaging camera exported from the United States to 9 Hz.
FLIR E8 XT
The Flir E8-XT is the top-of-the-range model in this thermal camera line-up. It is the best choice for professionals who work in energy auditing, building inspections, home inspections, electrical systems, plumbing and automotive diagnostics. Even though the Flir E8 MSX is a pro model, you only need to know the IR training essentials and it is easy to use.
So how does the Flir E5-XT vs Flir E8-XT comparison look?
First of all, the E8-XT has more than 3 times the pixels, with a 320 x 240 IR resolution totaling 76,800 pixels. The temperature range is also wider on the E8-XT versus the E6-XT which can only measure between 4°F to 752°F (20°C to 400°C) and on top of that, the Flir E8-XT also has an even better thermal sensitivity of 0.05 C.
Both thermal vision cameras have an IP54 enclosure that is waterproof, a 4-hour battery life, MSX image enhancement technology and both have USB, Wifi and Bluetooth connectivity. They also share the low internal memory that can only hold 500 thermal images.
When comparing the Flir E8-XT vs E6-XT, the race is tighter but the E8-XT still stands out with 1.7 times more pixels in the IR sensor and a slightly better thermal sensitivity.
Even though the EX cameras seem to have every feature, they do miss the 1-touch Level and Span that you find on the Flir C5. None of these cameras have a focus mechanism to adjust the sharpness either.
FLIR E4 Compact
So what about the older models, like the Flir E4 Compact?
Because this is an older model, it only has an infrared sensor with a 80 x 60 IR resolution. But it still has a visible light camera and uses MSX image enhancement, one of the strongest features of Flir cameras.
There is no wireless connectivity with USB cable being the only option. The temperature range is also narrower than what you get with the E5-XT, E6-XT and E8-XT with it spanning between -4° F to 482°F (-20° to 250°C).
However the accuracy is there with a +/-2 C accuracy and the 4-hour battery life as well. In terms of sensitivity it is placed below the entire line with a 0.15° C thermal sensitivity.
It is not waterproof or dustproof either as Flir Systems haven't provided an IP rating for it.
FLIR E5 Compact
How does this camera fare in the Flir E4 vs Flir E5 competition?
Here, the E5 has a higher image resolution of 120 x 90 pixels compared to just 80 x 60 on the E4, meaning more than 2 times level of detail. It also brings additional wi-fi connectivity so you can connect your smartphone to it. Both have the same type of internal memory on which you can store your images together with their thermal data, without any SD card slot and neither are waterproof or dustproof.
There is also the Flir E6 and when we compare the Flir E5 vs Flir E6, we notice that the E6 has a higher 160 x 120 pixels resolution and a 0.06 thermal sensitivity. Everything else remains the same.
The Flir EX series are all available to buy as certified infrared thermography devices with an NIST certificate, including the Flir e4 thermal imaging camera. If you are looking for Flir thermal cameras at a lower budget, we recommend you have a look at the Flir One Pro thermal imaging camera.