The Flir E8-XT is the top of the line camera in its range, with a very high resolution and all the features a professional thermal camera should have. But is it worth the money? Find out in our in-depth Flir E8-XT review.

Pros: Very high Infrared Resolution, MSX image enhancement, great thermal sensitivity and accuracy, large LCD screen, IP54 waterproof.

Cons: The internal memory can only hold 500 images. (The situation is the same with the E5-XT and E6-XT)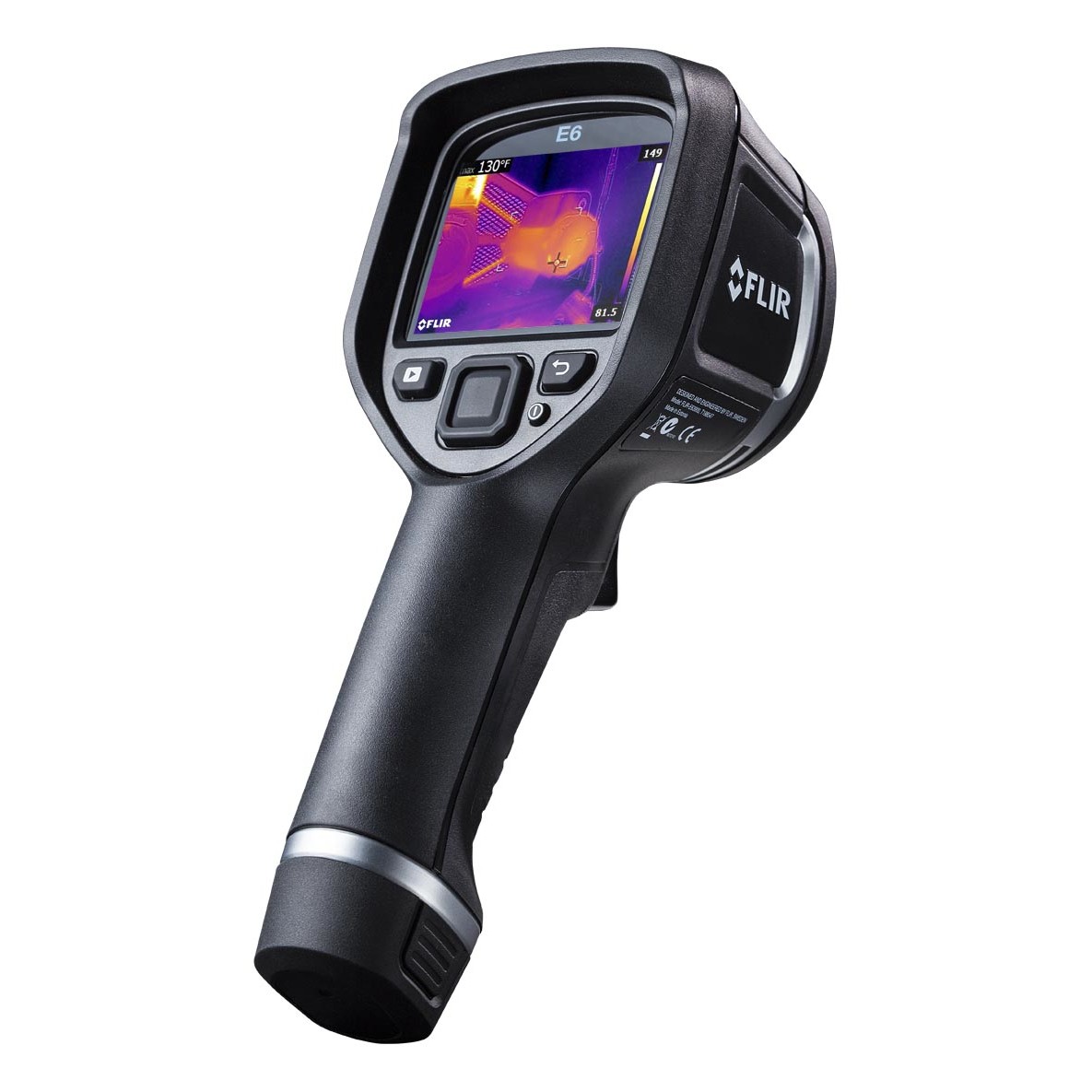 FLIR E8 XT Specifications
| | |
| --- | --- |
| Type | Handheld |
| Resolution | 320 x 240 |
| Pixels | 76800 |
| Connectivity | USB, Wi-Fi, Bluetooth |
| Temperature range | -4°F to +1022°F (- 20 to 550?) |
| Accuracy | +/- 2 ? |
| Thermal sensitivity | 0.05°C |
| Distance | |
| Storage Type | Internal |
| Battery capacity | 4 hours |
| Dimensions | 3.70 x 9.60 x 5.50 inches |
| LCD screen | 3″ |
| Refresh rate | 9HZ |
| Applications | Building Inspection, HVAC, Home Inspection, Restoration, Leak Detection, Electrical and mechanical inspection |
| View Angle | 45 ° x 34 ° |
| Features | Waterproof, Dustproof, Manual Focus, Visual Camera |
FLIR E8 XT – Specs & Review
The Flir E8-XT is the best performing thermal camera with extended temperature range out of this product line from Flir which includes the Flir E4, E5-XT, E6-XT and the E8-XT.
The thermal imager has an infrared sensor coupled together with a high-resolution visual camera. It is the improved version of the Flir E8 thermal camera.
In terms of connectivity, it packs everything from a USB port to Wireless connectivity through Wi-fi to connect it to your smartphone and Bluetooth.
Let's go beyond the datasheet a bit in our Flir E8-XT review and have a look at its features and what you can customize.
First of all there is the image mode which is one of the more important aspects. You can shift between image modes having just the thermal image on the screen or the visual image. Then there are the other two modes like the MSX image enhancement mode and any camera with MSX technology (Multispectral dynamic imaging) is a favorite of ours because it's a blend of the two and Picture-In-Picture which shows you the visible light image with a portion in the center cut out and replaced with the thermal image.
When having the thermal image in view, you can toggle between 4 color palettes: Rainbow, Iron and Black & White. These 4 are the essential ones and even though some cameras might offer 9 settings, most of the time more than half the color palettes are useless because they don't provide an notable advantage.
Along with the different color palettes, Flir also put in a temperature alarm that notifies you if the temperature rises above or goes below a certain value.
You can choose to have center spot thermal measurement or have dynamic spots show up in the picture showing the coldest spot and the warmest spot.
FLIR E8 XT – Thermal imaging quality
Let's have a look at the image quality of the thermal images that come out of the E8-XT.
The first thing we notice on the Flir E8-XT thermal imaging camera the infrared resolution which is huge. It has 320 x 240 pixel IR resolution coming from the Infrared sensor so in total it displays 76,800 pixels and this is the number that we would expect from a professional thermal camera with extraordinary thermal imaging detail. Of course this being the top of its product line, it captures more pixels than the Flir E6-XT which can only capture at a resolution of 240 x 180.
The picture gets even better when you use MSX, Flir's multi-spectral dynamic imaging enhancement feature which blends (superimposes) the thermal image and the visual image into a hybrid picture which looks like a thermographic image but all of the objects and the environment have clear outlines.
Normally if you just use infrared vision it is hard to distinguish the details and outlines, edges and shapes and that is why MSX images are superior in quality. Flir is not the only company doing this, but the results we have seen from other handheld thermal cameras are far below what Flir has achieved.
This infrared imager captures and stores photos in JPG format. All the images that you capture will have thermal data embedded in them for each of the 76,800 pixels. So you can take shots and just measure the temperature a day later just by checking individual pixels and also switch color palettes or adjust the temperature range.
You can do the editing on the camera, on the Flir tools mobile app for Android and iOS if you are sending the pictures through the wifi connection or on the Flir Tools desktop software. If you are serious about thermal imaging, you'll probably want to use the desktop version of this reporting software which also lets you create PDF reports and has more functionality.
The refresh rate is up to 9Hz and that is not going to change for a while for any infrared camera that is exported to the United States because of export regulations on consumer thermal cameras. There is no manual focus mode just like on the E4, E5-XT and E6-XT.
FLIR E8 XT – Temperature Range, Accuracy
The Flir E8-XT has the lowest thermal sensitivity of the entire line, with a 0.05° C change needed to trigger a change in the temperature measurement device. This makes it a very good tool for temperature monitoring, screening and detection.
The object temperature range is also the widest ranging from -20 to 550 Celsius (-4°F to 1022°F). The upper end of the range allows you to use this to diagnose extremely hot heaters, insulation on any kind of oven or stove. At this temperature you can even troubleshoot a fire that is starting. But it's not just the range and sensitivity as this thermal imager also has a +/- 2° C accuracy which is what we would expect from a camera that costs this much.
One of the things that is common to the entire product line is the narrower field of view that this thermal imaging camera has with a 45° x 34° viewing angle.
FLIR E8 XT – Battery life & Memory
Flir decided to not mount an SD Card slot on the camera and instead went with an internal memory that can only store up to 500 images. This is probably one of the camera's major weak points and to be honest however you look at it, it does not make sense because other products that they make which are priced much lower offer a lot more storage.
But things start to get beter when you look at the battery life. It has a rechargeable 3.6V Li-Ion battery that can last up to 4 hours. Even for the most active professional this should be more than enough and most professional thermal cameras have a similar battery life.
The battery charger is fast and takes only about two and a half hours to recharge this battery up to 90%. If you're always on-the-go, you can find a car charger for it on Amazon and if you do electrical testing, the manufacturer also makes clamp meters that you can use in tandem with this Flir infrared camera.
Things get better when you have a look at the design and build quality. The device is basically inside an enclosure and thus it is IP54 rated so it is waterproof and dustproof and it can withstand a 2 meter drop test. The 5 means that it is completely dustproof and the 4 in the rating means that it is splash proof.
The LCD screen mounted on the camera is a 3″ color screen with a 320 x 240 resolution. It is bright, visible and completely usable in daylight.
In terms of warranty, Flir has the same standard offering like on all its other devices: 2-year warranty for the entire infrared camera and a 10-year warranty for the infrared sensor in both USA and Canada, regardless whether you buy it from Amazon or eBay or any other store.
After doing some research, it seems there are two versions: A normal one and an NIST one wich comes with a calibration certificate.
The camera comes in a big toolbox-like hard case with the Flir logo on it. Inside you will find the thermal camera, the USB cable, charger and power supply adapters with EU, UK, US and Australian plugs for for different countries together with the user manual.
If you are looking at the Flir E8-XT infrared camera, by now you probably have a good idea in mind about the applications you want to use it for so we won't bother listing them.
If you are interested in a smartphone version of this device, you can check out the Flir one pro.
Should the resolution and features not be enough for your use case, then you need to look further than the Flir EX series at the EXX series comprised of more advanced thermal imaging cameras.