The Seek Thermal Compact XR is a thermal camera that attaches to your Android or iPhone and it is basically the extended range version of the Thermal Compact, however it has been rated as being much better by its users in comparison with the standard version. Why is that? Find out in our in-depth Seek Thermal Compact XR review.

PROS: High infrared resolution, detects objects 1800 feet away, manual focus, great value for money.

CONS: App could be improved.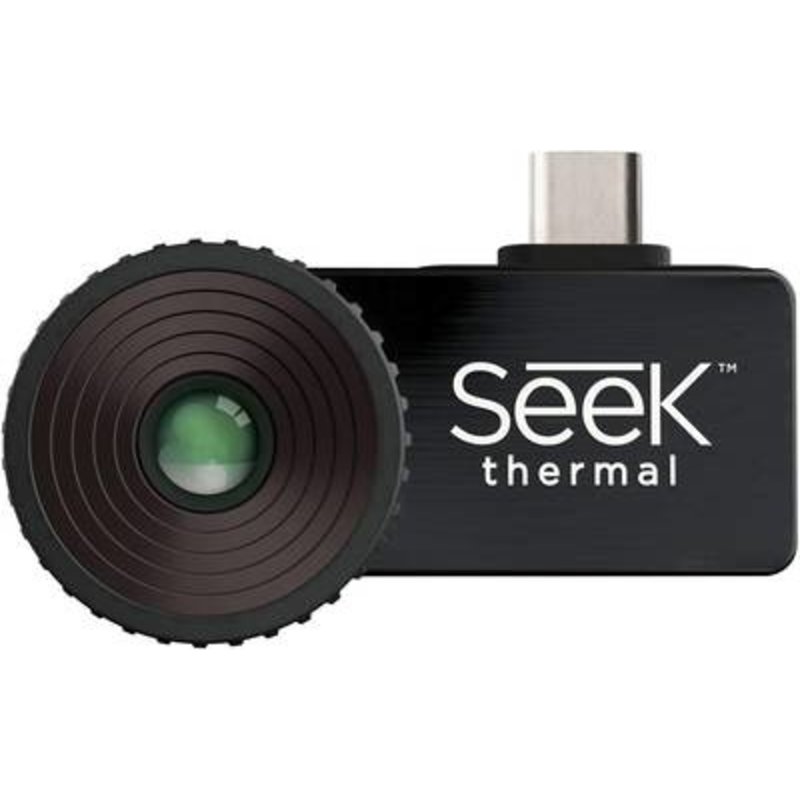 Seek Thermal Compact XR Specifications
| | |
| --- | --- |
| Type | Smartphone |
| Resolution | 206 x 156 |
| Pixels | 32000 pixels |
| Connectivity | USB-C, WI-FI |
| Temperature range | -40°F to 626°F (-40°C to 330°C) |
| Accuracy | |
| Thermal sensitivity | 0.07° C |
| Distance | 1800 feet |
| Storage Type | Uses smartphone storage |
| Battery capacity | Uses Smartphone Battery |
| Dimensions | 3.1 x 5.5 x 1.1 inches |
| LCD screen | Uses Smartphone screen |
| Refresh rate | 9Hz |
| Applications | Scout for Wildlife, Track & Recover, Security & Situational Awareness, Roofing, Electrical Inspection, Automotive diagnostics, HVAC |
| View Angle | 36° x 36° |
| Features | Waterproof, Dustproof, Manual Focus, Visual Camera |
Seek Thermal Compact XR – Specs & Review
The Seek Thermal Compact XR is a thermal imager that you attach to your smartphone. This specific model is the extended range version of the standard Seek Thermal Compact. In the product line it is placed right above it and below the CompactPro. It is also conveniently priced 50$ more than the Thermal Compact.
The device can spot thermal energy up to 1800 feet away and this is an improvement compared to the standard Compact that can only detect up to 1000 feet.
Like the other two models, you can buy this thermal imager with either a USB-C port or micro USB for Android or a Lightning port for iPhone. I cannot stress enough the fact that you need to choose your connector before you buy it. In case you have a micro USB and you switch to USB-C and I say that because it is more likely, you can find adapters for sale on Amazon or eBay but you need to read the forums before because not all adapters work.
Here are two adapters that Flir have confirmed to work: 6″ Cable Adapter, Weduda and Fanisy.
Along with the USB port, it uses the Wi-fi connection on your smartphone.
Now that we got the adapter thing out of the way, let's focus on the device itself and what it is like to use it in our Seek Thermal Compact XR review.
To use the CompactXR, you just need to attach it to your smartphone, download the Seek Thermal app from the Play Store or App Store depending on your version and you're good to go. You can set it to automatically start the app when you plug in the thermal imager. The app allows you to capture images and also record videos. Another advantage of having a smartphone app for thermal imaging it is always updated. With handheld models, you have to look for new firmware, download it and connect the camera and this entire process seems a bit antiquated at this point.
To adjust the manual focus, you just turn the rubber focus ring left or right until the image becomes sharper. There are a number of color palettes to choose from: Black, White, Iron, Cool, Amber, Indigo, Tyrian, Glory and Envy.
You can choose to have the center spot thermal measurement displayed or two spots showing the hottest point and the coldest one or none. Then there is the threshold option that highlights the parts of the image that are above, below the value that you have set.
Because your smartphone has a great digital camera, Seek have made sure their device makes good use of it. You can choose to have a side-by-side view. To align the two images you just double tap which will take you into thermal alignment mode.
You can switch between different aspect ratios like 16:9 or 4:3, both have a portrait and a landscape option and you can choose to add a watermark that has either date and time or GPS location.
Sometimes you will hear a clicking sounds which is made by the camera continuously adjusting itself.
Seek Thermal Compact XR – Thermal imaging quality
We need to point out that this version has a manual focus mode. This is a rare feature that you only get on a select number of thermal imagers. It helps especially when you are trying to view objects that are far away.
Then we get to the infrared resolution where things get even better. The IR sensor that is mounted on the camera outputs a resolution of 206 x 156 pixels. A little bit of math later and you'll find that it can display 32,136 pixels to be precise. That is 50% more pixels than what a thermal imager would offer for this price, so this is a good value camera. It is basically the same resolution that you get on the standard Seek Thermal Compact but lower than what you would get on the CompactPro. The refresh rate is limited to 9Hz because this doesn't have Seek Thermal's FF Fast Frame technology.
Seek Thermal Compact XR – Temperature Range, Accuracy
Things get even better when we have a look at the thermal sensitivity, which is 0.07° C, almost twice more sensitive than its competitors that have the same price tag. Thermal sensitivity is the smallest change in temperature that can be picked up by the thermal imaging device.
When we have a look at the CompactXR's temperature range, we notice that it can measure temperatures between -40°F to 626°F (-40°C to 330°C). The low end is wide enough so you can troubleshoot faults in freezers and refrigeration equipment but also check insulation on your home oven.
One difference that we also spotted in the Compact vs CompactXR comparison is that this model has a narrower field of view at 20°
Seek Thermal Compact XR – Battery life & Memory
The Seek Thermal CompactXR uses your phone's internal storage. Given that most phones at this point exceed 32GB of storage, you should be able to store plenty of thermal images.
The same can be said about the battery where unlike the Flir models, it uses the phone's battery for power. The Flir One Pro uses a separate small battery and that I think was a bad idea to begin with. The Android model uses 10% more energy (280 milliwatts) than the Apple model (260 milliwatts).
The camera itself is not waterproof or dustproof so you need to use it with caution, but then again since it is attached to your Android or iOS device, this probably is implied. The camera however does come with a protective case, so it is a bit waterproof, just not when you are using it.
The device has no LCD screen and this is one of the best parts about smartphone thermal imagers that you can use the high-resolution displays which otherwise you will not find on any handheld thermal camera.
Seek Thermal offers 1 year of warranty for this device.