The Seek Thermal Compact Pro is a thermal imager that you can attach to your iPhone and Android device. But is it worth the extra money in comparison with the Compact? We find out in our in-depth Seek Thermal CompactPro review.

PROS: Very high IR resolution, Great refresh rate, wide temperature range and high thermal sensitivity, phone camera overlap.

CONS: Narrower field of view than the Compact and more expensive.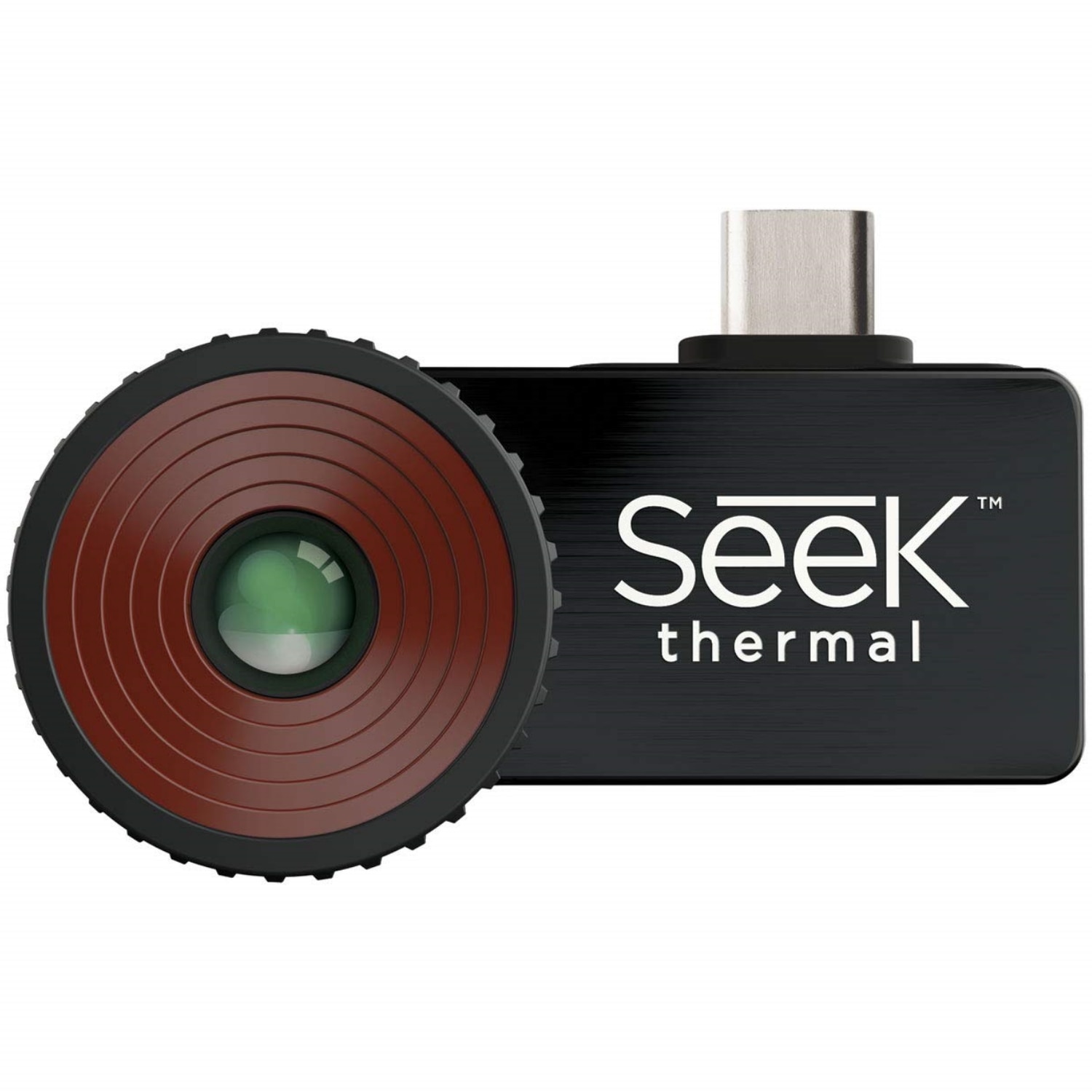 Seek Thermal Compact PRO Specifications
| | |
| --- | --- |
| Type | Smartphone |
| Resolution | 320 x 240 |
| Pixels | 76800 |
| Connectivity | Lightning / Micro-USB / USB-C |
| Temperature range | -40F° to 626°F (-40°C to 330°C) |
| Accuracy | |
| Thermal sensitivity | 0.07°C |
| Distance | 1800 feet |
| Storage Type | No |
| Battery capacity | No |
| Dimensions | 1 x 1.75 x 1 inches |
| LCD screen | No |
| Refresh rate | 9Hz |
| Applications | Accurately Inspect Mechanical and Electrical Equipment, Safely Monitor Hazardous Environments , |
| View Angle | 32° |
| Features | Waterproof, Dustproof, Manual Focus, Visual Camera |
Seek Thermal Compact PRO – Specs & Review
The Seek Thermal CompactPro is a thermal camera that connects to you Android smartphone or iPhone device. You can buy this in 3 different versions: One for Android with either a USB-c connector or a Micro-USB connector and one for iPhone and iPad devices. The idea is that you have to decide on a connector before you buy it because you can't switch between them afterwards.
It brings some extra features in comparison to the Seek Thermal Compact like the 1800 feet distance as opposed to the 1000 feet that the Seek Thermal Compact offers.
Let's go a little bit more in-depth with our Seek Thermal CompactPro review and have a look at the app. You can find it in the Play Store and in the App store.
There are 9 color palettes to choose from: Iron, Amber, Hi, Hilo, Tyrian, Prism, Spectra, Black and White. Spectra and prism are two of our favorites, but white and black are the best for when you want to easily spot the coldest and hottest points. Prism gives you a lot of contrast and makes it easy to distinguish details.
The camera is built in a way that it tries to make use of every resource that your phone has and this applies to the camera. Instead of fitting it with a visual light camera like on the Flir models, they chose to use the phone's visual camera. The only problem is the image alignment and registration and for that, you can just double tap which takes you into alignment mode where you can pan and resize the image from the phone camera to perfectly fit the thermal image. The alignment will probably not be as good as on a handheld standalone thermal imager, but still it is a clever use of the phone's resources.
You can adjust the temperature scale to narrow it or widen it until you get to a setting that you like and you can also set thresholds so that it cuts off anything above or below a certain temperature.
We also like the split screen option which comes in handy when you do the alignment, something we haven't seen on Flir or PerfectPrime's models.
So what else can you adjust? The emissivity for when you want to detect temperatures on special entities like the human body or metals that have a very different emissivity level. You can set the Geo-Tagging metadata to be put in the file, change the aspect ratio to either 16:9 or 4:3, set the date and time and remove the temperature scale.
Seek Thermal Compact PRO – Thermal imaging quality
The IR resolution is very high at 320 x 240 pixels. The total number of pixels is 76,800. The resolution is higher than on the regular Seek Compact and you get twice the amount of detail that you would get on a similarly priced thermal camera.
The refresh rate of the IR sensor is a 15hz frame rate, which Seek say is export-controlled and possible through what they call FastFrame technology. Indeed the image updates pretty fast on the app, but for example on video recordings it drops significantly. There is also the manual focus mode that you also get on the Seek Compact, a feature that you don't find on infrared cameras in this price range. This feature is also available on the Compact and we found it to be useful in providing some extra clarity to the image.
The camera cab capture photos and record video and that is thanks to the fact that it uses the Android and iOS apps which make it very easy to record. On handheld thermal cameras, this option is limited. It can capture the thermal images in TIFF format and it stores 32-bit radiometric data inside the image for every pixel. You can then take that image and adjust it or access it later on your computer.
Seek Thermal Compact PRO – Temperature Range, Accuracy
The thermal sensitivity is great on this thermal imager is 0.07° C and is on par with what you would expect for a camera of its price. Whether you buy the Seek Thermal Compact or Compact Pro, the sensitivity is the same.
The temperature range is also very wide, the camera can measure temperatures down to -40 degrees Celsius, well below freezing point and that makes it usable in most parts of the world. The upper end is at 330 degrees. This opens it up to most applications from insulation in freezers, ovens, firefighting (Although for that, a handheld ruggedized design would be more appropriate), HVAC, Plumbing, Roffing and Electrical inspections.
While Seek Thermal doesn't explicitly state the accuracy of its infrared thermal camera, a +/-2 degrees value is safe to assume for both this and the Compact model.
Very interestingly, the Seek Thermal Compact Pro has a narrower viewing angle than its lower priced brother. While that one has a 36 degree angle, this model only has a 32.
Seek Thermal Compact PRO – Battery life & Memory
The camera uses your smartphone's storage and that should have plenty of capacity since most modern phones have well over 32GB of storage.
There is no internal battery, it uses the phone's Li-ion battery and this is something we agree with, because on the Flir models, their 350mah battery was a bad idea to begin with. Not only did it have short battery life but also posed many issues with the users.
Because it has no battery and just an IR sensor, the camera is very thin and very compact. It is also semi-waterproof. What does that mean? The thermal device itself is not waterproof, but it comes bundled with a waterproof case. Given that you can't use the camera while it is inside the case gives it this title of being waterproof.
It doesn't have an LCD screen as it uses the best color screen available, your phone's. Smartphones have screens that are greatly superior to ones that are even on the best thermal cameras.
Where would we use this? HVAC inspections for anything related to heating and cooling since its temperature range allows it, Electrical inspections for either circuit boards or wiring inside a house, automotive specialists can use this to have a look at the engines, roofing for when you want to spot leaks, you can use it even to spot health issues with animals or just spot them in nature.