Because of its ability to see through smoke and detect people, objects and fire much quicker, the thermal camera might just earn its place up there with the fire helmet and fire hoses for firefighters.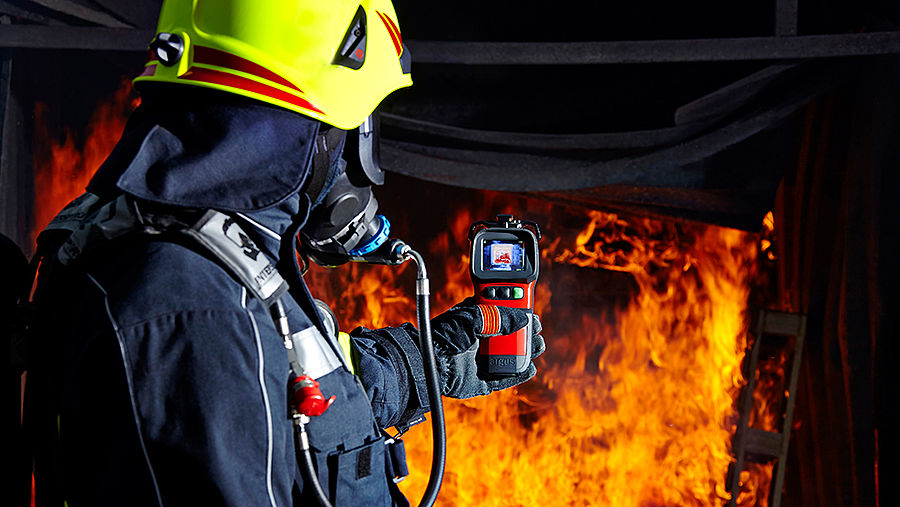 Let's have a look at each product in particular.
FLIR K2
The Flir K2 is a thermal camera designed for firefighters. Flir Systems made this camera with the idead that it will be used in severe conditions and that is why it has an IP67 rating for being completely waterproof, dust resistant and for the fact that it can withstand 2 meter drops onto concrete without a problem.
This is a perfect infrared thermal imaging system for first responders in all fire departments and can make a big difference if it is put to right use at the fire scenes.
It has a 160 x 120 IR resolution and along with the thermal vision sensor, there is a 640 x 480 visual camera as well for MSX image enhancement.
It offers several image modes designed specifically for fire police like: Search-and-rescue, fire, black & white firefighting, building analysis, heat detection, cold detection and the default basic mode.
Fires are hot and they radiate a large amount of heat, so the Flir K2 thermal imaging camera can measure a temperature range from -4 °F to 932 °F (-20 °C to 500 °C). Its thermal sensitivity is 0.10 C and the accuracy is about +/- 4 C, but these factors are not as important in the firefighting activity as much as the wide thermal scope.
The captured images can be transferred to your PC via micro USB cable and imported into the Flir Tools reporting software to generate PDF reports.
This Flir K2 compact thermal imaging camera for firefighters comes with 2 years of warranty for the battery, 5 years for the thermal camera and 10 years for the infrared sensor. There are other models for firefighting applications in this line including the Flir K45, Flir K55 and Flir K65.
Flir TG297
The Flir TG297 is a newer model and a thermal camera that wasn't specifically designed for firefighting or fire detection, but which presents some key advantages in comparison to the K2 which we think makes it worthy of being considered as an essential fire tool.
First of all, this handheld thermal imaging camera can detect heat together with the warmest objects and coldest objects within a thermal scope that starts from -13 F to 1886 F (-25 C to 1030 C). This kind of range is unmatched by cameras in its price range at the moment. It even has a better +/- 3 C accuracy and a 0.07 C sensitivity. So in terms of temperature measurement, it fares much better than the K2.
Of course, it lacks the special image modes that the K2 has, but after using it, you'll learn how to spot fires and hot areas on its color palettes.
Another advantage that it offers is Bluetooth connection through which you can instantly transfer the captured images to your smartphone and share them with other personnel in the fire apparatus.
The enclosure doesn't offer the same kind of protection that the K2's enclosure does with only an IP54 rating. But that means it still is waterproof, dustproof and you can drop it from about 1.5m on concrete without issues.
The battery lasts longer with 5 hours of battery life and the LCD screen is slightly smaller at 2.4″.
FLIR E8 XT
The Flir E8-XT is also another worthy thermal camera for fire detection and firefighting.e
Its main advantage is the high-resolution thermal sensor which outputs images with a 320 x 240 thermal resolution, the highest of all the cameras listed here. The more detail you have in the pictures, the easier it is to spot people and fires with a higher confidence. It also has a great visible camera with MSX image enhancement technology to bring out even more detail in the picture making it the camera with the highest image resolution here.
Resolution matters here because you need to be able to quickly distinguish people, shapes and objects. You can't use something like a Perfectprime IR0002 because while it measures temperatures fairly accurately, you can't tell what you are measuring on the screen since the image quality is very low.
Its heat detection capabilities are exceptional with a +/- 2 accuracy, the ability to react to a 0.05 C temperature difference. It can measure within an object temperature range from -4° to +1022° Fahrenheit (-20 to 550 Celsius).
You can stream the captured thermal images which unlike the TG297 are captured in radiometric instantly to your smartphone via Wi-fi or Bluetooth so you can instantly send it to people in the fire station for any kind of analysis. Every pixel in the image also holds the temperature data for that specific point.
Its enclosure also offers the same level of protection against water splashes, dust and ash as the TG297 and it also has a larger 3″ LCD screen, but with a slightly lower 4 hour battery life.
Parrot Anafi 4K Thermal Drone
The first 3 devices that we listed here are handheld infrared cameras and this one is not, because it is a drone. The idea is that it can complement a thermal camera for firefighting and fire detection by giving you a view from above that none of the others can.
The purpose of using a drone for fire safety is for fire prevention in large areas like forests. Rangers can use this to detect bushfires and wildfires that can become a hazard, before they turn into something bigger. It can scout large areas and its thermal vision sensor allows you to quickly spot a fire and hot spots or in worse cases, get a visual map of how forest fires and wildland fires are expanding.
It can detect a fire up to 1000 feet away during a flyover which makes it great for scouting large areas, however the battery life is only about 25 minutes so make sure you also get 1 or 2 spare batteries. You can find those on Amazon and eBay.
This can be used also as part of the search and rescue equipment because it provides you not only with a bird's eye view of the situation but can also very easy distinguish people and animals using its heat sensor. And it is not just about fire attacks or natural disasters, because thermal imaging technology also provides night vision, making search and rescue easier throughout the night. It would probably be the first time where drones actually save lives.
It uses a 160 x 120 thermal sensor, identical in pixel resolution to the Flir c5 and the Flir One Pro thermal imaging camera but it also has a 4K camera that can record 4K video. MSX image enhancement is included and the images have a large amount of detail to them.
Which is the best thermal camera for firefighting and fire detection?
The Flir K2 was designed especially for this purpose with special image modes that help you and increased IP67 protection, so that should be the main camera to consider.

However, the Flir TG297 does offer the advantage of being able to measure a wider range of temperature while offering instant connectivity and decent IP54 water and dust protection.

The Flir E8-XT offers a much higher image resolution while offering great protection and a temperature range as high as the one on the K2.

As an additional tool to be used for firefighters and rangers, the Anafi 4K Thermal Drone can offer a great advantage in firefighting and especially as an awareness camera with its ability to fly over large areas and spot potential fires before they expand.

So if you have not purchased one yet, it may be a good time to consider making it part of the standard equipment along with those 3M Scott fire and safety tools.