If you are an HVAC inspector, then an infrared thermal imaging camera is something that will benefit you greatly in your day-to-day work. It can help you identify faults in the airflow, ductwork almost instantly, eliminating the need for guesswork and ultimately speeding up the process of obtaining an HVAC permit for customers

And for that reason, we selected 4 thermal cameras perfect for your HVAC inspection and compared them on everything from image resolution to software features

Here is our list of the 4 best thermal cameras for HVAC inspections: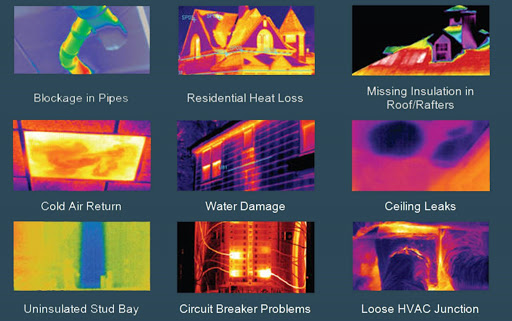 Let's have a look at each product in particular.
Flir TG165-X
The Flir TG165-X is a great thermal camera for HVAC inspections, one that builds upon the success of the previous model, the TG165.
The thermal resolution that its infrared sensor outputs is 80 x 60 with a total of 4800 thermal pixels. That might not be the highest image resolution in a thermal camera but it is supported by a 2 megapixel 1600 x 1200 visual camera that really elevates the image quality using the MSX image enhancement feature.
Along with the camera there is also a laser pointer to help you pinpoint the exact cold spot or hot spot in the HVAC system that you are measuring and HVAC technicians will find this feature to be very helpful because it makes it more comfortable to use and easy for the human eye to spot exactly what you are measuring.
It captures the thermal images in JPG format with 14-bit radiometric temperature data embedded in them for each pixel, so you can change the color palette and adjust the temperature scale afterwards on your computer in the Flir Tools software. That same software helps you create instant reports which will come in very handy for HVAC inspectors.
You can use it to inspect heating and cooling systems in houses, detecting air leaks and energy loss and find hot spots where problems may appear. This is a very good tool to have for a home inspector.
But what about the temperature range that it can measure? That spans between -13°F to 572°F (-25°C to 300°C) so there is plenty of room for any issue that you can come across when you are inspecting a home, whether it is cold air from the air conditioning or really warm air from the heating system.
It also has good temperature screening and detection capabilities with a temperature measurement accuracy of +/- 1.5° C and a thermal sensitivity of 0.07 C.
This compact thermal imaging camera has a 4GB internal storage which is enough for thousands of images and also has a 5-hour battery life from its li-ion rechargeable battery. That way you most likely will only need to charge it on a weekly basis or so.
Another great thing about this camera is that you don't have to be very careful with it because its enclosure is IP54 rated and so it is waterproof and dustproof so it doesn't matter if you splash it.
Like all cameras made by Flir Systems, it comes with the standard 2-10 warranty in which you get 10 years of warranty for the infrared sensor and 2 years for the entire device, just remember to register your product within 60 days after you've bought it.
FLIR TG267
The Flir TG267 is a thermal camera that was specially designed for HVAC inspectors. That is why in the package you will find a thermocouple probe that you connect to the infrared thermal imaging system through the connection port mounted on it. You can use that probe in home inspections to do contact measurement. Most thermal imaging cameras don't have this included nor do they have a connection port for external probes.
The TG267 has a higher quality thermal vision sensor with an IR resolution of 160 x 120 and a total of 19,200 thermal pixels. Along with that, there is also a visible light camera for MSX image enhancement. The images look sharp and detailed and that is the result of the MSX feature.
It can connect to other devices not only via USB cable but also using Bluetooth. You can send the captured thermal images to your smartphone and also stream the measured temperature. The images are also captured in JPG but they don't hold radiometric thermal data inside them.
The camera can measure a wide temperature range with the coldest being -25 Celsius and the warmest point can be up to 380 C. The entire thermal scope is: -13°F to 716° Fahrenheit (-25°C to 380°C ) and the device can react to a 0.07 C temperature difference with a +/-3° C accuracy.
You can use this camera to detect all kinds of issues in diagnosing HVAC equipment, commercial HVAC maintenance and not only that, you can detect issues with refrigeration devices or any electrical components. Poor electrical connections and also loose connections for example will generate a larger amount of heat and you can detect that using this thermal imager camera.
Like the TG165-X, this handheld thermal infrared camera has an IP54 rating and a 5-hour battery life with a 4GB internal memory. It lets you choose between 6 color palettes and adjust settings like emissivity or ambient temperature for a more precise measurement.
The same 2-10 warranty plan applies for customers who have completed the product registration process within 60 days of purchase on the Flir Systems Inc website. All of these features and details make this a perfect device to provide thermal imaging for hvac professionals.
FLIR C5
The Flir C5 is a different kind of thermal camera for HVAC inspections. If the first two cameras we listed here look like IR Thermometers, this one looks like a pocket digital camera. It is one of our all-time favorite thermal cameras.
It has a higher price, but packs many extra features. There is a USB port, a Wi-fi connection and Bluetooth. And they way it makes use of the wireless connection is unique because it captures thermal images and it can also store them on the Flir Ignite cloud, the first cloud platform for thermal images. Each Flir C5 user gets 1GB of free storage. Not just that, but the camera updates its firmware via OTA updates from the Internet, something other infrared cameras cannot do.
The images are captured by the 160 x 120 thermal vision sensor in JPG format with radiometric thermal data for every pixel embedded in them. It can measure temperatures between -4 to 752°F (-20 to 400°C) with a 0.05 C sensitivity.
It also has a 3.5″ LCD touchscreen instead of buttons with a minimalistic design. The battery lasts for 4 hours and the entire enclosure is waterproof.
Here is an interesting way in which you can use the Flir C5: if there are roofing leaks, you can detect them because in the evening, moisture will be show up as a warmer area than the rest of the roof. You can use it to inspect gas lines, heat pumps, the air intake & exhaust, basically anything that might generate a heat difference.
If you can spare the extra budget, this device is worth it because it has everything that you will ever demand from an infrared camera. The C5 is the updated version of the old Flir C2 and Flir C3 pocket thermal cameras which are not being produced anymore.
FLIR ONE Pro
| Product | Type | Resolution | Battery capacity | Waterproof | LCD screen | Price |
| --- | --- | --- | --- | --- | --- | --- |
| FLIR ONE Pro | Smartphone (2 different versions – Android & iOS) | 160 x 120 | 45 minutes | No | Uses Smartphone screen | Click for more info |
The Flir One Pro is a different approach to a thermal camera for HVAC inspections. It is basically a little device that you attach to your smartphone and which contains an infrared sensor, a visual camera and a battery. After you plug it in, you just download the Flir One Pro app from either the App store or Play store, because it is compatible with Android (USB-C and micro USB versions available) and iPhone (Lightning connector).
The IR sensor can output a resolution of 160 x 120, more than the Flir E4 and can measure a temperature range between -4 and 752°F( -20 to 400 C). The app works great, it has a lot of features with a range of color palettes and image modes.
One way in which you can use your Flir One Pro is checking for air leakage. If you turn up the heat in your house and check in the evening when there is a considerable temperature difference you can spot where the warm air is escaping from. You can also use thermal imaging to solve HVAC problems but you can also prevent electrical and mechanical failure by inspecting the components of the system. These thermal imaging systems are more useful in preventive maintenance because it can detect electromagnetic radiation that the naked eye can't and sometimes IR imaging can bring to light key issues.
It is not waterproof so you need to be more careful with it and the battery only lasts 45 minutes. This can be a great first camera for an HVAC inspector without investing too much money. The alternative to this is the Seek Thermal CompactPro which costs the same but provides a higher resolution.
Which thermal camera is best for HVAC inspections?

All of these 4 cameras meet the standard needs of an HVAC inspector, however each have their strengths.

The Flir TG267 has the additional thermocouple probe which can be great for contact measurement in tight spaces. That together with the higher resolution, makes it part of a line-up of professional tools in terms of thermal imaging technology.

The TG165-X is cheaper and provides better value than the TG267 but with a lower image resolution and no probe.

The Flir C5 is the perfect all-round camera with all of the features that you would expect from a 2020 device like cloud connectivity, OTA updates, photo and video recording.

If you are just starting and maybe you don't have to use it that often, the Flir One Pro can be a good choice for occasional use. If you just want to try and reduce energy costs, do some simple electronic testing, find a water leak in your house and capture infrared images, then this camera can be more than enough for what you need.