We selected our 2 favorite 48 Amp EV Chargers that are able to output this exact amount of electrical current

Every aspect will be reviewed from charging performance, cable length, connectivity, features and durability.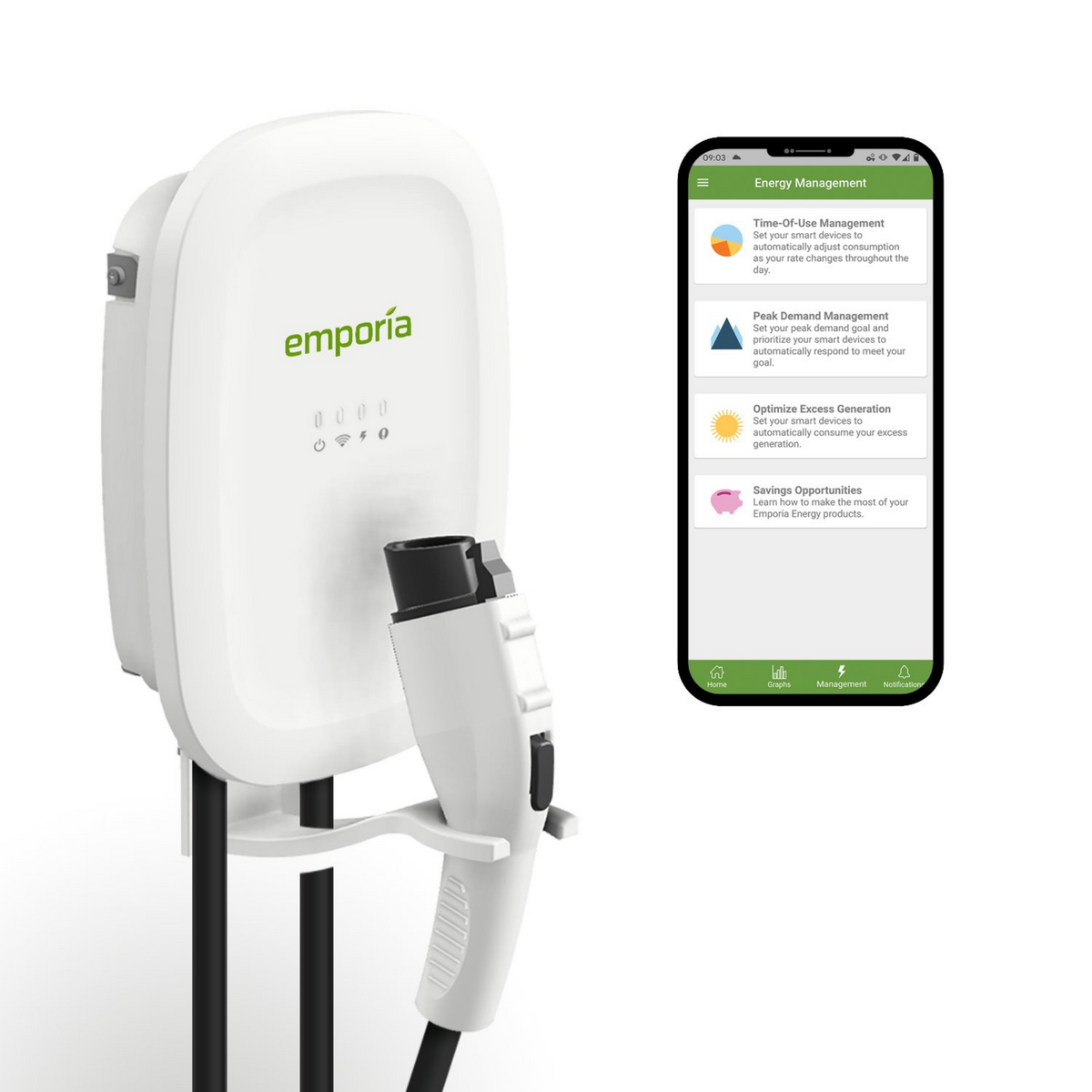 Let's have a look at each product in particular.
Wallbox Pulsar Plus – Level 2 EV Charging Station (48 Amp, 11 kW)
Our first 48 Amp EV Charger is the Wallbox Pulsar Plus. This charge system is capable of delivering anywhere between 16 Amps to 48 Amps of electrical current to your electric vehicle. Now you need to know that this particular model is part of a line-up of 2 chargers, a 40-Amp which has a NEMA connector and this one, the 48 Amp which does not, so you need to have it hardwired to your home electrical circuit.
It is capable of delivering 11.5 kW of power at a 240V voltage, but let's have a closer look at how those numbers translate to miles of range in reality: The Tesla Model Y will charge in just 6-7 hours, which is indeed impressive given its huge 75 kWh battery pack. You can expect a long range Tesla Model 3 with the 70 kWh pack to charge in about 6 to 6.5 hours while a Ford Mustang Mach E with the 70 kWh pack should also take the same amount of time to charge.
These are just estimations, so take them as such NOT as official measurements. The idea is that these 48 Amp chargers are capable of extremely fast charging especially in terms of what AC charging can provide (AC are the ones you use at home and DC are usually public chargers that are more powerful like the Tesla Supercharger).
This EV charging station uses a charge cable that is 25 feet long (7.6 meters). This is a J1772 cable, so it charges any EV in North America because most of them use the same plug with the notable exception of Tesla which provides a
Tesla to J1772 adapter
. Because this is a tethered charger, the cable cannot be disconnected and replaced, so in case it is not long enough, you can just get an
extension cord
.
Then there is the connectivity aspect and here, this electric vehicle charger shines. It comes with WiFi and Bluetooth connectivity and you can connect to it via the Wallbox app which you'll find on the App Store and Play Store. Using that, you can create a charging schedule for the car so that you use as much off-peak electrical energy as you can in order to reduce the cost on your energy bill. This is really useful and using it properly can make the charger pay for itself in a few years. You're not always going to need all the miles of range for tomorrow so you can just set it to only charge during off-peak hours.
You can remotely start it or stop it and can do so by using your voice because it has Amazon Alexa and Google Assistant integration. Another way in which you can save money is if you have solar panels mounted on your home, you can program the charger to only draw energy from solar, not from the grid and when it's not fully possible, set a balance between the two. There's also a reporting feature that can help you keep track of your daily and monthly costs for your EV.
There's no LCD on the unit, it is a minimalistic design, the enclosure is IP54 rated and the entire unit comes with a 3-Year warranty.
Emporia Smart – Level 2 EV Charging Station (48 Amp)
The Emporia Smart is our second 48 Amp EV Charger. This is a Level 2 charger that is capable of outputting 48 Amps of Electrical Current.
This one can be hardwired too, but you can also plug it into a NEMA 14-50 outlet. It can output 11.5 kW of electrical power so you can expect the charging times to be about the same, no real difference there. It too uses an SAE j1772 24ft Cable (About 7.3 meters) that is permanently connected to the electric car charger.
This too is a smart home EV Charger however, it uses a slightly different approach to its smartphone app. You connect to it via WiFi and its smartphone app available on the both the App Store and Google Play. The ability to schedule charging times is there and this one too has the option to draw power from solar panels rather than the grid, so when the solar panels are generating excess energy, that can be directed to your EV. The entire goal here is to maximize the use of solar power that is generated.
Another cool feature is the Peak Demand Management, which can stop charging when electricity prices are at peak level so that you don't overspend. This particular company is specialised in smart home energy management products and so this charger feels like an essential part of their ecosystem. They also make home batteries, smart plugs and energy monitors.
The unit has a nice design with a white finish, there are 4 LEDs on it to notify you of the charging status and the entire enclosure is IP66 rated so it can witshtand rain and dust storms. The manufacturer offers a 3-Year warranty on this electric vehicle charging station.