We selected the cheapest EV home chargers that you can find today. All of these are portable and are compatible with any EV in North America

We review them based on their charging performance, features and value for money.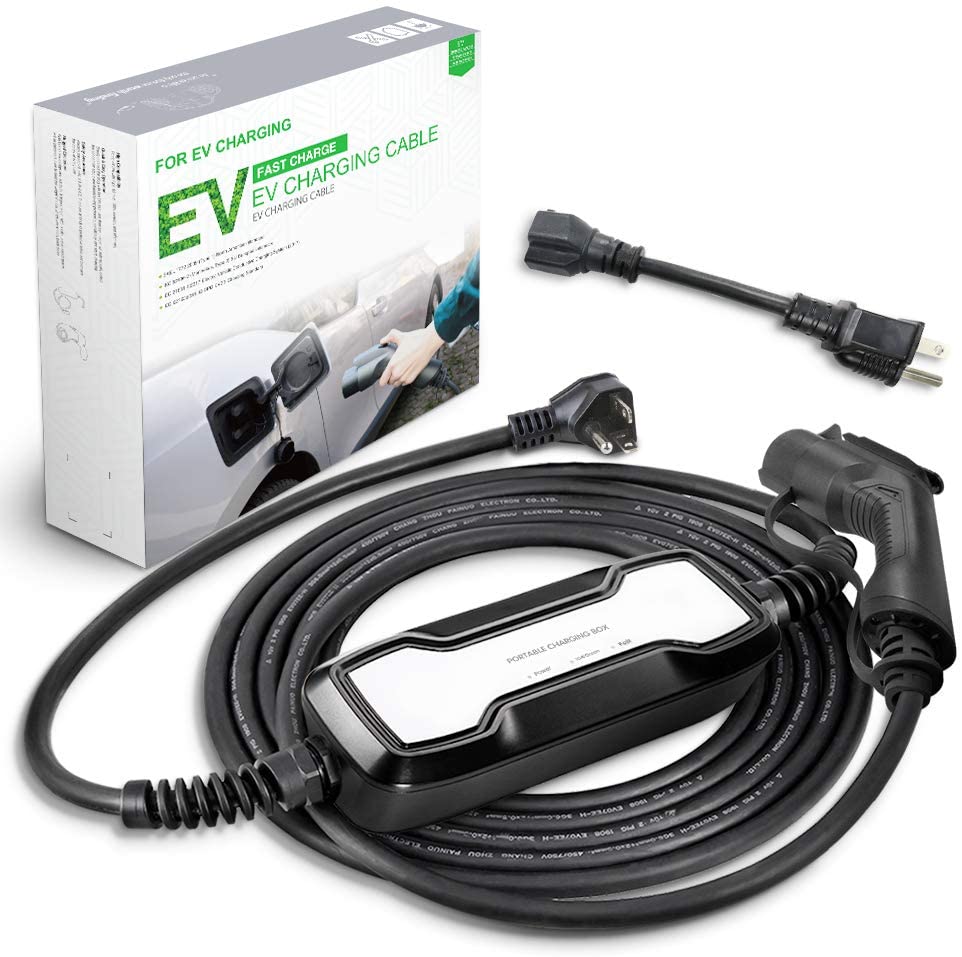 Let's have a look at each product in particular.
MEGEAR – Level 1-2 Portable EV Charger (16 Amp)
One of the cheapest EV chargers on the market is the Megear Skysword 16-Amp Level 1 & 2 portable charger. This one plugs into NEMA 6-20 or a NEMA 5-15 outlet. Now it can output 3.84 kW of electrical power when it is running as a Level 2 charger. It can run at a voltage anywhere between 100V and 240V, however you need to know that if it is connected to a 120-volt outlet it will run as a Level 1 charger and charge slower, so in order to take advantage of its full power it has to be connected to a 240-volt outlet.
Now let's have a look at the charging speeds because in the end that's what matters: If you drive a 30 kWh Nissan Leaf, it will probably take about 8 hours to fully charger it. A standard Tesla Model 3 that uses the 50kWh battery pack will take about 13 hours to fully charge. Now if you are the EV owner of a Tesla Model Y, then the charging times will increase to about 19 hours. These are just some estimations based on the battery capacity of the car and the power delivered to it by the EV Charging Station.
It has a 25-foot cable attached to it, a cable length that is on par with what you get from other chargers in this cheaper range. If this is not long enough for you, you can always order an
extension cord
. This charging cable uses a J1772 connector which is compatible with most electric cars that are sold in North America, even Tesla models because they come with an adapter.
Because this is a cheap electric vehicle charger, it doesn't come with any smart features and at this price point you won't find any. One function that portable chargers don't have is scheduled charging which helps to reduce the costs to charge your car at home by using more off-peak electricity, however it is very likely that your electric vehicle already has this.
The Megear charger has all the basic security features that one would want from a portable electric vehicle charging station like overcurrent protection, overvoltage protection, ground fault protection and leakage protection. Its enclosure is also IP55 rated so it is waterproof and dustproof to a certain degree. Megear offers you a 1-Year No-Hassle warranty which is the most that you will get at this price point.
Because this is portable, there is no installation cost, you just plug it to your home's electrical system through an appropriate outlet and it will start charging your car.
BougeRV – Level 1-2 Portable EV Charger (16 Amp)
Then there is our other cheap EV home charger, the BougeRV 16 Amp Portable Level 1 & 2 Charger works on NEMA 5-15 & NEMA 6-20 outlets, it can deliver 16 Amps of electrical current at a voltage between 110V and 240V. However, if you want the full 3.8 kW of power that the charger can deliver, you need to plug it into a 240V outlet, otherwise when it is plugged into a 110V it will charge at 1.9 kW and charging an electric car at that rate is much slower.
It comes with a 25ft (7.6 meters) long cable just like our previous cheap charger. The charging times for it are essentially the same as with the Megear, this one uses a different Duosida control box with 4 LED lights on it to help you tell if it is plugged in, if it is delivering power to the car or if there is a fault.
It is not a wifi enabled charger and like we mentioned before, you won't find that on cheap EV Chargers. These are quite low cost models in the 200$ range while a wifi connected charger would usually cost more than 500$ and it is not portable so you have the additional installation cost.
All the necessary security features are there, like on the previous model and this control box is IP55 rated too with a 1-Year warranty. Personally, we prefer the Megear control box but it is down to each one's preference.
Morec – Level 1-2 Portable EV Charger (15 Amp)
The last cheap EV home charger on our list is the Morec Level 1-2 charger. Now the reason we included this is because this is actually one of the cheapest EV chargers you can find on the internet, it is even below the 200$ threshold. But there will be some compromises and interestingly some advantages.
Let's start with the compromise: It's a Level 1 charger even though the name on the internet will state otherwise. It is pretty simple to tell which charger has what level. Level 2 starts at 3.8 kW. This is a 1.9 kW charger that will charge a Tesla Model 3 in about 29 hours, while a 30 kWh Leaf will take about 18 hours to charge.
Now the reason we put it as "Level 1-2" is because that's the way the manufacturer listed it for sale and thus you will know the exact one we are referring to. It uses a J1772 cable which has a length of 24 feet (7.5 meters) and its control box has some advantages that the other ones do not. It uses an LCD display that can tell you the amperage and temperature of the unit along with the indicator light.
The enclosure is also IP65 rated so it will withstand dirt and dust better than the others. The water protection is essentially the same. All the necessary safety features are there and it comes with a 1-Year No-Hassle warranty.
As you can tell, these cheaper EV home chargers are no Chargepoint Home Flex, meaning they are not as fast and don't have that many features but in the end they are functional devices that do their job without the gizmos and cost a fraction of the price.