We selected the 5 Best Heat Cameras that you can find on the market in 2022. Some of them are handheld and some are smartphone attachments, each one with their unique traits

All of them can detect heat patterns with high precision and capture images or even video.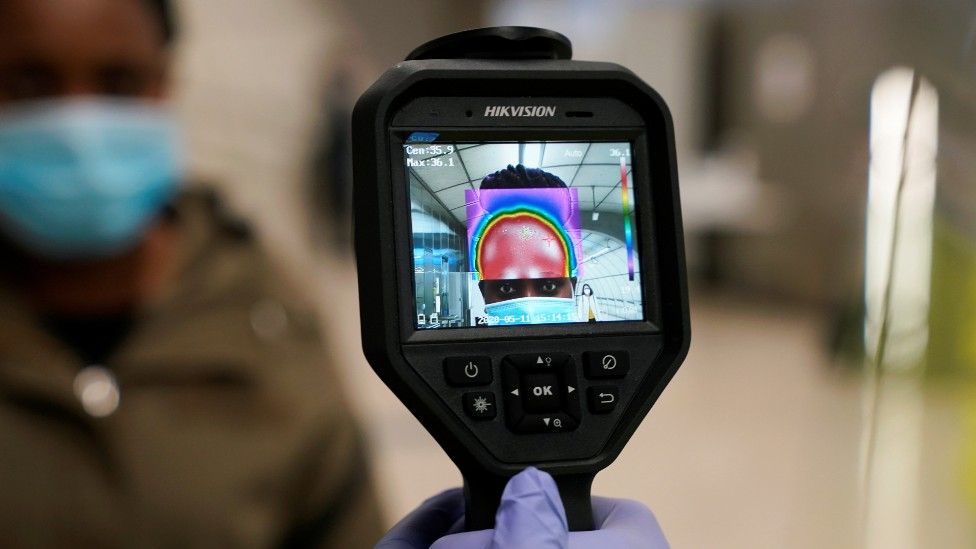 Let's have a look at each product in particular.
FLIR ONE Pro
| Product | Type | Resolution | Battery capacity | Waterproof | LCD screen | Price |
| --- | --- | --- | --- | --- | --- | --- |
| FLIR ONE Pro | Smartphone (2 different versions – Android & iOS) | 160 x 120 | 45 minutes | No | Uses Smartphone screen | Click for more info |
The Flir One Pro is one of the most popular heat cameras on the planet. It is a thermal imager camera for smartphones which attaches to your phone either via USB-C, micro USB or Lightning port. This is something you'll have to choose the moment you purchase.
Its thermal sensor comes with a moderately high thermal resolution of 160 x 120 which amounts to 19,200 pixels in total. The sensor itself is also backed up by a visible light camera and the two images are fused together into one detailed thermal image using something called MSX image enhancement (Multispectral Dynamic Imaging).
It can measure anything in a temperature range from -4 to 752°F( -20 to 400 C) with a thermal sensitivity of 0.07 C. Now one of the interesting design choices that they made was to fit it with its own battery which is small and doesn't last a lot unlike the Seek Compact which just uses up the phone's battery. The pictures get stored on the phone and you used your phone's display for the live view together with the Flir One app available on the Play Store and App Store. You can capture images, video and also timelapse using the app.
There are 9 color palettes from which you can choose, you can setup multiple measurement spots in the image and the captured images also come with full radiometric data which you can use later in the Flir Studio app to fiddle with the color palette and temperature scale. Smart.
The camera itself is not waterproof or dustproof, no heat camera for smartphones has this anyway. Flir will offer you a 2-Year warranty for the camera and a 10-year one for the infrared sensor. Apart from this model, there's also the Flir One Gen 3 which is cheaper and the Flir One Pro LT.
HIKMICRO B1L
Now we get to a handheld heat camera called the Hikmicro B1L. This is meant to be serious competition for established heat signature cameras like the Flir TG165-X. It has more thermal pixels with a 160 x 120 resolution for less than what the TG165-X costs.
But the big advantage of the Hikmicro B1L is in its 25Hz refresh rate. You see, infrared thermal imaging cameras made in America are limited to 9 Hz by law, this one which is made in China is not. This means that you'll be getting refresh rates as high as 25 Hz which brings in a whole new experience.
It is a heat camera with wifi and USB-C so you can download the pictures to your PC via the USB Cable but also livestream your screen via Wifi to the Hikmicro Viewer app. Its temperature measurement range varies from -4 F to 1022 F (-20 C to 572 C). This is a really wide range and it's what you'd usually expect from an infrared thermometer rather than thermal cameras. The manufacturer also states that it can sense any temperature difference above 0.04 C which is extremely sensitive.
The battery is great too because it will last about 8 hours and you also get 4GB of internal storage, enough to probably not have to delete any image ever (Remember, these are thermal images, they are really small in file size). Not as many color palettes to choose from and no visual camera, but the resolution is pretty high and personally I do not believe you will be bothered by either of these minuses.
This heat camera's enclosure is also IP54 rated so it is waterproof and dustproof. For its price, you won't find any heat camera on the market which can offer something even remotely close.
FLIR C5
Then we have the best pocket heat camera which is the Flir C5 thermal imaging device.
Its smart sensor can capture thermal images with a 160 x 120 resolution totalling 19,200 pixels. All the images can be captured in radiometric format and then later edited in the Flir Studio software. The refresh rate is limited to 9 Hz because Flir is a US-based manufacturer, so here the Hikmicro certainly has the upper edge.
Along with the thermal sensor, there's also a visual camera which is used to create a blend between the two images using something called MSX. The blending algorithm is by far the best on the market right now on any infrared camera. The pictures can be stored directly on the cloud, the first of its kind which is dedicated to storing and handling thermal pictures. The connection to this cloud is made possible by the fact that the camera has USB, Bluetooth and Wi-fi connectivity. Over-the-air updates are also available.
One of the main things you'll love about this form factor is its huge 3.5″ color display screen. It is a touchscreen and that is the main way you'll be interacting with this handheld infrared thermal camera, very intuitive and easy to use.
Now let's look at its temperature range because this handheld camera is capable of detecting temperatures from -4 to 752°F (-20 to 400°C). Then there is the thermal sensitivity which is really good for its price, just 0.05 C (Remember, lower is better here). The accuracy isn't as great as what you'd get on other thermal imaging devices, it can measure with a +/- 3 C accuracy.
The IR camera is waterproof but the battery only lasts for 4 hours. They could have done a bit better here.
Flir TG165-X
The Flir TG165-X is one of the most popular handheld heat cameras. It is the upgraded version of the best-selling Flir TG165.
The idea with this is that it has an 80 x 60 thermal resolution (4800 pixels) coupled together with a visual camera and MSX image enhancement. It has 4GB of storage, just USB-C connectivity and the enclosure is waterproof. It was designed to be a great all-rounder but now the Hikmicro has come to the market and the TG165-X just can't match it in terms of specs.
Right now, the TG165-X retails for 350$ while the Hikmicro sells for 400$. The extra 50$ will get you a lot, including a large screen, much higher thermal resolution (equivalent to what you get on the Flir TG267), 25 Hz refresh rate, a wider temperature range, more storage and battery life.
But the good news is that you have a wide array of choices with heat cameras and that's what's important. We love the TG165-X and consider it to be a solid choice, just that the Hikmicro is a thermographic camera which provides better value for money.
Seek Thermal Compact PRO
The last heat camera we'll be looking at is the Seek Thermal Compact Pro. This is also a smartphone attachment just like the Flir One Pro and its direct competitor.
It has a staggering 320 x 240 pixel IR resolution, beating out handheld thermal cameras which cost 3 times more. It can sense and detect heat signatures even up to 1800 feet away and can measure any temperature from the extreme cold of -40 Fahrenheit to scorching 626 Fahrenheit heat.
It doesn't have a battery, screen, storage or visual camera and instead it makes use of the ones fitted on your phone. Now because the visual camera is always in a different spot on the phone, you have to do some manual alignment of the two images yourself. Given that the price is similar with the One Pro, the Compact proves to be a heat camera with very good value.
The camera itself is not waterproof but there is the option of a waterproof case.