We review the 4 Best Infrared Cameras that you can buy in 2022. These are devices that have a proven track record, solid thermal image quality and of course prove to be great value for money

We will be comparing them on thermal resolution, temperature range, battery life and so much more.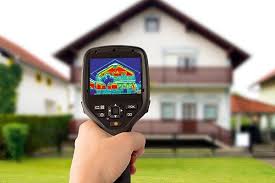 Let's have a look at each product in particular.
Flir TG165-X
The Flir TG165-X is regarded as one of the best infrared cameras out there on the market because it packs a good punch at a decent price level. This model is the improved version of the Flir tg165 spot thermal camera.
It comes with an IR Resolution of just 80 x 60, resulting in 4800 thermal pixels. However, it is supported by a visual camera and the most powerful fusion algorithm there is on the market, the MSX image enhancement technology . When the two images are combined, the thermal imaging quality drastically increases. You get the heat signatures and the extra details that come from the increased image quality. All of the captured images are stored in radiometric form and can be then adjusted and edited in the Flir Studio software.
It can measure any temperature between -13°F to 572°F (-25°C to 300°C) with an accuracy of +/- 1.5 ° C and a thermal sensitivity of 0.07° C. One interesting advantage is that it has a laser pointer which is useful in order to pinpoint what it is you want to measure.
The integrated battery should last about 5 hours, 3 hours less than its predecessor but still good enough for a week of use in normal conditions. It has a 4GB internal storage which means you'll most likely not have to delete any image throughout the thermal imager camera's lifetime. And speaking of that, you'll be viewing these infrared images on its 2.4″ LCD screen. The enclosure is IP54 rated so the camera is basically waterproof.
HIKMICRO B1L
Now the Flir TG165 infrared camera has had its golden days, but now Hikmicro has brought a new competitor to the table in the form of the B1L IR infrared thermal imager. It costs just 50$ more than the TG165 and comes with superior specs in almost every aspect.
It has a thermal sensor with a 160 x 120 pixel resolution which amounts to 19,200 pixels in total. Not only that but it comes with a 25 Hz refresh rate, beating out 95% of cameras on the market which are limited to just 9 Hz. (At the moment, it's basically Hikmicro and Hti which offer this refresh rate on most of their products). Maybe when you are considering the purchase and you haven't used any, this might not make the difference but once you use it in the real world it is a game changer. One disadvantage is that there is no visible light camera, so you're limited to what the thermal sensor can detect however the resolution is really good. You don't get as many color palettes as you would with a Flir or a Seek but the 4 palettes are still good enough.
Its temperature range is also impressive spanning from -4 F to 1022 F (-20 C to 572 C) with an accuracy of +/-2 C and a supposed thermal sensitivity of 0.04 C. We say supposed because it just sounds too good to be true since infrared Flir cameras costing 3-4 times as much struggle to achieve that.
The rechargeable battery lasts for 8 hours of continuous use and even the LCD screen is bigger on the B1L because it measures 3.2″, basically bigger than the one you would get on a Flir C2 or Flir C3 and as big as the one on the Flir C5.
It too is waterproof and IP54 rated. All things considered, for the price that you pay this is excellent value and the long-term user ratings have been consistently backing this up.
Seek Thermal Compact PRO
Our next best infrared camera is the Seek Thermal CompactPro. This is a smartphone attachment which can connect to your phone via Lightning, micro USB or USB-C port.
The advantage of this form factor over standard handheld infrared thermal cameras is that you're only paying for the essential which is the thermal sensor and thus can usually get a higher resolution as is the case here because it comes with a 320 x 240 resolution meaning 76,800 pixels in total. Given the price that you pay for this infrared camera, this is extremely good value since only higher end handheld cameras can provide this kind of image quality and for 3-4 times the price.
There's no SD Card, color display screen, battery or visual camera. Instead it uses your phone for all of that. The visual camera is a bit tricky because since every camera is placed in a different position on each phone, you have to do a bit of alignment to get things right.
Its temperature measurement range spans from -40F° to 626°F (-40°C to 330°C) with a thermal sensitivity of 0.07 C.
Another strong point is that this thermal vision camera can detect heat even up to 1800 feet away, much further than most cameras can but of course the accuracy will deteriorate as you measure further and further.
The camera itself is not waterproof, however there is a waterproof case that you can get for it, but not included in the standard package.
FLIR ONE Pro
| Product | Type | Resolution | Battery capacity | Waterproof | LCD screen | Price |
| --- | --- | --- | --- | --- | --- | --- |
| FLIR ONE Pro | Smartphone (2 different versions – Android & iOS) | 160 x 120 | 45 minutes | No | Uses Smartphone screen | Click for more info |
The Flir One Pro thermal imager is another great infrared camera. It costs a bit more than the Seek CompactPro though. You can get it in 3 versions, with a USB-C, micro USB or a Lightning port.
For that money you get an infrared sensor with a 160 x 120 resolution and a visual camera together with the whole MSX image enhancement package. The smartphone app is better too in our opinion, more polished. It can capture photos, videos and there's also a timelapse mode.
It can measure any kind of heat signature from -4 -> 752°F( -20 to 400 C) with a 0.07 C thermal sensitivity. All the infrared images that you capture have radiometric data in them for you to fiddle with later.
Along with the infrared sensor and 1440 x 1080 visual camera, it also has an integrated battery but we're not sure that this is the best way to go since it is quite small and usually lasts for no more than 45 minutes. Seek's approach seems to be superior since you can always get a phone with a larger battery.
If the Flir One Pro is too expensive, you can always opt for the Flir One Gen 3 which has a lower resolution but costs less and there's also the Flir One Pro LT which positions itself somewhere between the two.
The One Pro comes with a 2-Year warranty for the device and 10 years for the infrared sensor.