We selected these 4 devices as the best home EV Chargers to buy in the UK. They all provide fast charging speeds, great weather protection and one of them even smart charging features.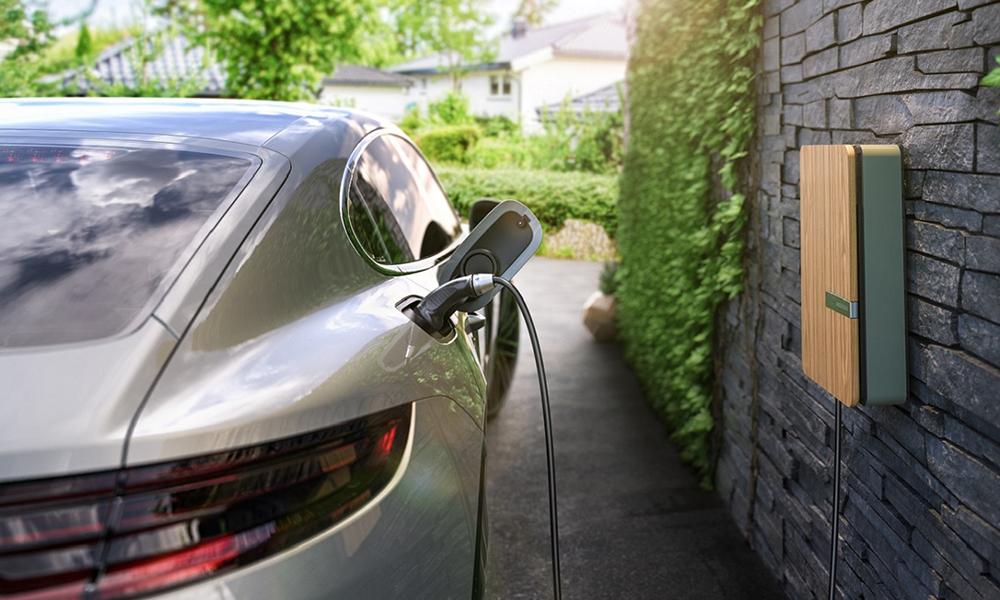 Let's have a look at each product in particular.
QubEV – Level 2 EV Charging Station (32 Amp)
The first charger we'll be looking at is the QubEV home charging station, one of the best-selling home chargers in the UK. This is a 32-Amp charging system which only consists of a charging socket, there is no cable included. Now because it is a 32-Amp model, it can achieve a 7.2 kW charging rate which in effect means that it will get a 62 kWh VW ID.3 from 20% to 100% in just about 8 hours, as much as it takes you to sleep. So the charge speed is more than enough to get it full overnight.
Now the EV charging station itself as we mentioned, does not come with a cable included making this an untethered charger and this allows you to choose how long you want it to be and what connectors you want. On the home charger, you'll find a Type 2 (Mennekes) connector which is the european standard for EVs. To connect it to your home circuit, you'll need to hardwire it because it doesn't come with a UK plug. It's not a hard job to do and any licensed electrician can perform this standard installation.
There is no LCD display mounted on the unit, just an LED indicator light and of course no smart features which means that you can't have charging scheduled for a certain time or keep track of your costs.
The charging station itself is IP65 rated which is really good for an untethered charger and that's because it is harder to get a good seal on a socket in which you plug a cable rather than one which is fixed to it and can't be disconnected. So you can still charge in the abundant rains of Cardiff or Glasgow without stopping. It also comes with a 1-Year warranty.
Rolec WallPod – Type 1/2 EV Charging Station (16 / 32 Amp)
The next best Home EV Charger in the UK is the Rolec Wallpod. Now you can have the Rolec in both tethered or untethered however the one we will review here is the tethered version that comes with the 5 meter EV Charging Cable.
There are 2 versions, a 16-Amp that can output up to 3.6 kW of power and a 32-Amp version which can output 7.2 kW. With the 16-Amp the time for charging an electric car should be about 16 hours for that 62 kWh VW ID.3 from 20% to 100% while the 32-Amp should allow you to charge it in 8 hours, just like with the QubEV.
For home installation, you're going to need to hardwire it as that is the only option, there's no wall connector. In terms of its connection to your electric car, it comes with a Type 1 or Type 2 connector, depending on your home EV charging needs.
This is not a smart charger either. If you need features like that, you can either have a look at the Wallbox which we review below or at the smart version of this particular charger: the Rolec Wallpod EV HomeSmart.
For safety, there's a locking system on the control panel, a welcome bonus to protect your unit. The whole unit is IP65 rated meaning you'll have no problems charging in the rain or snow and you get a standard 1-Year warranty when you purchase it.
Wallbox Pulsar Plus – EV Charging Station (7.4 kW)
The next home EV Charger available in the United Kingdom is the Wallbox Pulsar Plus. This is one of the best home charge points in the United States which was also brought to the european market.
Now the one we're reviewing is meant to be supplied with single-phase power up to 7.4 kW but there's also a version which can take power from a three-phase supply which gets up to 22 kW. The 7.4 kW version can achieve the standard 8 hours that we mentioned to charge the 62 kW ID.3 from 20% to 100%.
The wallbox is a tethered charger and comes with a 5 meter cable which optionally can be 7 meters. As standard it comes with a Type 2 connector and it can only be hardwired to your home circuit, there's no wall connector.
The Wallbox is a smart home charger so it can do smart things like load balancing, meaning if you connect two of these to the same circuit they will tone down their power rate and distribute the available energy equally so that the home circuit doesn't get overloaded. It also knows how to take advantage of green energy and can be set to only use excess solar power when available.
It comes with the myWallbox smartphone app which provides the EV owner with real-time charging data but also the ability to remote control it even via your voice through Alexa integration. The ability to set custom charge schedules also helps you avoid peak energy usage which will reduce the electric car charging costs.
Another great feature of the wallbox charger is the ability of the smartphone app to keep track of your electric vehicle charging costs. Given that electricity tariffs have been going up lately, it has become more and more important to keep track of the costs to charge your electric car at home. You can get detailed reports for each day which include the amount of energy used, the duration of each charging session and the cost of it.
The charging unit itself is IP54 rated so it can withstand the rain in the UK and won't stop charging. You can get the Wallbox with a standard 1-Year warranty which optionally can be extended to 3 years.
Vorsprung – Portable EV Charger (10 / 13 / 32 Amp)
Our last home EV Charger for the UK and one of the best portable chargers available in Britain to review is the Vorsprung portable EV Charger. The advantage of this form factor next to the others is that you can use it for charging your electric car not only at home but also at the workplace or wherever you find a wall outlet.
You can buy the Vorsprung in several configurations, a 10-Amp, 13-Amp and a 32-Amp unit which will deliver 2.2 kW, 3.3 kW and 7.4 kW respectively. Now in terms of charging times, by comparison for the same VW ID.3 you'll be waiting 25 hours for the 2.2 kW version, 17 hours for the 3.3 kW or 8 hours for the 7.4 kW charger.
The standard connector provided with this model is the Type 2 connector and to power up the unit you'll be using the standard UK plug. A big advantage of this charger is that it is IP66 rated so it is guaranteed to be weatherproof and charge even if it is raining or snowing. The manufacturer claims it can function between -40 Celsius and 105 Celsius.
You can get the Vorsprung with a standard 1-Year warranty which can then be extended to 3 or 5 years.
All of the chargers that we mentioned here are available to order online in the United Kingdom whether you live in England, Scotland, Wales or Northern Ireland. They all can be wired to a typical home circuit which you'll find on a british house whether it is through the UK plug or by hardwiring. It is likely that you'll have to upgrade the fuses on your electrical panel especially for the 32-Amp versions.