We selected these 4 Fiat 500e Home Chargers that you can buy in Europe right now. They will be reviewed and compared based on charging speed, smart features if there are any, connectors and water protection.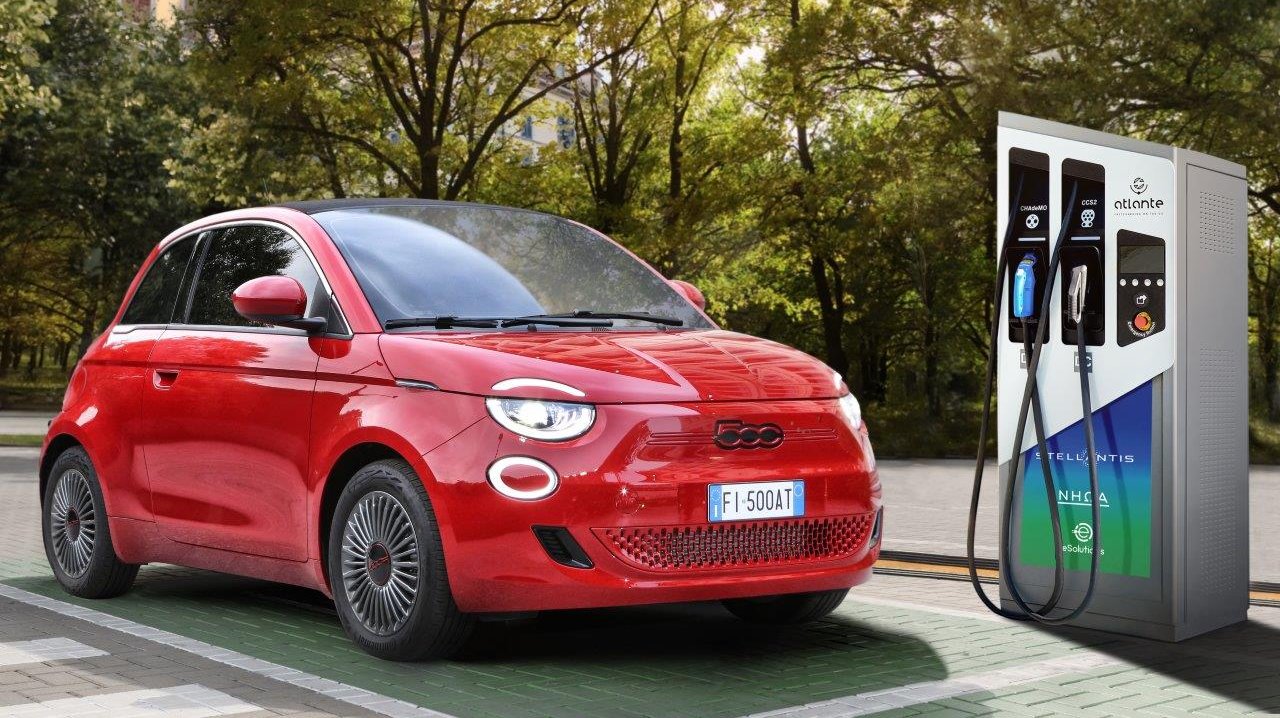 Let's have a look at each product in particular.
Juice Booster 2 – Portable EV Charger (32 Amp)
The first Fiat 500e Home Charger we'll be looking at is the Juice Booster 2. This is one of the best pieces of charging equipment that you can buy in Europe. Now first of all it is good to know that it's a portable charger which you can just carry in the trunk of your car. It has a 11kW charging rate when connected to single-phase power and 22 kW when it is connected to three-phase outlet.
So in terms of power, it manages to max out the Fiat's on-board charger rate. The 42 kW battery on the Fiat 500e EV should charge from 20% to 100% in just under 5 hours. Now these numbers apply to the scenario where you connect it to a single-phase outlet (The Max AC charging rate is 7.4 kW on single-phase), however even if you plug it into a three-phase, you'll still be limited by the car's maximum battery charging rate of 11kW which should get you down to under 4 hours. This can be considered rapid charging.
There's a host of different bundles available which include different combinations of connectors for this fast charger. The basic set will come with just a Schuko and a CEE32 three-phase plug, but there's also the German traveller set, Europe Traveler and Master Traveler which includes 9 different connectors and plugs.
There are no smart features, no smartphone apps so you just plug and go, the device is really easy to use. We like the look and feel of the thing, the materials are really solid and the design feels mechanical somehow. It has an IP67 rating which means it can charge in the rain, snow or extreme heat. It can also withstand cars running over it. The Juice Booster 2 comes with a 2-Year warranty.
Wallbox Pulsar Plus – EV Charging Station (7.4 kW)
Then there is the smarter Fiat 500e Home Charger and that is the Wallbox Pulsar Plus charger. This is a device that is more popular in the US than it is in Europe and there are good reasons for its popularity.
First of all, this an EV Charging Station not a portable charger, so you need to mount it on the wall somewhere. Happily, it has an IP54 rating so you can mount it outside and leave it in the rain, snow or extreme heat and it won't have any problems.
Now if you connect it to a single-phase power source, it will output up to 7.4 kW of power but when you plug it into a three-phase source it can go up to 22 kW. Now most users will be plugging this into a single-phase outlet so the Fiat 500e Charging time for the 42kW battery from 20% to 100% is going to be 5 hours. But if you plug it into a three-phase source, then the same little car built by FCA Italy SPA will charge in under 4 hours. As we mentioned before, the charge speed is limited to 11 kW.
One of the big advantages of this charging station for electric cars is the fact that it has smart features. There's Wifi and you can connect to it using your smartphone and the Wallbox app. It provides you with tons of charging data, lets you set these custom schedules so that the device only draws power from the grid at the time of day when electricity is cheapest. There's also power sharing, so if you have two Fiat 500e cars in your garage and they're both connected to the same circuit, the chargers will communicate amongst them and do load balancing so that they don't overloard the circuit. There is also a host of real-time data that the charger can provide you which may be useful.
Every Wallbox comes with a 1-Year warranty but there is also an option to purchase it with a 3-Year warranty. The charging cable is 5 meters long and uses a Type 2 Connector (Mennekes). The charger is tethered, so you can't disconnect the EV charging cable and replace it.
QubEV – Level 2 EV Charging Station (32 Amp)
The QubEV is our third Fiat 500e home charging solution. This is also a wall-mounted charger and in contrast to the Wallbox, it is untethered so basically what you're buying is a Type 2 outlet (Mennekes) since there is no cable included, you buy that one later according to how long you want it and what type of connector you're using. You also need to hardwire it to the home circuit, it doesn't have an outlet connector.
It can output up to 7.2 kW on single-phase power, so that you means you'll be charging the Fiat 500 in just under 5 hours, just like with the rest of the chargers. There are no smart features, it is a very easy-to-use charging station. It is IP65 rated so this means it can sit outside and continue charging in the pouring rain, in the hot sun or when it is snowing. Each one of these QubEVs come with a 1-Year warranty.
Rolec WallPod – Type 1/2 EV Charging Station (16 / 32 Amp)
The last Fiat 500e home charger we'll be reviewing is the Rolec WallPod. This is also a very straight forward device. There are 2 versions, the 3.6 kW and the 7.2 kW. If you go for the 3.6 version then you can expect to charge your Fiat 500e in 10-11 hours but if you go for the 7.2 kW version then it's going to be under 5 hours. From our point of view it is worth it to spend the extra money.
The charger itself is tethered and the 5 meter charging cables is fixed to it. You can get it with either a Type 1 J1772 EV Connector or with a Type 2 connector (Mennekes). There's no connectivity and no smart features. This is something we would have liked to see, but european chargers are mostly non-smart. But it is IP65 rated which means it is waterproof and dustproof. Each Rolec comes with a 1-Year warranty.
These are our 4 options for the Fiat world, whichever you choose should have you covered and you can be sure you're getting a good product. As they say in italy. Ciao Fiat!