We created a shortlist of 4 great Chevy Bolt Home Chargers that is composed of 3 charging stations and 1 portable charger

All of these devices are fully compatible with the Chevy Bolt and will take full advantage of its high charging rate.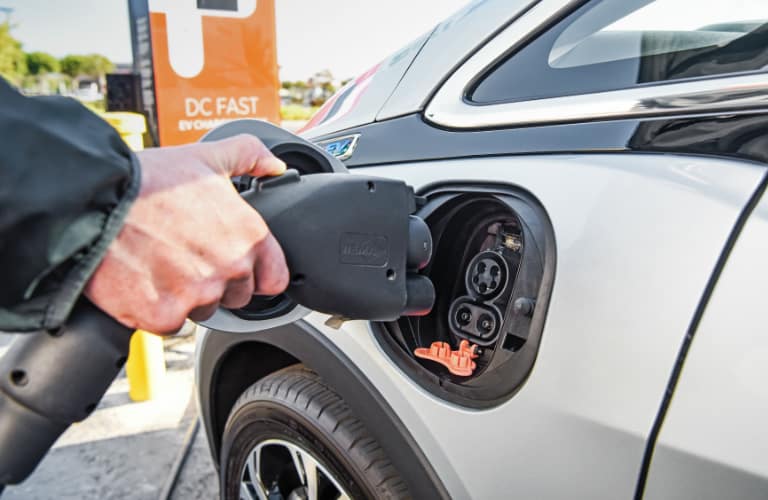 Let's have a look at each product in particular.
ChargePoint Home Flex – Level 2 EV Charging Station (16-50 Amp)
Probably the best Chevy Bolt Charger that you can buy is the ChargePoint Home Flex. Now the Chevy Bolt has an on-board charger that can support a charging rate of up to 11.5 kW and this EV Charging Station can match that. It is a 50 Amp Level 2 Charger that can deliver a 12 kW charging speed.
You can either plug it into an existing wall socket, a NEMA 14-50 or NEMA 6-50 240-volt outlet but if you want to maximize its power it is better that you hardwire it directly to a 60 Amp Circuit breaker. Either way you're going to achieve fast charging times.
By our estimation, the ChargePoint at its peak power could charge a Chevy Bolt with the 65 kWh battery pack in about 6.5 hours. This doesn't account for any kind of throttling that the on-board charger might apply in order to protect the battery in the long term.
It comes with a charging cable that is 23ft long (7 meters) which will be compatible with your Bolt's J1772 plug and most EVs in the US.
This is a smart charger with Wifi connectivity. You can connect to it via your smartphone by downloading the ChargePoint app. This app is both useful at finding a public charging station from their large network but also remote controlling this home charging station.
The app can provide you with key info on the charging process like the Amps, Voltage or how many miles of range per hour are being added. You can also check out a log of your previous charging sessions, control it via your voice through Amazon Alexa / Google Assistant to the degree that you can just ask it how much you've been spending this month on charging your EV.
Of course, one of the essential functions is charge scheduling and it is there, you can schedule it to only charge during off-peak hours and that way you get to reduce your charging cost.
The holster on this EV Charger is very well built since it makes it very easy for you to holster the connector and the backlight behind it will make it easy for you to find the charger in the dark. The entire enclosure is NEMA 3R rated, which makes it more fragile than other wall chargers and this is why we recommend installing it in a more secure place where there's a lower chance of water getting to it. It comes with a 3-Year warranty and you get 24/7 customer support from the manufacturer.
Grizzl-E Classic Charger – Level 2 EV Charging Station (16-40 Amp)
The Grizzl-E Classic takes a different approach to the Chevy Bolt Home Charger. If the ChargePoint is packed with smart features, this one is not. It was designed to be easy to install and use, to just plug in and be done with it.
This is a 40-Amp Level 2 charger that can achieve a 9.6 kW charging rate. The cable stretches out to be 24 feet long (7.3 meters) and uses an SAE J1772 connector. You can either plug this home charger for the Chevy Bolt into a NEMA 14-50 or 6-50 outlet or you can hardwire it directly.
Now at this charging rate, we estimate that it will charge the Chevy Bolt with the same 65 kWh battery pack in about 7.5-8 hours which is still within the range of a good night sleep.
Even though it does not have any kind of wifi connection or smartphone app, one of the main strengths of this particular EV home charger is its IP67 enclosure. This is as good as it can get in terms of sheer toughness and durability. This means you can throw it into the sea then take it out, dry it up and it will still work. It also comes with a 3-Year warranty from the manufacturer.
ENEL X JuiceBox 40 – Level 2 EV Charging Station (40 Amp)
The Enel X is one of our favorite chargers for Chevy Bolt EVs. It can output 40 Amps of electrical current at a 10 kW charging rate. It can be plugged into a NEMA 14-50 wall outlet or hardwired and it comes with a charging cable that stretches out to be 25 feet long.
Because this has essentially the same charging rate as the Grizzl-E charger, you can expect the time to fully charge the Bolt to be essentially the same.
There are plenty of smart features too that you can access through the Juicenet app. It lets you set charging schedules for each day, find out exactly how fast the car is charging, what's the status and battery level. You can also check out extensive reports with detailed graphs showing how much you've charged your EV each day and there's a total metric that tells you how much CO2 you've saved since using your EV together with this charger.
Of course, there is Alexa integration so you can use your voice to control it and it helps you keep track of charging costs which is essential.
The enclosure is NEMA 4X rated which would equivalate to IP66, meaning that this is waterproof and dustproof up to a high extent. It is almost as tough as the previous one and comes with a 3-Year warranty.
Mustart – Level 2 Portable EV Charger (40 Amp)
The Mustart Level 2 Portable is our last Chevy Bolt EV Charger and the reason we chose to include it is because this is a different form factor. Often times you can have a charging station at home but also carry a portable one with you in case you need it.
This is a 40-Amp charger that can deliver the same amount of power as these more powerful charging stations, 9.6 kW. You just plug it into a NEMA 14-50 or a 6-50 outlet, there's no point to hardwire this since the ability to move it around is its greatest strength.
There are no smart features, you just get the charger with the 25ft J1772 cable and a control box that displays some key info on an LCD screen. However, you do get 2 buttons: one will let you cycle between different Amp settings and one will let you set a charging timer which basically tells the unit to start charging after a certain number of hours.
The control box is IP65 rated and it comes with a 2-Year No-Hassle warranty. Even if you've a charging station for your Chevy Bolt, it is still a good idea to have one of these at hand.