We created this shortlist of the 4 Best Mustang Mach-E chargers that you can use at home or at your workplace

They are all fully compatible with the Ford Mustang but also most EVs that are sold in North America.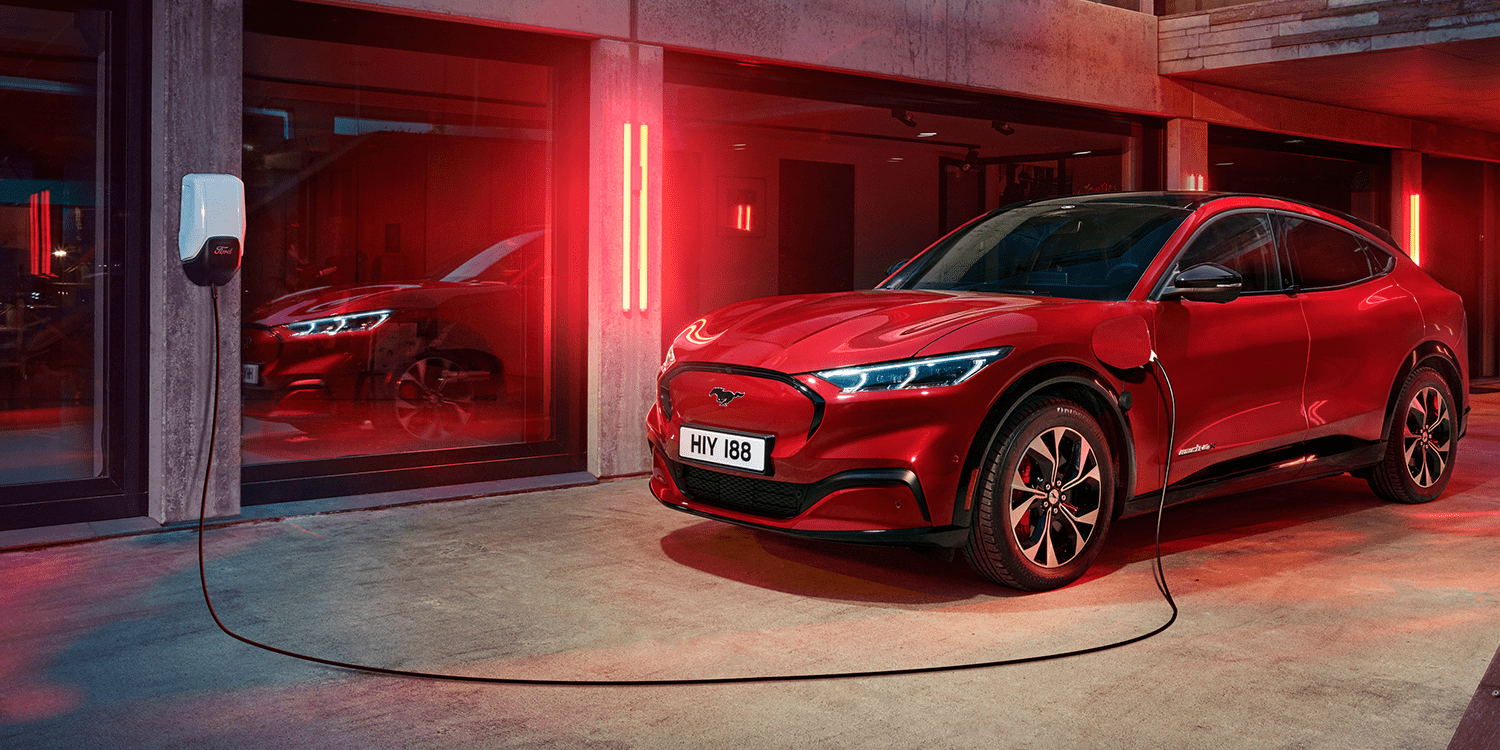 Let's have a look at each product in particular.
ChargePoint Home Flex – Level 2 EV Charging Station (16-50 Amp)
The first Mustang Mach-E Charger is the ChargePoint Home Flex, one of our favorite home charging stations. It is capable of delivering anywhere from 16 to 50 Amps of electrical current and 12kW of charging power at a 240V voltage. To plug in this charger, you just connect it to a NEMA 14-50 or a NEMA 6-50 wall outlet or you can hardwire it to a 60 Amp circuit in order to take advantage of this charger's maximum charging rate.
By our estimations, this electric vehicle home charger can charge your Mach-E in 7.5 hours if you are using the 70 kWh standard range version and 9.5 hours if you are using the 91 kWh extended range version.
The ChargePoint is not only powerful, it's also really smart because it has WiFi connectivity and you can connect to it by using the ChargePoint app, the same one that you may already be using to find public charging stations for the Ford Mustang Mach-E. It allows you to set a charging schedule for each day so that you can reduce charging costs by using more off-peak electricity, it can produce detailed reports that show you how much energy has been used for each charging session and ultimately how much it costs for you to charge.
This EV charging station also has Amazon Alexa and Google Assistant integration and you can actually ask it to tell you how much you've spent on charging your EV this month, something which is actually useful and not just a gimmick. Another useful function is the reminder feature which reminds you to plug in if you forgot and also notifies you when the car is done charging. EVs are like iPhones, you need to get into the habit of plugging them at night.
The entire device is NEMA 3R rated and it comes with a 3-Year warranty.
Wallbox Pulsar Plus – Level 2 EV Charging Station (48 Amp, 11 kW)
The second home charger for the Ford Mustang Mach-E in our list is the Wallbox Pulsar Plus, a residential EV charging station which is capable of delivering anywhere between 16 to 48 Amps of electric current and 11.5 kW of power. It has no NEMA outlet connector, you need to hardwired it to your 240V home circuit.
On the other end of the charging cable is a J1772 connector which is compatible with most EVs in North America including the Ford Mustang Mach-E and Ford F150 Lightning. The only cars that don't use this port are Tesla models but they come with an adapter. This charging cable can stretch out up to 25 feet (7.6 meters).
You can connect to the Wallbox through either WiFi or Bluetooth using the Wallbox app that you can download from Google Play or the App Store. It allows you to schedule charging times, remotely control it and also interact with it via your voice.
The Wallbox app also helps you keep track of the costs to charge the Mustang Mach-E by providing a nice chart which displays the data for each charging session. It seems to have the best reporting feature as far as EV Charging apps go.
Another very interesting function is the ability to tell the charger to draw more power from excess solar energy, so if you have solar panels mounted at your home then you can tell the charger what kind of balance to keep between drawing power from the grid and from solar energy. This can be a major cost-saving feature.
The Wallbox is also capable of power sharing, so if you have 2 Mustangs and you connect two Wallbox chargers to your home circuit, they will communicate with eachother and distribute power accordingly, so that they don't overload the circuit.
The enclosure of this home EV Charger is IP54 rated for being waterproof and dustproof and the manufacturer offers a 3-Year warranty on it.
The sheer power and smart features make this a perfect Ford mustang mach-e home charging station.
Emporia Smart – Level 2 EV Charging Station (48 Amp)
Our third Mustang Mach-e charging station is the Emporia Smart Charger. This is a 48-Amp charging station with ability to deliver a 11.5 kW charging rate, basically the maximum that the Mach-E can accept.
You can connect it to a NEMA 14-50 outlet or just hardwire it to a 60-Amp circuit breaker in order to take advantage of its full power. It comes with a 24ft charging cable attached to it which uses a J1772 connector.
Because Emporia is an energy management company, this smart charger is focused on that specific part. It does have all the smart features like scheduled charging and remote controlling the charger but there are 2 features we want to particularly focus on.
The first is the ability to use excess solar energy produced by your solar panels. Similarly to the Wallbox, this device can make use of that energy instead of the grid, it can stop whenever it is not available and restart when it comes back.
The other interesting function is Peak Energy Management which allows the charger to stop when peak prices are in effect and then restart when they go down.
We like the white matte finish on the enclosure and you'll be happy to know that it is IP66 rated so it can withstand large amounts of water. Emporia offers a 3-Year warranty on this device.
ENEL X JuiceBox 40 – Level 2 EV Charging Station (40 Amp)
Our final Ford Mustang Mach-E home charger is the Enel X JuiceBox 40. This is a 40-Amp charger that can deliver up to 10 kW of power at a 240V voltage. You can plug this into a NEMA 14-50 240V outlet or just hardwire it to a 48 Amp circuit.
While the Enel X may not add as many miles of range per hour to your electric car, it still classifies as a fast EV home charger.
It comes with a 25ft cable and can be connected to any J1772 plug. You also get Wifi connectivity and the ability to control it remotely through the Juicenet app. All the usual functions are there along with a unique metric that tells you how much CO2 you've saved up until now by using your EV.
The Enel X has a solid outer case which is NEMA 4X rated (IP66 equivalent) and comes with a 3-Year warranty. We like the blue gradient color on the front of it, a minimalistic design.