The E-S1mple is a Type 2 portable EV charger which offers moderate charging speeds, very good weather protection and a selection of 5 and 10 meter cable options.

PROS: IP65 water and dust protection, 10m cable option

CONS: No smart features, Only 10 Amps (3.7 kW)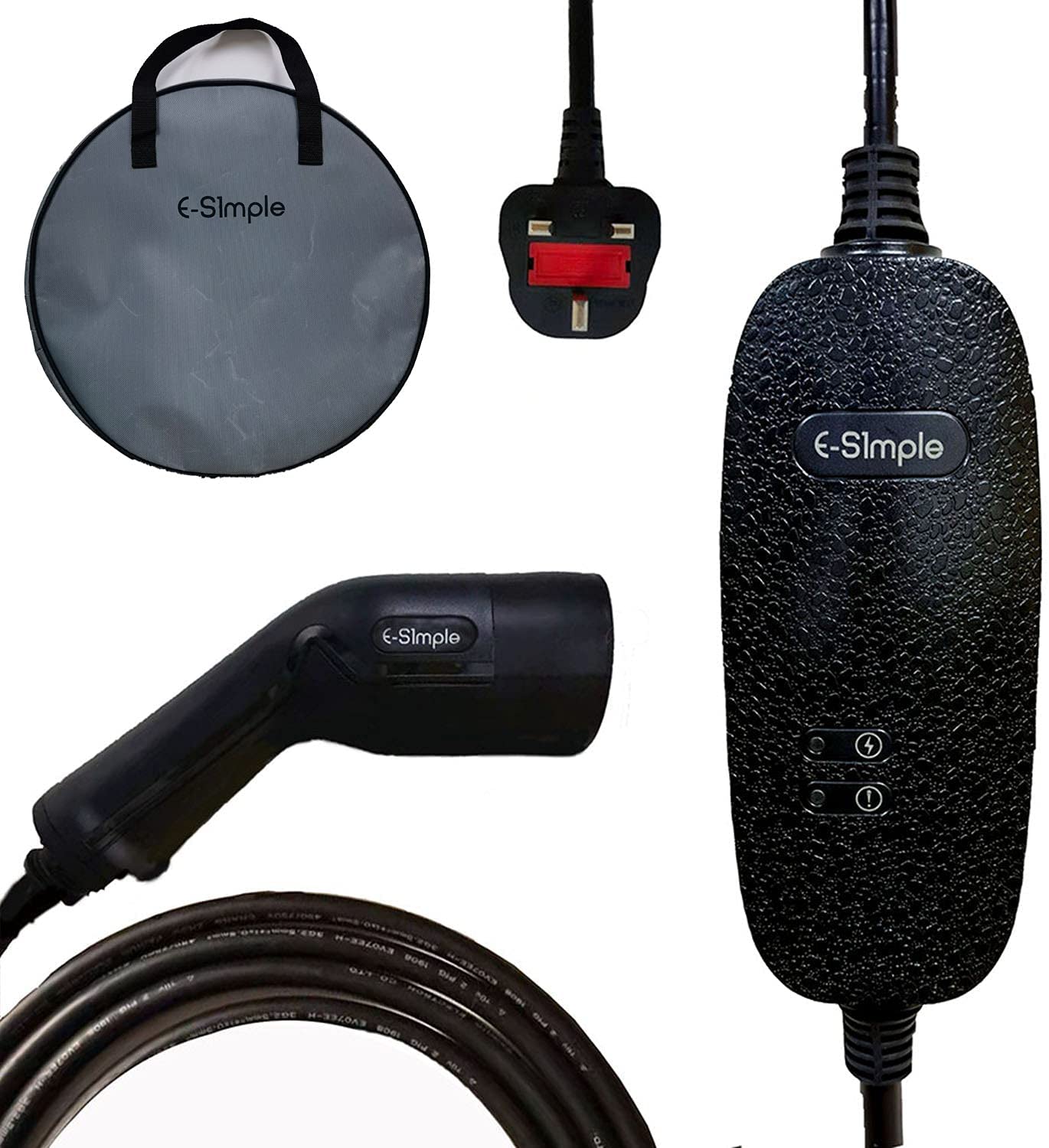 E-S1MPLE – Portable EV Charger (10 Amp) Specifications
| | |
| --- | --- |
| Amp rating | 10 Amp |
| Level | Level 2 |
| Type | Portable EV Charger |
| Cable Length | 5 meters / 10 meters |
| Nema | UK Plug |
| Power | 3.7 kW |
| Voltage | 240V |
| Connector | Type 2 (Mennekes) |
| Connectivity | No |
| IP Rating | IP65 |
| Display | 2 LED Indicator Lights |
| Warranty | 1-Year |
| Features | IP65 weatherproof, -30 C to + 50 C operating temperature, Can be driven over by car, CE, TUV and UKCA certification |
| What's in the box | |
| Weight | 2.11 kg |
| Features | Tethered, Alexa & Google Home, Charge Scheduling |
E-S1MPLE – Portable EV Charger (10 Amp) Charging specifications
The E-S1MPLE is a 10-Amp portable EV charger which can deliver up to 3.7 kW of power. One of its biggest advantages is that you don't need to install it, hardwire it or mount it on a wall. One can carry the E-S1mple around and use it as a home charger or workplace charger reducing the dependency on public charging stations.
So let's put this 3.7 kw in terms we can actually make sense of: For example if you drive a VW ID.3 with a 62 kWh battery, then it should take about 15 hours to fully charge it from 20% to 100%. Given the car's range, we can safely estimate that you should be guaranteed to get 20km of range per hour of charge. That's not bad since the average person usually drives about 20-40km on average per day.
E-S1MPLE – Portable EV Charger (10 Amp) Cable types and connectors
When it comes to the EV Charging cable length, you'll be happy to know that you can buy the E-S1MPLE EV Charger with a 5m cable but there is also a 10m option which should have you covered in most situations.
This is a Type 2 EV Charger which means it will be compatible with most of the electric cars which are made in Europe. The connector which is also known as Mennekes is the european standard for AC charging on the continent. If you want to charge a Nissan Leaf for example with a Type 1 connector, you can just buy a charging adapter.
On the other end of the cable you'll find the standard UK Plug but obviously if you want to use it in other parts of Europe, you can just attach an adapter.
The cable is permanently connected to the control box which makes this a tethered charger. All portable electric car charging cables tend to be tethered. If you are looking for one that is untethered, then your best bet is to go for electric vehicle charging stations.
E-S1MPLE – Portable EV Charger (10 Amp) Features
The E-S1MPLE Type 2 charger doesn't have any smart features and this is usually the standard for portable chargers as we have yet to find one which does implement any kind of smart charging features. But you can do without Alexa integration or smartphone apps since they are usually there to provide better control over the device and to keep track of costs.
The control box for the E-S1MPLE is IP65 rated which means it is waterproof and dustproof. Even if it rains or snows outside, it will keep charging and actually the manufacturer states that the charging unit can function at anywhere beteen -30 Celsius and +50 Celsius. It also has CE, TUV and ROSH certification and can withstand a pressure of 1.5 tons.
All of this is backed up by a 1-year warranty, the design of the control box is very simple because you just get 2 indicating LED lights but I have to say I am not a big fan of the "rough paint job". The unit is a portable home charger but it can be mounted on the wall, there is one screw hole for that.