The Juice Booster 2 is one of the most powerful portable EV Chargers in the world. It can deliver 11kW on single-phase and 22 kW on three-phase current to your EV, it is IP67 rated and can withstand anything you throw at it, plus it comes with a huge bundle of connectors and adapters.

PROS: Extremely fast charging speed, portable, IP67-rated, Wide array of connectors and adapters.

CONS: No smart features.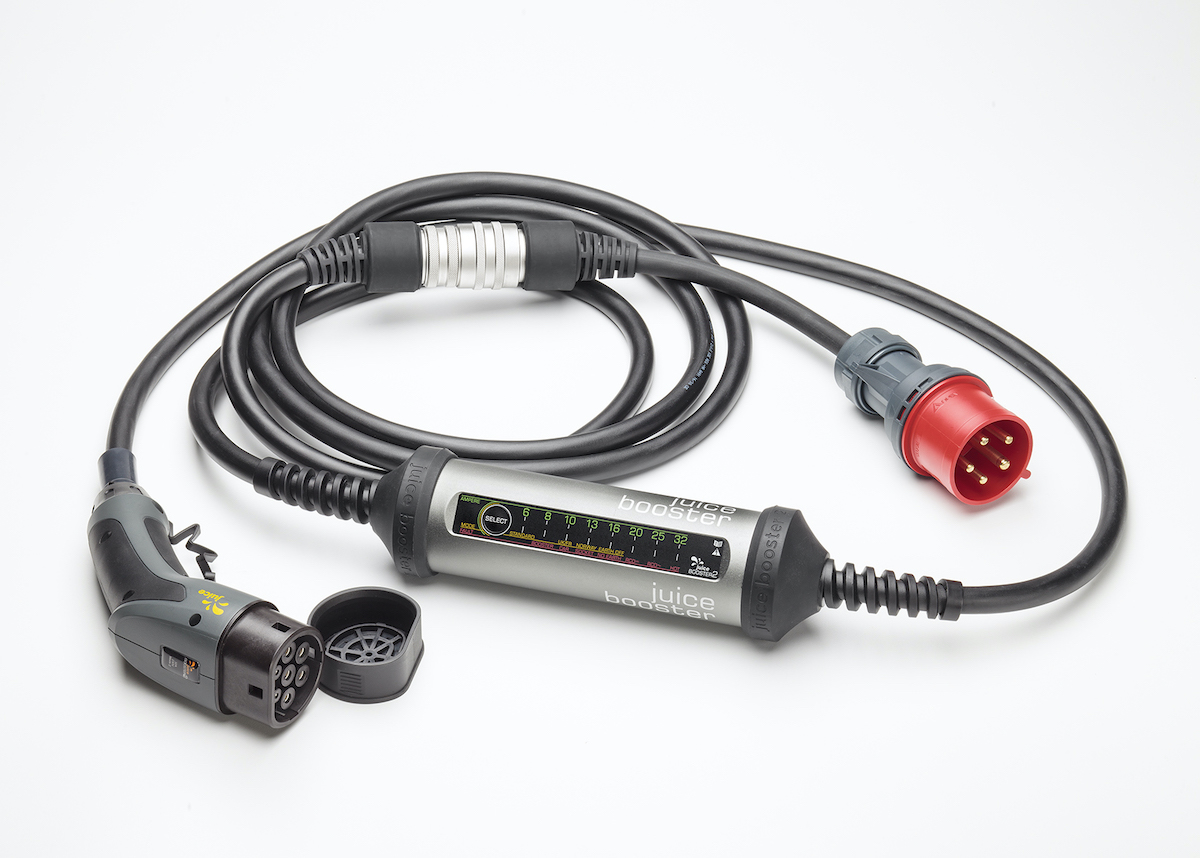 Juice Booster 2 – Portable EV Charger (32 Amp) Specifications
| | |
| --- | --- |
| Amp rating | 32 Amp |
| Level | Level 2 |
| Type | Portable EV Charger |
| Cable Length | 3.1 meters |
| Nema | EU, UK, NEMA, Plexo, CEE16, CEE32 (Single & Tri-Phase) & other adapters. Multiple adapter bundles available. |
| Power | 11 kW / 22 kW |
| Voltage | 230V / 400V |
| Connector | Type 2 (Mennekes) |
| Connectivity | None |
| IP Rating | IP67 (Drive-over resistant) |
| Display | LED Indicator Bar |
| Warranty | 2-Year |
| Features | Fast charging speeds, Compatible wiht Type 1 & Type 2, Single & Tri-Phase, IP67 Waterproof & Drive-Over Resistant, -30 Celsius to + 50 Celsius, Rubberized Handle |
| What's in the box | |
| Weight | 8 kg |
| Features | Tethered, Alexa & Google Home, Charge Scheduling |
Juice Booster 2 – Portable EV Charger (32 Amp) Charging specifications
The Juice Booster 2 portable charger can work with both single phase and tri-phase current. If you plug it into a single-phase socket then it will output up to 11 kW of charge power but if you plug it into a three-phase outlet, then its maximum power output is going to be 22kW.
Now let's give some perspective to those numbers: If you manage to run it at 11 kW using single-phase current, then you'll be able to charge a Dual-Motor 100 kWh Tesla Model S from 20% to 100% in just about 8 hours. This doesn't take into account any kind of potential software throttling that's variable throughout car brands and different models.
Now if you want to deliver 22 kW of power to this car using the magic of three-phase electricity, then you'll be charging it in just 4 hours. This is wildly fast by any standards. This means you'll be getting almost 93 miles per hour of charge.
Its maximum charging power is unmatched by other mobile charging stations.
Juice Booster 2 – Portable EV Charger (32 Amp) Cable types and connectors
The Juice Booster 2 comes with a standard Type 2 EV Charging cable with a length of 3.1 meters making it compatible with all electrical cars in europe like the BMW i3, Renault Zoe, VW ID.3, etc. However if the charging cable length is not enough, you can buy additional extension cords for it.
Now we get to one of its biggest strengths, the connectors. The swiss company that makes it, Juice Technology AG has thought of everything because you can buy it in a variety of bundles that include extra adapters and connectors.
The basic set that you'll find on Amazon will include a CEE32 three-phase connector and a Schuko EU Plug.
But then there's the German traveller set which brings an additional CEE16 and a Camping connector.
There's also the Europe traveler set which includes 8 adapters and the Master Traveller Set which has 9 of them and includes an extension cord. Plus you can find adapters for Type 1 and Type 3 as optional extras so you really will be able to charge not just your EV at home but all the electric cars in the world because you're surely going to find an adapter for that.
The charging cable is tethered to the charging unit so you can't disconnect it, but you can add the extra adapters or extension cord. What is interesting is that the device can not only act like portable charger but also like a type 2 EV cable if you need it to be one.
Juice Booster 2 – Portable EV Charger (32 Amp) Features
The Juice Booster 2 is a simple plug-and-go charger with no smart charging features built in. You don't get things like a smartphone app or Alexa integration. The unit has quite a retro look and feel to it but the materials are spot on. There's just one button to cycle between different Amp settings from 6 to 10. I personally am a fan of this design, it looks like a professional tool more than just a plasticky gimmick.
There's a wall bracket for this device as an optional accessory which lets you mount it on the wall and turn it into an EV charging station for electric cars.
The unit is also IP67 rated so it is guaranteed to be waterproof and can withstand rain, sun, heat and snow. You can even drive over it and it will still continue to work. The manufacturer offers a 2-Year warranty on this particular unit. The Juice Booster 2 seems to be more than a mobile charger and indeed a complete charging solution.