If you want to install an EV charger at your workplace, there are quite a few options. We created a list of 4 chargers that should fit every scenario.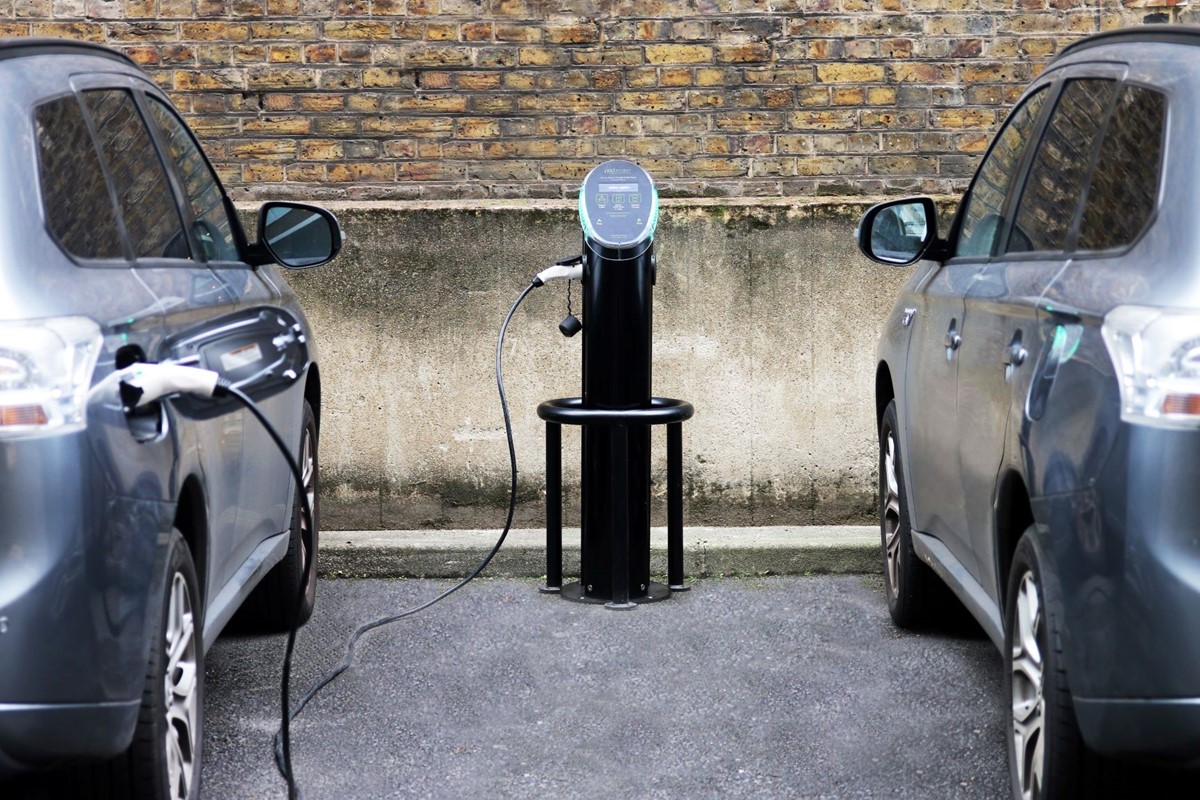 Let's have a look at each product in particular.
Grizzl-E Classic Charger – Level 2 EV Charging Station (16-40 Amp)
The first EV Charger for your workplace is the Grizzl-E Classic. This will fit the following scenario: You can have an EV Charger installed where you work, however it's not gonna be inside a garage, but outside in the sun, rain and snow. This workplace EV Charging station performs perfectly in any kind of weather because it is IP67 rated, which means that whatever the planet has to throw at it, it will still keep charging. It can literally be immersed in water for a short while and continue to work after that.
The Grizzl-E can output up to 40 Amps of current and 9.6 kW of power. What this means in reality is that if you drive a Tesla Model Y with its 75 kWh battery to work and plug it in with just 20% battery left, it will fully charge in about 7-8 hours. At the end of a full workday, it should be fully charged and ready to go.
You can connect this workplace charging station to a NEMA 14-50 or 6-50 outlet but you can also hardwire it to a 50-Amp circuit breaker. It has a 24 ft. long charging cable with a J1772 connector at the end of it, meaning that anyone with an EV that is sold in North America can use it.
This charging solution doesn't have any smart features, for that you can choose the Grizzl-E Smart which is OCPP-compliant meaning that it can work with 3rd party smartphone apps, not just the one that is offered by the manufacturer of the charging equipment and this is good news because the one that Grizzl-E distributes on the App Store needs some serious work. The charger is also backed up by a 3-Year warranty. If your parking spot is outside and you need to mount the charger outdoor next to it, this can handle the job.
Wallbox Pulsar Plus – Level 2 EV Charging Station (40 Amp, 9.6 kW)
Now we get to our next EV Charger for the workplace, the Wallbox Pulsar. If you need a charger that can withstand rain and snow, but you also want some smart features and the ability to control it via your smartphone then this is the one. It's main strengths are the smart charging features and the fact that it too has a strong IP rating, albeit not as strong as the one found on the Grizzl-E.
So let's start with the fast charging capability: It comes in two versions, this one which can deliver up to 40 Amps and 9.6 kW of power and which comes with a 14-50 plug and a more powerful one, the 48-Amp that delivers 11.5 kW but doesn't come with any plug and needs to be hardwired. This somehow makes sense since neither the 14-50 or 6-50 can deliver the necessary Amperage to max out its charging rate.
The charging cable on the Pulsar Plus is 25 feet long (7.6 meters) and uses a J1772 connector. In addition, it has smart charging features which can actually help you in real life. For example, it has the solar excess feature and the way it works is if you work at a green building which uses solar panels, you can tell the charger to only charge when unused excess solar energy is being produced, essentially disconnecting your EV from the utility company completely allowing you to be closer to your sustainability goals.
Another great feature and particularly useful for workplace is power sharing which automatically handles the distribution of power when you have several of these electric vehicle charging stations installed and connected to the same circuit. If it didn't have this, the moment two of them would be on at the same time, the fuse would most likely blow because the circuit gets overloaded.
Another one of the reasons for which this the perfect ev charging station to provide workplace charging is because it has an Auto-Lock feature which you can enable from the myWallbox app. That will prevent anyone from using it to charge their car without your permission.
Apart from these, you get a scheduled charging feature, full logs on each charging session and real-time data on the charging status. The Wallbox is IP54 rated so it can withstand some good rain, not as well as the Grizzl-E but it is up there. It too is backed up by a 3-Year warranty.
Mustart – Level 2 Portable EV Charger (40 Amp)
The first two workplace chargers we reviewed are great when you can install them where you work, but what happens when the company doesn't want to install a charger? Then you have to start being creative. If you can install a 240-Volt outlet in close proximity to where you park your car, then you can just buy one of these portable chargers that you carry around in your trunk and use as a home charging and workplace charging device.
The Mustart is a 40-Amp device which can output 9.6 kW and basically provide you the same charging speed as a 40-Amp Wallbox or Grizzl-E. It has a charging cable that is 25 feet long and can be plugged into a 14-50 or 6-50 outlet.
There aren't any smart features built into the charger, but you do get a display showing you the amperage, voltage and some other basic info on the charging status. Additionally, you get 2 buttons: one to cycle between Amp settings and one to delay charging by increments of one hour.
The control box is IP65 rated so you can charge in the rain without any issues and it is backed up by a 2-Year No-Hassle warranty.
MEGEAR – Level 1 Portable EV Charger (16 Amp)
This EV Charger for the workplace is the last resort solution when you've exhausted all other options. You can't install one and you can't get a 240-volt outlet installed. This is the Megear SkySword Level 1 EV Charger which you can plug into a 5-15 outlet and charge your car.
This is one of those things that each EV owner should have in the trunk of their electric car. There are times when you'll find yourself in more remote areas where you don't have access to public charging spots and this might be the only option. The charging infrastructure is still being built and although great progress has been made, it would still be a good idea to own one. Sure, you'll want a faster one but remember that 240-volt outlets are not always found everywhere you go.
There are downsides to it, especially with the charging speed since it takes you about 35 hours to charge that Tesla Model Y from 20% to 100%. But let's think about it in terms of how much you get within a full workday. 8-9 hours of charging will add about 20% charge to your car, meaning 60 miles in the case of the Model Y. Given that the average american drives 26 miles per day, that should be ok but if you do a long commute to work, then you might want to opt for a more powerful charger.
There are no smart features, just 4 indicating LED lights on the control box which is IP55 rated. The charger is backed by a 1-Year No-Hassle warranty.
One additional accessory which you might want to go for is a J1772 extension cable which can add another 20, 30 or even 50 feet to your charger so if the outlet is far away from the car, you'll still be able to plug in.