Here are our 4 Home EV Charger reviews. We selected these models from the most powerful which needs to be hardwired and installed to the lightest which you can carry it around and plug into any outlet.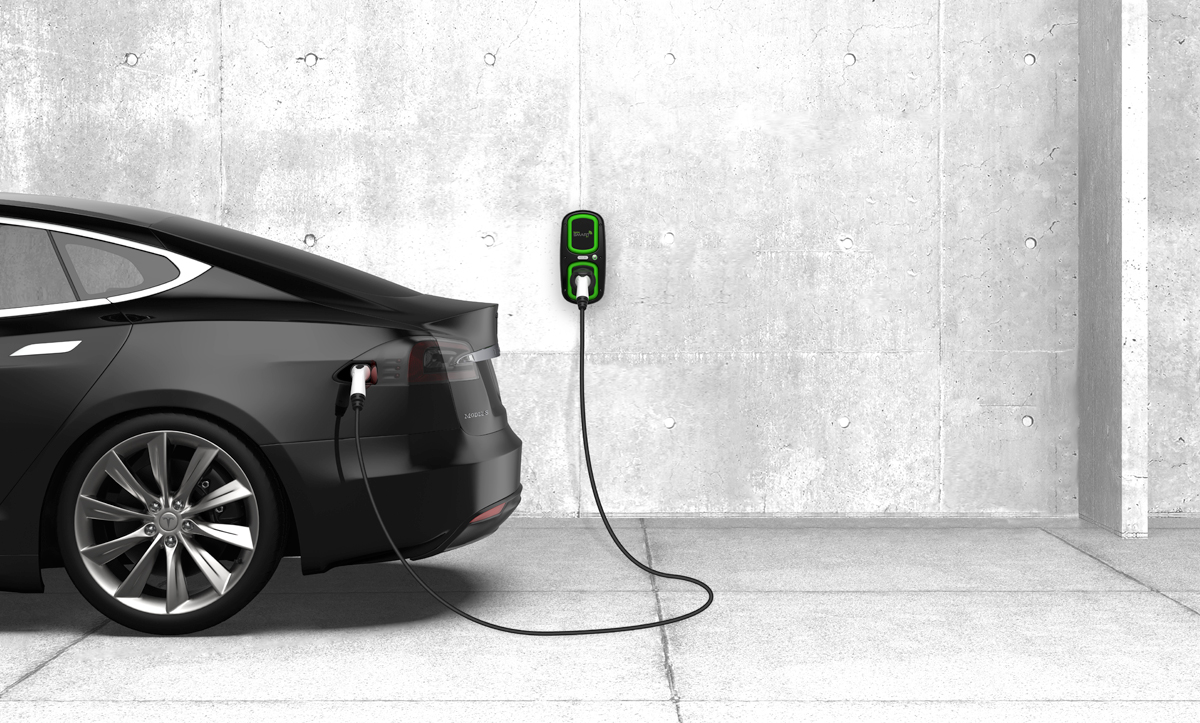 Let's have a look at each product in particular.
ChargePoint Home Flex – Level 2 EV Charging Station (16-50 Amp)
Our first EV Charger review is of the ChargePoint Home Flex electric vehicle charging station. This is a powerhouse because it can deliver 50 Amps of electrical current to your EV and up to 12 kW of power.
To get an idea of the charging times, if you are the EV owner of a Tesla Model Y, let's say you arrive home with about 20% juice left in the battery pack and plug in, it will take just about 6 hours to fully charge it. Even if the battery is almost depleted it will still charge it in less time than it takes you to sleep. But the advantage of this speed is that it can charge it almost solely on off-peak energy, thus reducing your charging cost.
You can mount it on the wall and plug it into a 240-volt outlet if you want, it can connect to a NEMA 14-50 or 6-50 outlet if you happen to have one installed in your garage. However that will only get you up to 40 Amps, so if you want the maximum charging rate then you should hardwire it to a 60-Amp circuit breaker. You can do this yourself or have a licensed electrician do it for you. The charging cable stretches out to be 23 feet long and uses a standard SAE J1772 connector.
Now let's review the smart features because this charger is wifi-enabled. You get the connectivity and the ChargePoint app which you can use to access their public charging network in their extensive network and to remote control your home charge station. You can get detailed logs on each charging session, there is voice control through Amazon Alexa and Google Assistant so that you can literally ask it "How much have I spent on charging my EV this month?" and real-time data.
This home charger is better suited towards an indoor installation because of its NEMA 3R rating which doesn't really protect it very well against rain or snow. If you buy one, ChargePoint will offer you a 3-Year warranty and 24/7 Customer support.
Wallbox Pulsar Plus – Level 2 EV Charging Station (40 Amp, 9.6 kW)
Our next Home EV Charger Review is for the Wallbox Pulsar Plus. This is a 40-Amp smart EV Charger which can output up to 9.6 kW of power. Now the charge speed is not going to be as good as with the Home Flex, however it can still charge that Tesla Model Y we mentioned earlier from 20% to 100% in about 7 hours, so less time than it takes to sleep and plenty of off-peak hours included in there to keep your charging costs as low as possible.
You can plug the Wallbox into a 14-50 outlet but you can also hardwire it, however in contrast to the ChargePoint, this one will reach its full potential on a 14-50 since it only outputs 40 Amps. The charge cord is 25 feet long and uses the same J1772 connector.
This too comes with smart charging features and we want to outline two of these: One is power sharing which allows you to connect two of these devices to the same circuit and not overload it. The other one is the solar excess feature which comes in handy if you have solar panels mounted on the roof of your house because it can tell the charger to only draw power from them when they are producing more energy than the home uses, making charging virtually free.
Apart from those, it does come with Wifi and Bluetooth connectivity and the Wallbox smartphone app. It has the same basic functionality allowing you to do scheduled charging, find out how much energy you've been using for your EV and get real-time data on the charging status of your smart electric vehicle.
The Wallbox is better prepared to handle the outdoors with an IP54 rating and comes with a 3-Year warranty.
ClipperCreek HCS-40 – Level 2 EV Charging Station (32 Amp)
Now since we're done with the smart EV charger reviews, it is time to look at the non-smart ones which are simple to use but don't offer special features.
This is the ClipperCreek HCS-40 EV charging station. It has no connectivity, you just plug in and go. This electric vehicle charger can deliver up to 32 Amps of current and 7.7 kW of power, meaning it will charge our Model Y from 20% to 100% in about 9 hours. It takes a longer time but it is still within the ideal overnight charging range. Let's not forget that once fully charged the Model Y provides 318 miles of range and the average american drives about 26 miles per day.
The built-in cable for charging is 25 feet long (7.6 meters) and uses the J1772 connector. This should make it compatible with all EVs in America, with the inclusion of Tesla vehicles which have started to deliver their cars with a J1772 adapter included.
The ClipperCreek HCS-40 has a strong point and that is its NEMA 4 (IP66) rating, the best one out of the chargers we reviewed here. The enclosure is protected from water, snow, dust or fire. You can easily install this outside and it won't stop charging even if it rains or snows on it. The manufacturer backs this up with a 3-Year warranty.
MEGEAR – Level 1-2 Portable EV Charger (16 Amp)
Our last EV Charger review is going to be of the Megear Skysword 16-Amp portable charger. The reason we chose to include it in our review is that while the other devices that we reviewed here are charging stations, this one is a portable charger. What makes it stand out is that you can carry it around to work or wherever you need to plug in. It only weighs 3.8 kg.
Another big advantage is that it can be plugged into a NEMA 5-15 outlet which you'll find in every home, no need to have a 240-Volt outlet installed. Of course this has its downside and that is the charging speed. If you plug it into a standard outlet, it will take about 35 hours to charge the Model Y from 20% to 100%, so this is better suited if you drive a smaller EV.
But you don't have any installation costs, no extra outlets to install and you can carry it around. It's always good to have one of these at hand with you. Sometimes you may need to charge your EV and there are no public chargers available, but you do manage to find an outlet. This is particularly useful in more remote areas.
The charging cable length is 25 feet, it can be plugged into a NEMA 6-20 or 5-15 outlet, the control box is IP55 rated and it comes with a 1-Year No-Hassle warranty.