Here is our Flir E6-XT review where we look at what Flir has improved with this device and how it fits into the new product line-up with extended temperature range.

PROS: Very high Infrared Resolution, great thermal sensitivity and wide temperature range, IP54 waterproof, images hold thermal data.

CONS: Internal storage can only hold 500 images.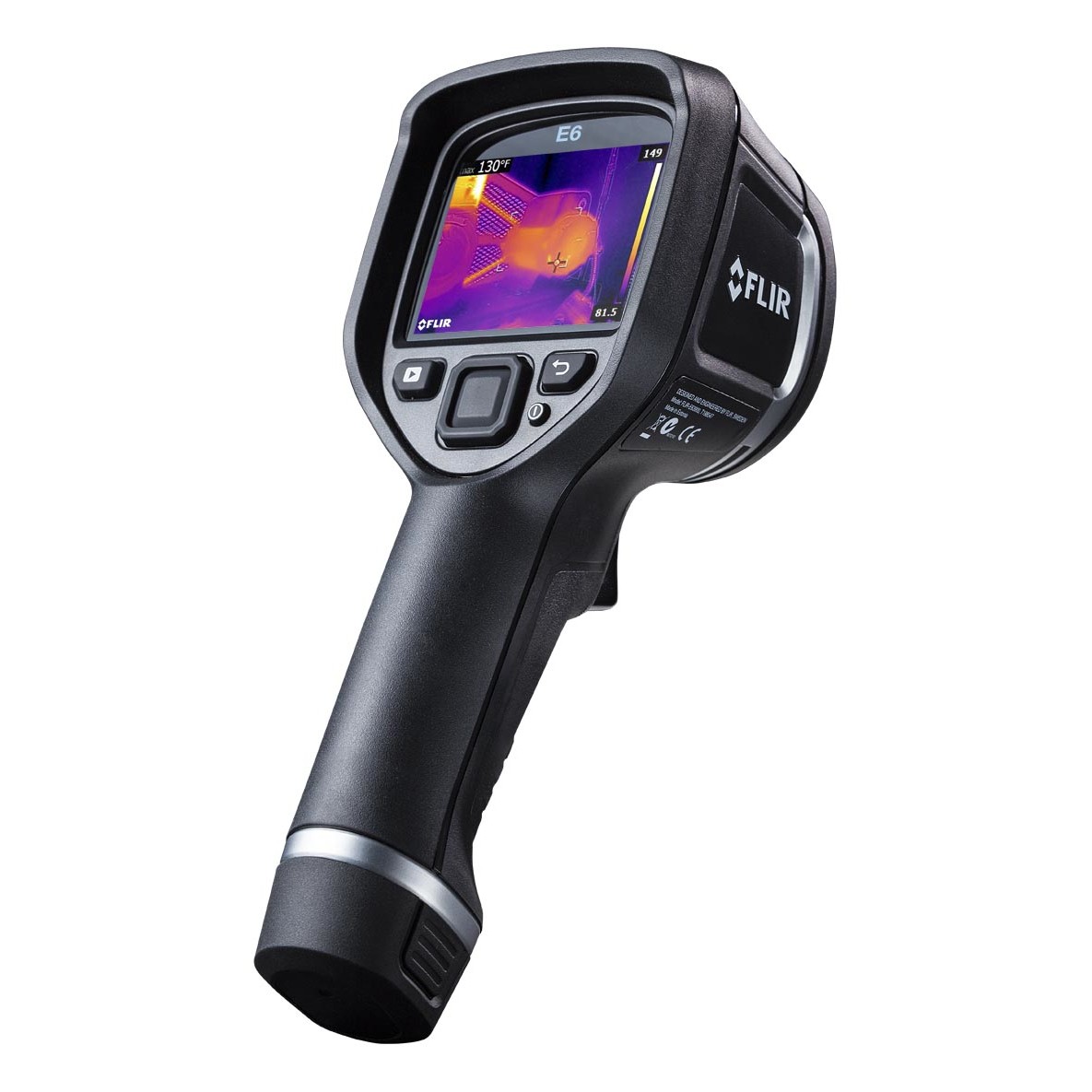 FLIR E6 XT Specifications
| | |
| --- | --- |
| Type | Handheld |
| Resolution | 240 x 180 |
| Pixels | 43200 pixels |
| Connectivity | USB, Wi-Fi, Bluetooth |
| Temperature range | -4°F to 1022°F (-20°C to 550°C) |
| Accuracy | +/-2°C |
| Thermal sensitivity | 0.06°C |
| Distance | |
| Storage Type | |
| Battery capacity | 4 hours |
| Dimensions | 9.6 x 3.7 x 5.5 inches |
| LCD screen | 3″ (320 x 240 pixels) |
| Refresh rate | 9 Hz |
| Applications | Building Inspection, HVAC, Home Inspection, Restoration, Electrical, Mecanical Inspection |
| View Angle | 45° x 34° |
| Features | Waterproof, Dustproof, Manual Focus, Visual Camera |
FLIR E6 XT – Specs & Review
The Flir E6-XT is a professional handheld thermal imaging camera. The XT means that the camera has an extended temperature range.
The device has a micro USB port for transfering the thermal images and Wi-fi connectivity so that you can sync it with your smartphone.
You can choose between several image modes with this camera. The most popular one is the MSX mode where the visual image and thermal image are blended together. In my opinion, Flir does the best job of superimposing the images because it looks very much like a thermal image with just the outlines to correctly distinguish between objects. Other imaging modes include just the visual image, the thermal image and a picture-in-picture mode with places a thermal cut-out in the middle over the visual image.
This thermal imaging camera lets you choose between 4 color palettes which include Rainbow, Iron, Black & White. They can be changed even after you have captured the thermal image.
You can choose to measure the center spot, or have the camera show you 2 dynamic spots pointing to where the coldest spot and warmest spot are. There is also an option to measure the temperature in a predefined area.
Like the Flir E5-XT, it has a temperature alarm that can trigger when the temperature lowers below or rises above a certain threshold interval.
Other simple adjustments include emissivity. By default, it should be at 0.93 for most materials but when you want to measure the body temperature in the forehead area, it is best you set it to 0.88 and also adjust the ambient temperature to help the camera take a more accurate temperature measurement.
FLIR E6 XT – Thermal imaging quality
The infrared resolution is a solid 240 x 180 pixels which puts it above the Flir E5-XT which only has a 160 x 120 pixel resolution and also above the E4 which sits at 80 x 60 pixels.
The total number of pixels is 43,200. This puts it on par with the other infrared thermal cameras in its price range.
The thermal images are stored in a JPEG format and the radiometric thermal data is stored for every pixel in a 14-bit format. That way, you can change the color palette or adjust the temperature range. You can edit the thermal images either directly on the camera, on your smartphone using the Flir Tools app from the Play Store for Android or App Store for iOS devices or on your desktop with the Flir Tools software. The desktop version of the app also lets you create PDF reports.
The refresh rate of the screen is limited to 9Hz and not because of Flir's technology but because of US law limitations on export and transport of thermal cameras. There is also no manual focus mode because this is a fixed focus camera.
FLIR E6 XT – Temperature Range, Accuracy
The Flir E6-XT comes with an infrared sensor that has a thermal sensitivity of 0.06° C. We mentioned this with the E5-XT that Flir has intelligently segmented its product line so that the Flir E4 has a 0.15 sensitivity, the Flir E5-XT has a 0.10 and the E8-XT a value under 0.05. The sensitivity that this camera has is the same that you would get from a camera that is priced the same.
Because this is an XT model, it means it has an extended temperature range. It can measure temperatures between -20 and 550 celsius, so you can use it in extremely cold weather, to check if refrigeration devices are working properly and have good insulation but also in high heat environments. You can check for faults in heaters or if an oven has poor insulation.
The temperature measurement accuracy is the same throughout the product line and it is +/- 2° C and so is the viewing angle with a 45° x 34° field of view.
FLIR E6 XT – Battery life & Memory
As far as internal memory is concerned, it is the same situation as with the E5-XT and E8-XT. The camera has an internal memory that can store up to 500 images on it. Disappointment is an understatement here given that it is obvious that they could have equipped it with a larger memory or at the very least, an SD Card port. And it's not like the thermal data takes up that much more space than on other cameras.
If the memory disappoints then you will be glad to know that the battery life is up to 4 hours of thermal imaging. For a professional this should be enough even for the most thorough thermal inspections and the 3.6V Li-Ion battery charges quite fast because it takes about 2.5 hours for it to charge at 90% capacity.
Things get better when you also look at the LCD screen. It is a high-resolution 320 x 240 pixels LCD color screen. While it may not be a touchscreen like you would get on the C5, it is still visible in direct sunlight and does a great job displaying the thermal image. Plus the buttons feel great and are intuitively placed.
The camera is inside an enclosure and it is IP54 rated. What does this rating mean? The 5 in the 54 means that it is completely dustproof and the 4 means that it is waterproof, meaning that it can withstand heavier splashes of water.
When you open the package, inside you'll find the infrared camera with the battery inside accompanied by a USB cable and a power adapter that is compatible with EU, US, Australian and UK plugs. A hard case for transporting the camera is also included.
Flirr offers a 2-year warranty for the entire device but also a 10 year warranty for the infrared sensor. This is more or less a standard with all Flir thermal imaging devices.