The Hti HT-301 is a thermal camera that attaches to your Android smartphone. It is more expensive than any smartphone thermal imager that Flir and Seek Thermal have ever built. At the same time, it provides the best value pixel for pixel. Why? Find out in our Hti HT-301 review.

PROS: Very high IR resolution, great sensitivity and temperature range, manual focus, video recording, photo capture with thermal data.

CONS: The app doesn't work very well, it's better you use the ThermViewer 3rd party app.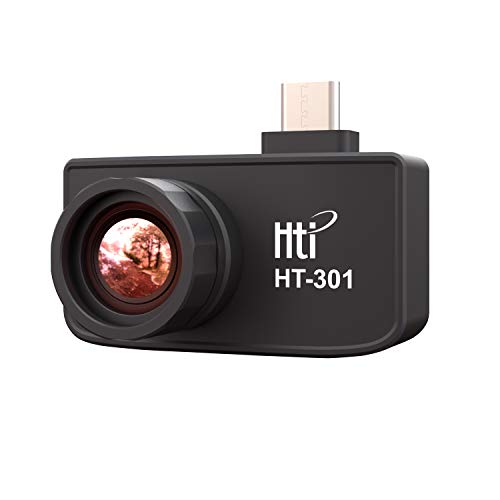 Hti HT-301 Specifications
| | |
| --- | --- |
| Type | Smartphone |
| Resolution | 384 x 288 |
| Pixels | 110592 pixels |
| Connectivity | USB-C or Micro USB |
| Temperature range | -4°F to 752°F (-20 °C to +400 °C) |
| Accuracy | +/- 3 ° C |
| Thermal sensitivity | 0.06°C |
| Distance | |
| Storage Type | Smartphone |
| Battery capacity | Uses Phone Battery |
| Dimensions | 1.9 x 1.4 x 1.1 in |
| LCD screen | Uses Smartphone screen |
| Refresh rate | 25Hz |
| Applications | HVAC, Electrical, Animal Hunting, Roofing, Electrical Inspection, Automotive diagnostics |
| View Angle | 32° x 24° |
Hti HT-301 – Specs & Review
The Hti Xintai HT-301 is one of the only alternatives to the Flir One and the Seek Thermal Compact cameras as mobile thermal imager. It comes with a USB-C connector and instead of selling different versions for different connectors, they simply chose to add in a USB Type-C to micro USB adapter in the package. Clever.
Because the USB-C adapter is completely reversible, you don't have to worry about the micro USB port orientation on your phone. The idea was to avoid the camera only fitting the USB port pointing towards you as a selfie camera and they avoided this scenario very cleverly.
Another interesting feature is that the lens is completely detachable.
Now HTI being a company from China, you would expect that this would be a low-cost version of the Flir or the Seek. Well not really because the price for this device is almost double what you would pay for the other two.
Let's dive a little deeper in our Hti HT-301 review and have a look at the app, features and adjustments.
First of all, the Hti Image app needs work. It works but it also crashes. It is a stereotype that chinese manufacturers focus too much on hardware and too little on software but on this camera it turns out to be true. However, you can also use a 3rd party app that is compatible with the HT-301 called ThermViewer which works better and has more features.
On the main screen you will see the thermal image together with a center spot thermal measurement together with the coldest and warmest spots in the image.
The ThermViewer app allows you to switch between a few color palettes like Rainbow, Night Vision, Enhanced (uses some kind of image enhancement algorithm), White hot, Black Hot, Iron, Ironbow, Red hot, Emboss and Find Edges. Enhanced mode is a great color scheme to spot details.
You can adjust things like the ambient temperature, humidity, emissivity and distance to the object you are measuring for a better reading as well as the temperature unit of measurement between Celsius and Fahrenheit.
Hti HT-301 – Thermal imaging quality
One of the things that will pop when you are reading the device's specs is the IR resolution: it is 384 x 288 pixels. Now this is a smartphone thermal imager so it wouldn't be completely fair and accurate to compare it to handheld thermal cameras, but we will do it anyway. It has 110,592 pixels to show in the thermal image in total. That is more than 5 times more data than you would get in a thermal camera for this price. So pixel for pixel this is probably the best value camera out there.
And this resolution shows when you use the device. The images look very clear and detailed. It doesn't have a visual camera but then you won't need one because the level of detail is so high that you would think the image is produced from a blend of thermal and visible light similar to Flir's MSX. When you take it outside, it is like using night vision goggles. You can use its infrared vision to spot wildlife in the dark because it has a useful digital zoom feature.
Together with the ThermViewer app, the device can capture photos and record video. Together with the photos, all the radiometric temperature data is stored.
Then there is another thing: Hti is not a US manufacturer and as far as I can see, will not really comply with US export regulations since they put in a crazy 25Hz refresh rate. The picture is smooth and it exceeds any thermal camera in the US. Normally, these devices for temperature screening and spotting warmth are limited to 9Hz because of US export regulations. Given the high refresh rate and resolution, I could see this device being used in temperature monitoring or thermally screening people who come in and out of a building.
And things don't stop there. It also has a manual focus mode embedded, making it one of the few cameras to offer this feature.
Hti HT-301 – Temperature Range, Accuracy
Let's have a look at the temperature measurement accuracy and range of this termal imaging device and here things keep getting better and better.
First of all, the temperature sensitivity is 0.06° C which is a solid value. Most high-performance thermal cameras have a sensitivity around 0.05 to 0.06.
Then there is the temperature range where the HTi 301 also shines: This thermal imaging camera can detect and monitor temperatures from -20 to 400 Celsius. That is wide range which allows you to use it in cold environments, to troubleshoot any kind of refrigeration device or freezer. The upper end of the range allows you to detect insulation issues in ovens, stoves or heaters.
But what about the accuracy? Hti states that this device has a +/- 3° C accuracy which is a bit above the +/- 2.5 that you would expect from a camera with this price tag.
Then we get to the viewing angle and here things don't look that great because it has a narrow viewing angle of 32° x 24°. Now, the narrow viewing angle is not necessarily a bad thing, it just means that it is focused towards a certain type of applications.
The narrower the viewing angle and the higher the resolution, the more tiny details you can spot. One great application for this can be the inspection of PCB boards or overheating fuses as well as electrical wiring faults. A youtuber recently showed how you can use the HTI 301 to inspect PCB boards and how the camera can focus very closely to the subject.
Hti HT-301 – Battery life & Memory
This being a smartphone thermal imager, it makes use of your phone's storage so it doesn't have any kind of embedded internal memory.
It also makes use of the phone's battery, so it doesn't have a specific battery life because that will greatly depend on the size of your phone battery and how much energy it uses. If you want great battery life, you can just pair it with a Motorola One 5G that has a 5000mah battery and USB-C connector so you don't have to use the adapter.
This infrared camera isn't waterproof or dustproof and Hti has not published any kind of IP rating for it. But this isn't unusual because no other smartphone infrared camera is waterproof. At best, it comes with a waterproof carrying case.
There is no LCD either, it uses the smartphone's screen which is the best option.