The Flir ETS320 is probably the only professional thermal imaging solution for diagnosing electronic components and PCB boards. It provides a high IR resolution, a good screen and an adjustable stand.

PROS: High IR resolution, adjustable height, designed specifically for PCB inspection.

CONS: Fixed focus distance (Can be hacked), No MSX image enhancement, Small memory size.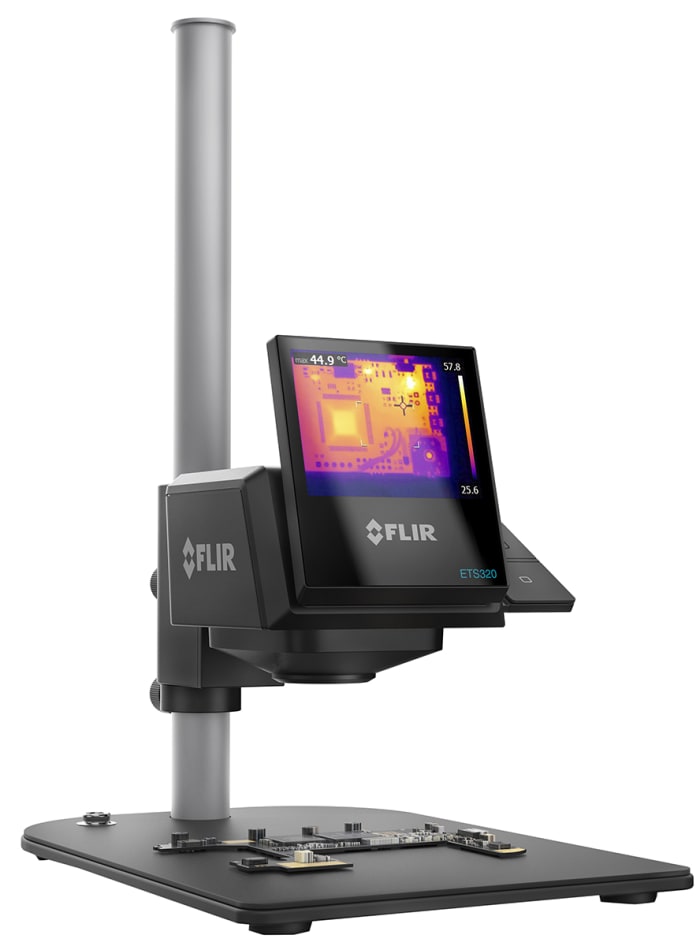 | Product | Type | Resolution | Battery capacity | Waterproof | LCD screen | Price |
| --- | --- | --- | --- | --- | --- | --- |
| Flir ETS320 | Workbench | 320 x 240 | 4 hours (Rechargeable Li-Ion battery), 2.5 hours charging time to 90% | No | 3.0″ | Click for more info |
Flir ETS320 Specifications
| | |
| --- | --- |
| Type | Workbench |
| Resolution | 320 x 240 |
| Pixels | 76,800 |
| Connectivity | USB-C |
| Temperature range | -4 F to 482 F (-20 C to 250 C) |
| Accuracy | 3 C |
| Thermal sensitivity | 0.06 C |
| Distance | 70mm minimum distance |
| Storage Type | 175 MB (Approx. 1500 images) |
| Battery capacity | 4 hours (Rechargeable Li-Ion battery), 2.5 hours charging time to 90% |
| Dimensions | |
| LCD screen | 3.0″ |
| Refresh rate | 9 Hz |
| Applications | PCB Manufacturing, PCB Inspection, Electronics Testing |
| View Angle | 45 x 34 |
Flir ETS320 – Specs & Review
The Flir ETS320 is one of the only thermal cameras specifically designed to be used in PCB manufacturing, diagnosis and scientific research. Thermal images can provide us with key insights into how electronic components are performing and especially which areas and components are prone to overheating. Thermal imaging solutions really do help the industry move forward much faster because it helps you easily spot potential points of failure in electronic devices, printed circuit boards just by looking at how the temperature shifts.
So the thermal image camera basically sits on a vertical stand and the lens is pointed down. You can adjust the height of the camera depending on the size of the board that you're looking at. Problem is, the focus range is so narrow that if you're going higher than a certain point, you're just gonna get a blurry image.
It does come with USB-C connectivity but for some reason, Flir decided you're not going to get Wi-fi for a 2000+ USD product. Truth be told, you're probably not going to move it around much. But then again it does have a battery and if you want to buy one for your development lab or manufacturing plant, maybe you will want to share it across departments since these aren't cheap and thus it would be moving all the time. So wifi does make sense here.
Flir ETS320 – Thermal imaging quality
The thermal sensor provides a 320 x 240 IR Resolution which provides you with a total of 76,800 pixels. The problem is that you don't get MSX image enhancement. It seems that Flir were so confident in their thermal resolution that they decided to eliminate it. We think that was a mistake and the reason is because when inspecting boards, you're going to run into very small components which may have small text printed on them. Sure, Flir could make the case that one should have a separate camera for board inspection and it is true that most places which will be buying this device probably have several of those at hand.
The refresh rate on the Flir ETS320 thermal imaging solution is limited to 9Hz and this is probably one of the only situations where you won't be bothered by the low framerate since the camera is fixed and the measured components, they are pretty static as well. You'll mostly be looking for hot spots on something that doesn't move.
The images are displayed on a 3″ LCD display which can display 320 x 240 pixels, so basically a perfect 1:1 ratio between the sensor and the display.
Then there is the focus. You don't get manual focus but a youtuber proved that you can print a little tool and just rotate the lens focus and then he was able to inspect boards at amazingly close distance, much less than the 70mm fixed focus distance touted by Flir.
It records standard radiometric JPEGs so that means the temperature data for each pixel is stored and so you can then play with the images after you capture them in the Flir Thermal Studio Suite which you'll find on Flir's website. You can also do IR video streaming using the software if you want to put the image on a larger screen.
Flir ETS320 – Temperature Range, Accuracy
Now let's have a look at the Flir ETS320 thermal imaging camera's temperature measurement capabilities. It can measure a temperature range from -4 F to 482 F (-20 C to 250 C). This is way less than what you would get from cameras with this price tag however when you think about it, you do not need more. It is better to have a camera that is focused on a narrow temperature range that you will be encountering. Hard to believe you'll be measuring things that hit -20 Celsius or a board that has overheated to 250 Celsius.
The Flir ets320 benchtop thermal imager has a thermal sensitivity of 0.06 C and a 3 C measurement accuracy. Both of these values are on par with infrared cameras in the same price range even though this should not be treated as such since it is a niche product. The camera also offers a 45 x 34 degree viewing angle. The horizontal angle is quite narrow but then you can just lift up the camera if you can't capture the entire board in the picture.
During usage, you get a moving target that follows the hottest spot. But you can also switch to center spot or just have no measurement done at all. You can change the emissivity, reflected temperature (ambient temperature) and set the distance in meters which doesn't make any kind of sense given how close the camera sits to the inspected board.
Flir ETS320 – Battery life & Memory
The ETS320 comes with 175 MB of internal memory which should be enough for about 1500 images. The tiny memory is more proof that this product was absolutely destroyed by its marketing department. Thermal cameras that cost 300$ come with a 16GB SD Card and that says it all. It is disappointing to say the least.
It uses a rechargeable Li-Ion battery that takes 2.5 hours to charge to 90% then lasts for about 4 hours. Now it is likely that you'll be using this one for many hours but it is also likely that you'll be leaving it plugged in.
Remember that the this benchtop thermal imaging camera is not waterproof or dustproof and so you need to be just a bit more careful with it than you would with a rugged thermal camera.