The Acegmet P200 is a pocket thermal camera with a touchscreen and high infrared resolution. It is waterproof and can measure a wide temperature range. Not only that, but it does feature a rotatable lens which can be very helpful.

PROS: High thermal resolution, 20Hz framerate, Rotatable lens, IP54 waterproof, 6-hour battery, wide temperature range.

CONS: No wifi connectivity.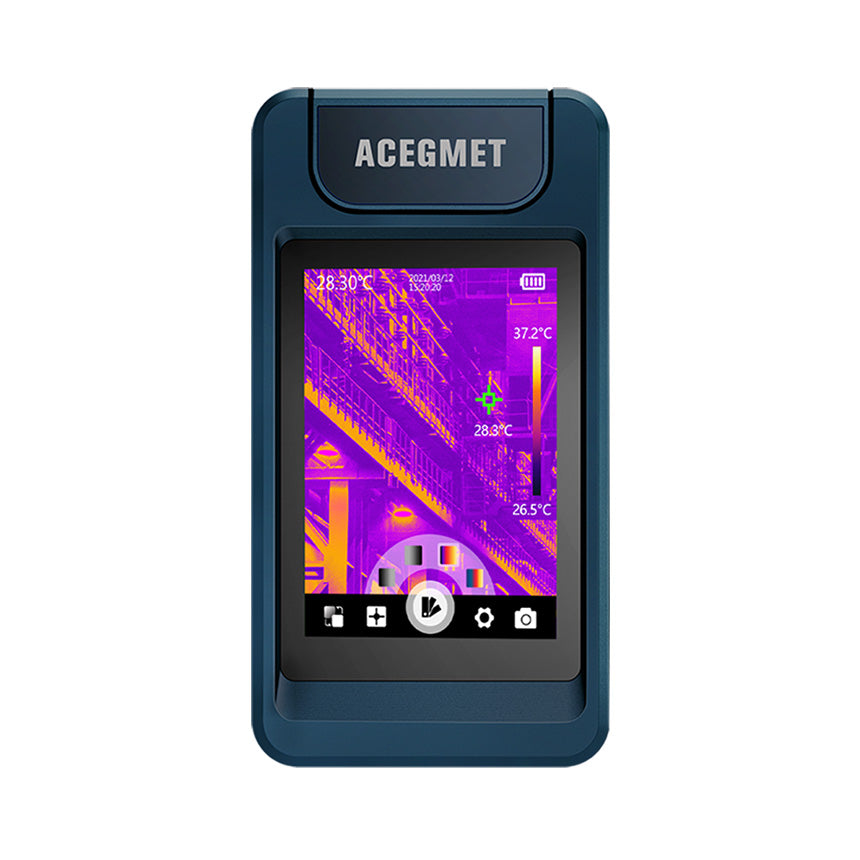 | Product | Type | Resolution | Battery capacity | Waterproof | LCD screen | Price |
| --- | --- | --- | --- | --- | --- | --- |
| Acegmet P200 | Handheld | 240 x 180 | 6 hours (Rechargeable Lithium Battery) | Yes | 3.5″ Touchscreen | Click for more info |
Acegmet P200 Specifications
| | |
| --- | --- |
| Type | Handheld |
| Resolution | 240 x 180 |
| Pixels | 43200 |
| Connectivity | USB-C |
| Temperature range | -4 F to 1022 F (-20 C to 550 C) |
| Accuracy | 2 C |
| Thermal sensitivity | 0.10 C |
| Distance | |
| Storage Type | 16GB Internal Storage |
| Battery capacity | 6 hours (Rechargeable Lithium Battery) |
| Dimensions | |
| LCD screen | 3.5″ Touchscreen |
| Refresh rate | 20 Hz |
| Applications | HVAC inspection, Electrical inspections, Plumbing, Roofing, Automotive Diagnostics |
| View Angle | 52.5 |
Acegmet P200 – Specs & Review
The Acegmet P200 is Acegmet's direct competitor to the Flir C3-X and Flir C5. It is a pocket thermal camera equipped with a touchscreen, minimalistic in design and with a high thermal resolution.
First thing you will notice on the back is that it has an infrared sensor, a visual camera and also an LED light to support the visible light camera in darker areas. One of the interesting quirks about this device is that the unit that houses all these sensors can rotate at 90 degrees. This rotatable lens feature is quite useful especially in tighter areas where you can't rotate the camera physically. Seek Thermal puts their sensors on the top on some cameras while Flir on the back so the Acegmet brings the best of both worlds together.
It can capture thermal images and they can be transfered to your PC via its USB-C port. One downside to it is that it lacks wifi connectivity, something which you'll find on both Flir models.
Acegmet P200 – Thermal imaging quality
Now let's look at the termal image quality and here the P200 shines because it can provide a 240 x 180 thermal resolution which accounts to 43,200 pixels, a full 20% more than you can expect to get from thermal cameras in its price range. Not only that but it is supported by the visual camera and you can overlap the two images together to increase the quality. But then so can the Flir cameras and they use the MSX image enhancement which is greatly superior to anything you'll find on the market.
But here's where the Acegmet really thrashes the Flir cameras, the refresh rate which is 20 FPS, more than double what you would get with them. Refresh rate is important and when you are working, a smoother picture will make the difference so much that you won't want to go back to a lower frame rate like 9Hz after you've had a picture this smooth. They say that the 20Hz refresh rate helps track moving objects but in reality it is not just about that because you'll feel it whenever you move the camera.
Now because there's an infrared sensor and a visual camera, you can choose to switch between modes or overlay the two images to get the best result. The available modes are: Infrared / visible / picture-in-picture / dual light fusion.
There are also 7 color palettes to choose from and they are: Black hot, white hot, iron red, lava, rainbow, rainbow HC, black red.
Acegmet P200 – Temperature Range, Accuracy
Now let's have a detailed look at its temperature measurement capabilities. It can measure anything within a temperature range from -4 F to 1022 F (-20 C to 550 C). This is at least 50% wider than what you can expect to get for this price from other cameras. Such wide temperature ranges are usually available on higher end cameras.
Then there is the issue of thermal sensitivity and here it fares on par with other cameras if you take the 0.10 C value they provide, however they also say it is < 40 mK which is a pretty tall order since only high end cameras get that kind of sensitivity. So to conclude this topic, although there's a bit of confusion regarding the thermal sensitivity of this infrared thermal imager, take it as "good enough" for most applications.
The accuracy is on par too, with a +/- 2 C accuracy and the horizontal field of view measures 52.5 degrees which is what you would expect.
Acegmet P200 – Battery life & Memory
In terms of where you will store your captured images, you'll be glad to know there's a 16GB internal memory and that is more than any of the big manufacturers offer by far. Even though thermal images aren't very large in size, more is always better.
Then there's the 6-hour rechargeable battery which is more than enough to get you through days of work. And when you do have to plug in, you'll be happy to know that in 3 hours, the battery is fully recharged again. Then we get to the 3.5″ touchscreen which provides enough resolution to work with and the menu options displayed on it are quite simple to use.
The P200 infrared camera has an IP54 rating which is exactly on par with other pocket thermal imager cameras that come with a touch screen. This means you can splash it with water and it will be fine, but don't drop it in water.
Acegmet offers 18 months of warranty on this camera provided you register your device and lifetime technical support.