The Flir TG267 thermal imager is in many ways a low-cost version of the TG275 and the question is, is it worth it? Find out in our in-depth Flir TG267 review.

PROS: Laser pointer, great thermal sensitivity, wide temperature range and field of view, Bluetooth, IP54 waterproof and dustproof, great MSX superimposing technology.

CONS: IR resolution could be higher and so could the temperature accuracy.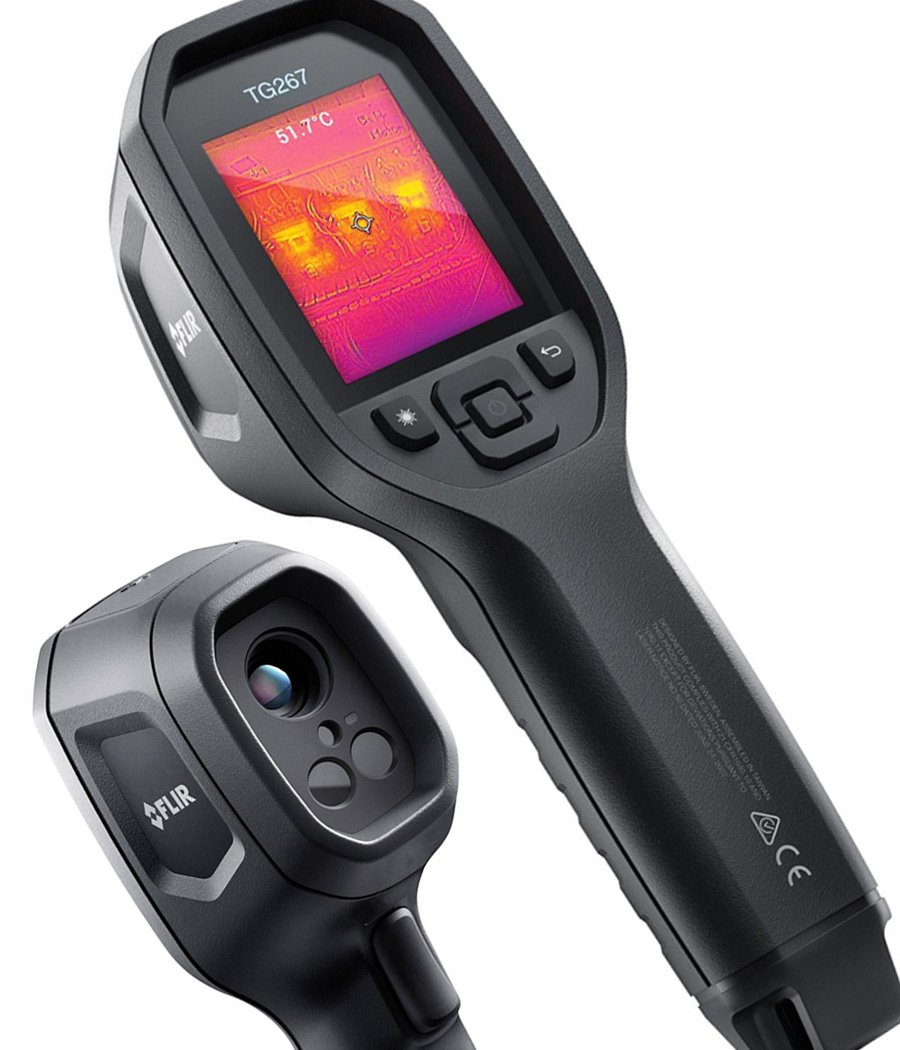 FLIR TG267 Specifications
| | |
| --- | --- |
| Type | Handheld |
| Resolution | 160 x 120 |
| Pixels | 19200 pixels |
| Connectivity | USB Type-C, Bluetooth |
| Temperature range | -13°F to 716°F(-25°C to 380°C ) |
| Accuracy | +/- 3 ° C |
| Thermal sensitivity | 0.07°C |
| Distance | |
| Storage Type | 4Gb Internal |
| Battery capacity | 5 hours |
| Dimensions | 8.27 x 2.52 x 3.19 inches |
| LCD screen | 2.4″ |
| Refresh rate | 8.7 HZ |
| Applications | Building Inspection, HVAC, Home Inspection, Restoration, Roofing, Electrical Inspection, Automotive diagnostics |
| View Angle | 57° x 44° |
FLIR TG267 – Specs & Review
The Flir TG267 was launched in 2019 and it is a low-cost alternative to the Flir TG275. It costs almost 400$ less, so it is an attractive proposition.
On the back of the Flir TG267 you will find 4 elements: An Infrared Sensor which delivers the thermal image, a 2 megapixel camera which delivers the visual image (The two images are then blended together using Flir's MSX technology), an LED light and a laser pointer.
The laser is a more useful feature than you may think, it shows you exactly where you are pointing and measuring and the TG267 has one of the coolest lasers out there, it is a bullseye target and it looks awesome.
In terms of connectivity, it has the same connection options: A USB-C port for charging and image transfer and a bluetooth port for tethering with your Android smartphone or iPhone.
It has built-in Meter Link, a feature with which you can send the temperature and the digital images to a wireless device like a smartphone, tablet or laptop. It is more or less a fancy way of saying Bluetooth transfer.
The camera lets you choose between 6 color palettes: Lava, Arctic, Rainbow, Iron, Black Hot and White Hot. While the rainbow scale is great for detecting warmth, for finding the coldest and warmest spots, we like to use the Black and white scale. It has digital image enhancement and does automatic image adjustment as you move it around.
In the system settings it also lets you adjust the language, the temperature measurement unit, be it Celsius or Fahrenheit, the brightness of the screen which has 3 settings (Low, Medium and High) and the option to activate or deactivate the center spot and the laser.
You can also adjust the emissivity which we recommend you set to 0.88 when checking the body temperature at the forrehead or adjusting to the necessary value if you are working with slightly different materials like polished metals.
FLIR TG267 – Thermal imaging quality
The IR resolution is 160 x 120, so it is clearly lower than what the TG275 offers and the total number of pixels amounts to 19,200. It's not a bad resolution, but in comparison to other thermal imagers in its class which offer an average of 32,136 pixels, it fares lower.
However, Flir have equipped this thermal imaging device with a 2 megapixel digital camera to capture visible light that outputs a 1600 x 1200 resolution and when you combine that with the infrared vision sensor and the MSX Multi Spectral Dynamic Imaging technology, the result is pretty impressive. The objects are much better defined than on other infrared cameras with a higher IR resolution.
It is equipped with an 8.7Hz refresh rate and you won't be getting anything more than that for a while from an American-based manufacturer because of US export restrictions on thermal imaging devices with a refresh rate over 9Hz.
The images are stored in JPEG format without radiometric temperature data.
This is a fixed focus camera and there is no adjustability on that with the lack of a manual focus mode.
FLIR TG267 – Temperature Range, Accuracy
The Flir TG267 has a 0.07° C thermal sensitivity, so there only has to be a very small change in temperature to trigger a change in the spot thermal measurement device and is not to be confused with precision. The 0.07 value is the standard for its product class.
For the temperature range, Flir has equipped this handheld thermal imager with a sensor that has a more reduced temperature range in comparison with the TG275. At the low-end they are identical with a -25° C limit which makes the camera usable in cold conditions. For example in the area where we live, we usually get temperatures of -15 to -20 in the winter and this camera should be able to handle them properly. It is the upper end of the temperature scale that is narrower on this model, it can only measure up to 380 degrees Celsius (715 degrees Fahrenheit). Still, you can use it to check for oven insulation problems, detecting a fire when it is starting and overheating engines.
The temperature screening accuracy is +/-3° C. It is not as good as what the TG275 can offer (1.5) and it is actually a worse number than what other thermal cameras in its class offer (+/-2 C).
The viewing angle is identical with a 57 x 44 field of view.
FLIR TG267 – Battery life & Memory
In terms of storage, it is equipped with 4GB of internal memory, no SD card slot. May not sound like much, but you can store up to 50,000 images on it. Remember, this is not a radiometric model. In a radiometric device, the temperature data is stored for each pixel whereas in this model, you can just get the center spot temperature. If you need the thermographic data, the Flir C2, Flir C3 and Flir C5 do that.
The battery capacity is the same, with a 5 hour battery life for continuous thermal imaging guaranteed. The battery life will drop down to 4.5 hours if you keep the laser on at all times so it uses very little energy. It is a rechargeable Li-ion battery and you can charge it directly from the USB port. It takes about 4 hours to get it up to 90% and then another 2 hours extra for the last 10%.
A key similarity between the TG267 and TG275 is that this model is also waterproof and dustproof. It has an IP54 rating which means it is fully dustproof and it can withstand water splashes. It will continue to function if you drop it from up to 2 meters from the ground. At a similar price, there is no manufacturer that offers a waterproof camera.
Flir has equipped this with the same 2.4″ LCD color screen that has a resolution of 320 x 240 pixels and is covered in Optical Grade Silicon.
Where would we use the Flir TG267 infrared thermal camera? In plumbing, you can use this to check for leaks in pipes, how the water flows through them and if they are losing temperature. HVAC Inspection is a great application, you can check for any kind of air conditioning issues and heating issues. You get a thermocouple probe that you can attach to the device and you place the probe wherever you want to measure and it gives you a more accurate reading.
One of the best uses is to check the insulation and find out where you are losing heat in your house, whether it is from bad roofing, building inspection, poorly installed windows or if the heaters have any problems.
Even if this is not a camera designed especially for automotive diagnostics like the TG275, you can still check to find out where your engine is overheating, misfires, electrical wiring issues, blocked brake calipers, etc.
Electricians can use the TG267 to check for wiring in the walls that might be overheating and to inspect PCB circuit boards. You can use it with your pets to see if they have any health issues or monitoring the body temperature of your baby for fever detection.