PROS: Very high accuracy, 8 hours of battery life, laser pointers, wide field of view, 10-year warranty on the imaging system.

CONS: IR resolution could be better, no visible light camera and thus no MSX image enhancement.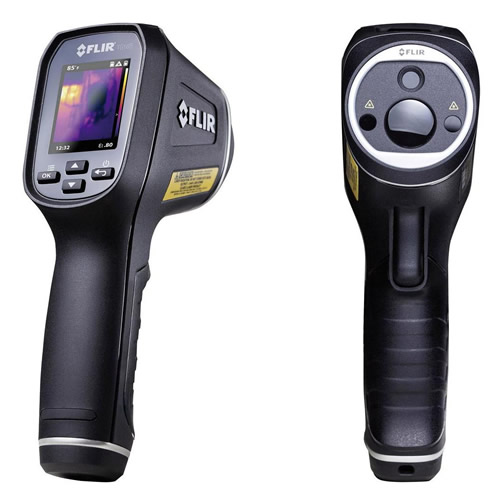 FLIR TG165 Specifications
| | |
| --- | --- |
| Type | Handheld |
| Resolution | 80 x 60 |
| Pixels | 4800 pixels |
| Connectivity | USB |
| Temperature range | -13 ->716°F( -25 to 380 C) |
| Accuracy | +/-1.5°C |
| Thermal sensitivity | 0.15 C |
| Distance | |
| Storage Type | SD Card |
| Battery capacity | 5 hours |
| Dimensions | 7.30 x 2.20 x 3.70 inches |
| LCD screen | 2″ TFT |
| Refresh rate | 9Hz |
| Applications | Eliminate Blind Guesswork, Handle High Temp Applications, Streamline Documentation, Electrical Applications |
| View Angle | 50° x 38.6° |
FLIR TG165 – Specs & Review
The Flir TG165 is one of the most popular handheld thermal cameras that Flir has ever launched.
This is a handheld standalone camera, not a phone attachement and it has an IR sensor which handles the infrared vision and an infrared thermometer for spot thermal measurement. This is a very interesting combo because it combines the power and accuracy of a dedicated IR thermometer with a thermal sensor. It comes equipped with a USB port for downloading the captured thermal images.
The infrared camera feels rugged and sturdy and the materials feel nice to the touch.
Let's have a look at the camera's features and settings. You can choose between three types of color palettes, rainbow, iron and gray. The gray one is the best for when you just want to spot the coldest or hottest spot. The emissivity can also be adjusted for when you're working with special materials.
You just press the trigger to capture a thermal image and it has some buttons on the front: A power button, two up and down buttons and a menu button which also serves as an OK button.
When you pull the trigger, it activates 2 lasers that point exactly to the spot where you are taking the temperature. This is great for when you need really accurate measuring like in circuit boards. After releasing the trigger, the infrared image is captured.
I cannot stress how comfortable it is to have those two lasers light up the exact point where you are measuring and it is one of the big pros of this camera.
What is nice is that the start-up time is insanely fast on this camera, in just a few seconds it is ready to use. Even shutting it down is faster than on other cameras. The speed is the same when taking a picture, the Flir performs brilliantly.
FLIR TG165 – Thermal imaging quality
The IR resolution is not the best and that's an understatement. The infrared sensor can only capture 80 x 60 pixels, which if you do the math it accounts to 4800 pixels. Given that most cameras that you can buy in this price range offer at least 4-5 times as many pixels we can't but feel disappointed with the lack of detail. The Lepton IR imaging engine is used here. This is a non-radiometric camera so the thermographic data is not going to be embedded in the saved image for every pixel.
At least they nailed the refresh rate with a frame rate of 9Hz. No manual focus on this model.
Of course, one of the biggest downsides is the fact that it only has thermal imaging. Nowadays, the visual camera is a must-have because more and more models come equipped with one. It is so much better for showing and presenting the entire picture and it makes it easier to distinguish between details.
FLIR TG165 – Temperature Range, Accuracy
The camera's thermal sensitivity is 0.15. Here we would have expected better from Flir given the 0.07 temperature screening accuracy average that you would get on a similarly priced thermal infrared camera.
The temperature range is quite good on the high end, with the camera being able to record hot spots at up to 380° C. On the low end it fairs decently with a minimum of -25. I would expect it to be usable in insulation applications on freezers but also in very hot areas such as firefighting.
The temperature measurement accuracy is where this piece really shines, with an accuracy of +/-1.5° C and that is twice as good as the normal 3 degrees that you would get with most thermal cameras in its class.
The viewing angle is decent too with a 50 x 38.6 field of view.
FLIR TG165 – Battery life & Memory
The storage is in the form of a micro SD Card and Flir includes an 8GB micro SD card in the package. That should be good for at least 6000 images if not more.
You get a standard 2-year warranty on the entire infrared camera and the thermal imaging detector gets a 10-year warranty if you do product registration within 60 days of purchase.
The battery unit is a rechargeable 3.7V Lithium-Ion battery with a capacity of 2600mah. This means up to 8 hours of continuous thermal imaging. This exceeds the standard battery life for a handheld camera in this price range.
The only disadvantage is that it doesn't have an IP rating which means you should not expect it to be waterproof or dustproof so store it and use it with care.
The LCD screen lets it down a bit with only a 2″ color screen. We would have expected at least a 2.8″ LCD display from Flir.
This device can be used in most applications, for example in HVAC you can easily diagnose heating problems by measuring the warmth of the heaters or where there is heat loss. In automotive diagnostics, with the use of infrared radiation it helps you find ultrahot spots throughout the engine or the wiring and you can detect if an engine will overheat.