The Flir TG275 is a thermal camera that was designed for automotive diagnostics specialists. But how good is it and how does it compare to other cameras? Find out in our in-depth review.

PROS: Exceptional image quality high thermal sensitivity and ability to measure a wide range of temperatures, IP54 waterproof and dustproof.

CONS: Color LCD screen could be bigger.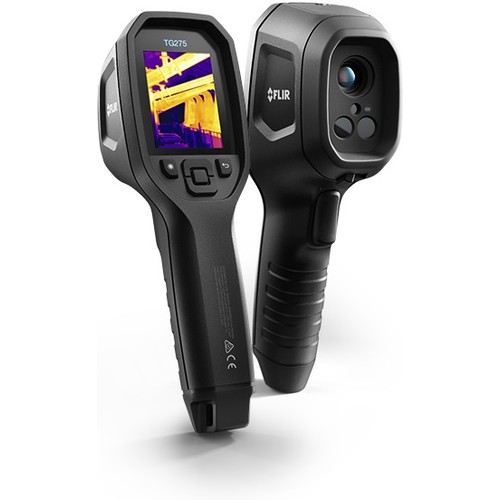 Flir TG275 Specifications
| | |
| --- | --- |
| Type | Handheld |
| Resolution | 160 x 120 |
| Pixels | 76800 pixels |
| Connectivity | USB-C, Bluetooth |
| Temperature range | -13°F to 1022°F (-25°C to 550°C) |
| Accuracy | +/- 1.5 ° C |
| Thermal sensitivity | 0.07° C |
| Distance | |
| Storage Type | Internal 4 GB |
| Battery capacity | 5 hours |
| Dimensions | 8.3 in x 2.5 in x 3.2 in |
| LCD screen | 2.4″ |
| Refresh rate | 8.7 Hz |
| Applications | Designed for Automotive Maintenance/Repair Professionals. Roofing, Electrical Inspection, HVAC |
| View Angle | 57° x 44° |
| Features | Waterproof, Dustproof, Manual Focus, Visual Camera |
Flir TG275 – Specs & Review
The Flir TG275 is a handheld thermal camera specifically designed for the automotive maintenance and repair professionals for an affordable price.
The device features IGM (Infrared Guided Measurement) and the idea is that this diagnostic tool combines non-contact temperature measurement and thermal imaging to help you spot potential faults and troubleshoot faster.
So what can you detect with this camera if you work in automotive repair? Overheating issues, Cooling issues, areas where the wiring is overheating and also relays and switches, leaks, issues in exhaust manifolds and also engine misfires (The cylinder that is misfiring will be colder). Technicians have pointed out that they quickly find the source of the problem and thus this automotive tool speeds up the repair process. This camera takes you beyond the limitations of single-spot IR thermometers showing you a full picture of what's wrong under the hood.
And it is not limited to just the engine and the drive train because it makes it easier to diagnose if a brake caliper is locked up by measuring the temperature of the calipers on both sides of the car.
The Flir TG275 automotive diagnostic thermal camera has USB-C connectivity but also Bluetooth. On the back of the infrared camera you will find the 3 components: An infrared sensor, a visual camera (basically a built-in digital camera) and an LED light. And then there is an additional laser pointer on the back which points to the spot that you will be measuring. The camera start-up procedure takes about 12 seconds until you can capture the first thermal image. Once you've captured the thermal image you can send it to your phone via Bluetooth and the Flir Tools app which you can download from the Play Store or App Store depending on whether you are using an Android smartphone or an iPhone.
There are a few color palettes to choose from: Rainbow, White Hot, Black Hot, Arctic, Lava and Iron. You don't get the rainbow high-contrast which we like on the Flir C5, but the Rainbow palette on this device has really good contrast. You can do basic image adjustments, set the brightness of the color screen, you can set it for Auto Power Off, turn the laser on or off.
Of course the standard settings are there like language and also the temperature measurement units (Fahrenheit or Celsius)
Flir TG275 – Thermal imaging quality
The first thing that you will notice when you point it towards a car engine is the amount of visual detail to thermal images making it easier to distinguish heat-related problems and spot issues. Everything is extremely clear.
The Flir camera uses its MSX technology to intelligently blend the visuals from the digital camera with the thermal readings from the Infrared sensor. Flir's patented MSX enhancement adds sharp visual details and in practice, it really works and delivers superior image quality to what you find in other thermal cameras.
The IR resolution of the Flir TG275 thermal camera is very high. With a 160 x 120 infrared resolution, the Flir offers 19,200 true thermal pixels in total. While this 19,200 pixel thermal resolution is below the average pixel count that you get with similarly priced handheld thermal cameras, it compensates with the MSX image enhancement.
The refresh rate of the IR sensor is the maximum that you can get with a 9Hz frame rate. This thermal camera for automotive specialists has no manual focus mode and manual focus is not available in this price range for any thermal imager.
Flir TG275 – Temperature Range, Accuracy
Thermal sensitivity is on par with the average camera in this price class, with a 0.07° C sensitivity. Just in case you are not familiar with what the sensitivity represents, it is the minimum change in temperature needed to trigger a change in the measurement device.
It has the widest temperature range of any competing camera by far, with a low point of -25 degrees. That's good but it is not impressive, however the higher end of the range is: 550° C. The full thermal scope of this camera is from 25 to 550 C ( 13 to 1022 F). This means that you can use it in extremely high temperature environments. It will work on petrol engines and diesel engines without a problem.
You can even use it to spot when a fire is about to start when the temperature is about 500 degrees. After the fire is visible however it gets out of the range quickly.
The accuracy is also superior, with a +/-1°C temperature measurement accuracy. This is lower than the 2 degrees standard we are used to. Accuracy is basically the device's precision and sometimes confused with thermal sensitivity. A device can be highly imprecise but also paradoxically have a high thermal sensitivity. The viewing angle is standard however at a 57 by 44 field of view (FOV).
Flir TG275 – Battery life & Memory
The Flir TG275 automotive diagnostic thermal imager comes with a generous internal memory in the form of 4 GB for storage. It doesn't sound like much but it can hold up to 50,000 thermal images with all their radiometric data. That means the temperature for each pixel is stored separately.
The battery life is great, with 5 hours of continuous usage. Although the bar has been raised lately in battery life, we think 5 hours should be more than enough unless you are doing thermal imaging all day. The battery charging time is also 5 hours for up to 90%.
This thermal vision camera has a rugged and reliable design with an IP54 enclosure that protects it, which means it is waterproof to an extent and the enclosure protects the camera from dirt, dust and oil. It can easily withstand splashes and is designed to withstand a 2 meter drop.
A 2.4 inch screen is mounted on the camera. We think the color screen could be bigger, but nevertheless it is usable.
This camera is perfect for automotive specialists and it was designed with automotive applications in mind, but you can use it for checking leaks in plumbing, inspecting electrical wires and PCB circuit boards, you can check body temperature, you can see if your chimney is working properly or if your pet has a health issue.
In the package you will find the camera, a pouch, a USB cable, user manual and for some reason a thank you letter.
Flir Systems gives you a 2-year warranty on this camera for automotive diagnostics and their usual 10-year warranty on the Infrared Sensor.
Along with infrared cameras, Flir also makes moisture meters, clamp meters and a current probe as accesories.