This is our concise review of the PerfectPrime IR0005 where we cover only the things that are important to you if you want to buy this device.

PROS: Great thermal sensitivity, large LCD screen, Easy to use, 3 temperature spot measurement, 3GB Storage and low-price.

CONS: Battery lasts 3 hours, Accuracy could be a bit better.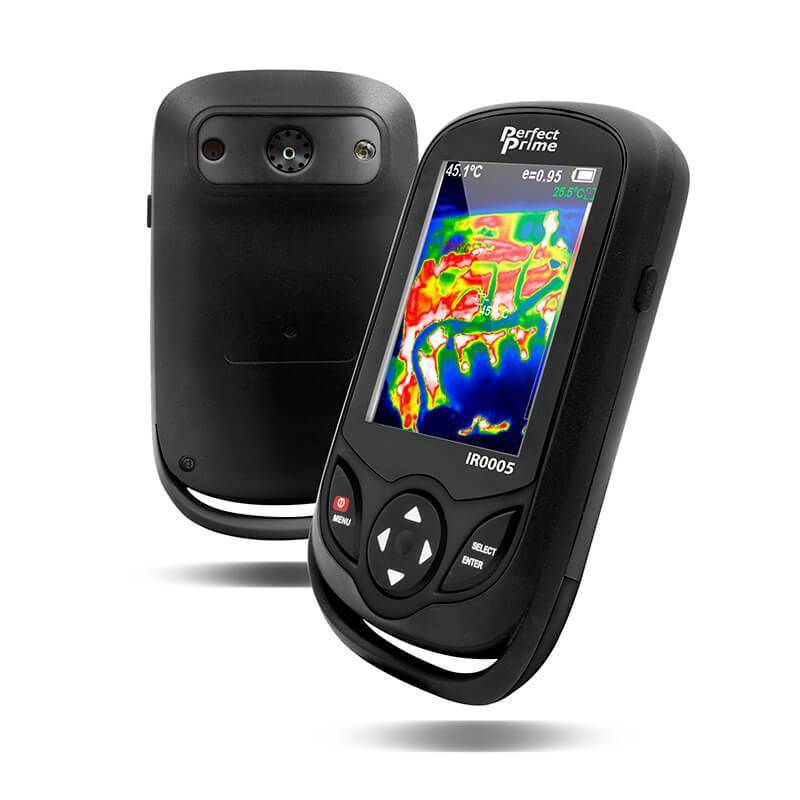 PerfectPrime IR0005 Specifications
| | |
| --- | --- |
| Type | Handheld |
| Resolution | 220 x 160 |
| Pixels | 35200 pixels |
| Connectivity | USB Micro-B |
| Temperature range | -4 -> 572°F (-20 to 300°C) |
| Accuracy | +/-2°C |
| Thermal sensitivity | 0.07°C |
| Distance | 900 feet |
| Storage Type | 3GB integrated, SD card |
| Battery capacity | 3 hours |
| Dimensions | 5.7 x 1 x 3.2 inches |
| LCD screen | 3.2″ |
| Refresh rate | 9Hz |
| Applications | Hot or Cold Pipes leaks in water system, Electrical and Mechanical Inspections, HVAC Inspection, Infrared Vision |
| View Angle | 26° x 35° |
| Features | Waterproof, Dustproof, Manual Focus, Visual Camera |
PerfectPrime IR0005 – Specs & Review
The PerfectPrime IR0005 infrared ir thermal imager is basically a cheaper version of the PerfectPrime IR0006. It is a handheld thermal camera but one which has no handle. It is more in the form factor of a digital camera.
Like the IR0006, it can capture photos and save them on its 3GB integrated SD card. You can then transfer the digital files to your computer via micro USB cable. All the thermal images are captured and stored in JPEG format and the resolution of the visible images is 0.3 megapixels (Note, this is not the IR Image Resolution, which is lower).
As with most infrared cameras, on the back there are the 3 essential elements: The infrared sensor, a visible light camera and and LED light. The menu has an image registration option in order to perfectly align and calibrate the visible image with the thermal image.
This compact thermal imaging camera doesn't have that many color palettes to choose from but the essentials are there: Spectra, Iron, Cool, White and Black (Basically you can choose to have either white representing the coolest temperature or black).
It is smart because it measures the temperature in the center spot but at the same time it also displays 2 dynamic points that keep changing, the coolest and the hottest point in the image.
The menu also lets you put an auto-shutdown for the camera so you don't forget it on and drain the battery. You can adjust the intensity of the screen to save power, language, switch between Celsius and Fahrenheit and set the time.
The left and right buttons adjust the fusion level, so you can choose how much thermal image or visibile image you want in the overlap.
The start-up time is about 20 seconds until you can use it to measure temperature and capture photos.
PerfectPrime IR0005 – Thermal imaging quality
Because the PerfectPrime IR0005 thermal camera is a low-cost version of an already quite cheap thermal camera, the screen resolution is lower. This is a camera with an IR resolution of 220 x 160 pixels which is what most thermal imaging cameras offer today in terms of thermal resolution in this price range.
This resolution is also backed up by a visual camera and the software on the camera blends the visual image and the thermal image together.
The refresh rate for the IR sensor is also very good and able to capture images at a 9Hz frame rate or capture frequency as some call it. Here, the more the better because it means the camera is continuously updating the image and temperature measurement faster.
It being a low-cost handheld infrared camera, it doesn't have a manual focus mode and don't worry, none of the IR cameras that cost the same have this feature. Another feature that it lacks is the ability to store thermal measurements for each pixel when doing image capture, like the Flir C2, C3 and C5 cameras do.
In our PerfectPrime ir0005 review we want to go more in-depth and talk about emissivity. You can adjust the emissivity between 0.01 and 1.0. Honestly I don't know why you would go below 0.7 as most materials are in the 0.7 and 1.0 range. But it is useful for example for polished metals like silver, copper and gold. Aluminum foil also has a very low emissivity.
So if you are having problems detecting hot or cold spots on materials you've never worked with before, check if you're not setting the emissivity worng.
PerfectPrime IR0005 – Temperature Range, Accuracy
The thermal sensor has a thermal sensitivity is on par with what you would expect, 0.07° Celsius. This is basically how much the temperature needs to change in the picture in order for the camera to update its temperature readings.
The temperature measurement range of this portable thermal camera is also wide enough for most applications as it can detect temperatures and heat signatures between -20 and 300 degrees Celsius. This is a moderately wide thermal scope and as you will read below, it allows for this camera to be used in a wider range of applications.
It has a 26° x 35° viewing angle with a 4.00mm focus length.
You can easily use this in insulation whether it is freezers or even low temperature ovens to find out if any heat or cold air is escaping. You can also use it for HVAC inspections, electrical and mechanical inspections, home inspections or when you are working on plumbing, the temperature range is wide enough for you to detect hot and cold pipes leaks.
If you want to setup the camera to monitor body temperature, you need to go into the menu and set the emissivity to 0.88 which works best for human skin. Then you need to point the camera at head level where it gets the most accurate measurement. You can place it on a stand or a tripod and have it monitor people who come in and out. Just to get this clear, you cannot see through walls, so you can't monitor them if they are in a different room.
PerfectPrime IR0005 – Battery life & Memory
As mentioned before, there is a 3GB integrated SD memory card so you don't need to worry about space. Given the 0.3 megapixel image quality, you are going to store a lot of images on the micro SD card.
The battery on the PerfectPrime IR0005 compact thermal camera will last you approximately 3 hours of thermal imaging. At this price we would have expect a bit better battery life, at about 5 being the average for other handheld thermal cameras available at this price. What we do like is that it has a built-in rechargeable battery.
PerfectPrime offers you a standard 24-month warranty and if you register your product online, you get an extra 12 months after you've successfully completed the product registration process.
Even though it has a compact design, the LCD display screen on this infrared thermal imaging camera is quite large with a size of 3.2 inches.
Note, some people have spelled the company name wrong, it is not the Perfect Prime IR0005, but PerfectPrime IR0005 without the space. That can cause confusion.
If you are looking for a thermal imager camera for Android, our recommendations would be the Seek Thermal Compact Pro and the Flir One Pro and if you are looking for a thermal binocular or thermal vision monoculars, the Flir Scout TK is a great option. If you want to detect heat sources at long distances, the Seek reveal is also a great option.