The Hikmicro E1L is one of the best low-budget thermal cameras in the world by far. It offers a high resolution, exceptional refresh rate, long battery life, wide temperature range and an IP54 enclosure for a very low price.

PROS: 160 x 120 resolution, 25 Hz refresh rate, Wide Temperature range, IP54 rating, Low price.

CONS: Given the price, nothing to complain about.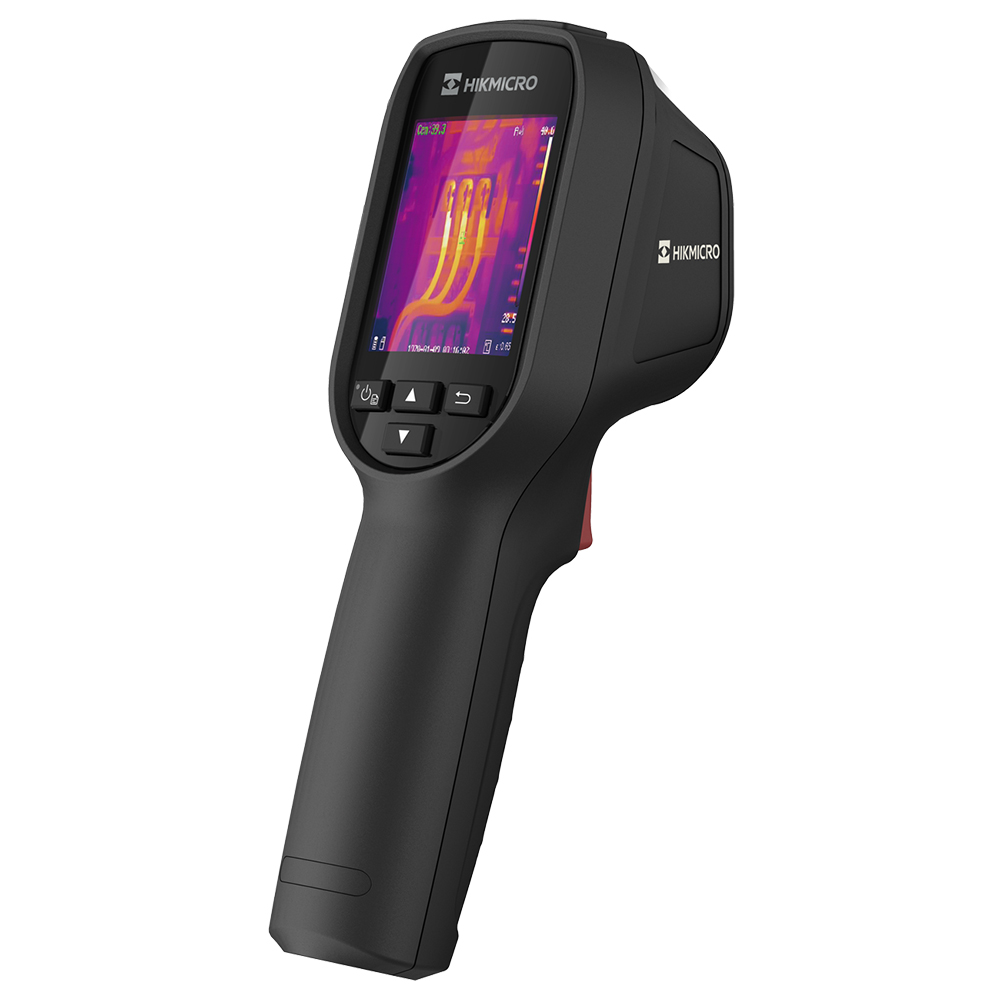 Hikmicro E1L Specifications
| | |
| --- | --- |
| Type | Handheld |
| Resolution | 160 x 120 |
| Pixels | 19200 |
| Connectivity | USB-C |
| Temperature range | -4 F to 1022 F (-20 C to 550 C) |
| Accuracy | 2 C |
| Thermal sensitivity | 0.04 C |
| Distance | |
| Storage Type | 8GB SD Card |
| Battery capacity | 8 hours |
| Dimensions | |
| LCD screen | 2.4″ |
| Refresh rate | 25 Hz |
| Applications | HVAC inspection, Electrical inspections, Plumbing, Roofing, Automotive Diagnostics |
| View Angle | 37.2 |
Hikmicro E1L – Specs & Review
The Hikmicro E1l is a handheld thermal camera meant to compete with the likes of the Flir TG165-X. But the idea is that it provides 4 times the amount of thermal pixels for a lower price.
One difference between them is that the Hikmicro E1L is not equipped with a visual camera and so it doesn't benefit from the MSX image enhancement technology, however it does pack a punch in terms of thermal pixels so that you won't feel you need it as much.
The camera can capture thermal images with full radiometric data and store them on the included micro SD Card. They can then be downloaded to your computer via the USB-C port and USB Cable that this camera has. It doesn't have Wifi and if you need a wireless connection, you can just go for the B1L which does have it.
Hikmicro E1L – Thermal imaging quality
Now in terms of IR Resolution it is worth pointing out that the Hikmicro E1L doesn't just beat other thermal cameras, it thrashes them completely in this price range. For this price you get a full thermographic handheld camera with 19,200 thermal pixels represented in the form of a 160 x 120 resolution. You do get your money's worth in terms of thermal resolution and then some.
But the good doesn't end here because added to this is Hikmicro's standard 25 Hz refresh rate. Now if you're new to the field then you're going to think "Isn't this the standard for infrared cameras?". It is not. Most thermal cameras from the large US-based manufacturers offer a 9Hz refresh rate because of EAR export regulation. But the fast image frequency of the Hikmicro E1L makes for smooth images and just a better experience overall.
Sure, the image quality could be further improved by using a visible light camera, but in this case the thermal resolution by itself makes the camera usable in most conditions.
The color palette choice is standard for the Hikmicro line-up, there's the White Hot, Black Hot, Ironbow and Rainbow to choose from.
Hikmicro E1L – Temperature Range, Accuracy
Now let's have a look at the Hikmicro E1l thermal imaging camera's temperature measurement range which varies from -4 F to 1022 F (-20 C to 550 C). Again, this is way more than you would get from a Flir, it's almost 80% wider making the camera usable to measure extremely hot objects and this range is usually more specific to infrared thermometers rather than cameras.
The accuracy is on par with what you get from other thermography cameras and then there is the issue of thermal sensitivity where it just sounds too good to be true. They claim it has a 0.04 C sensitivity but that is a claim which is really hard to test. Just for reference the average sensitivity that other manufacturers claim for cameras in this price range is 0.15 C.
Hikmicro E1L – Battery life & Memory
All the images that you capture get stored on the included 8GB micro SD Card. It's always nice to have extendable storage however you won't need much more than that since the captured images are really small, even with the radiometric CSV files included. They estimate that you can store more than 100,000 thermal images just on the provided SD card alone.
The battery capacity is great because the camera should last up to 8 hours of continuous use. The average battery life that you would get for this price is usually under 4 hours.
The LCD screen size is on par with what you would expect from an entry-level device, 2.4 inches to be precise.
It is worth pointing out that the Hikmicro handheld thermal imaging camera line-up is quite extensive because there's also the Hikmicro B20 which provides a higher resolution, then there is the professional line-up which includes the Hikmicro G40 and the Hikmicro G60.
A big plus is that the camera's enclosure protects it from water damage and the whole device is IP54 rated, something you don't get from the competition for this budget.
Hikmicro will offer a 3-Year hassle-free warranty for the entire camera and 10 years for just the thermal sensor.
All things considered, the camera is really too good of a deal to pass up. General long term reviews have been good and it seems that Hikmicro really delivered on all of their promises. It is hard to choose a TG165-X over this in these conditions.