The Hikmicro Mini1 is a thermal camera for smartphones which offers a decent thermal resolution and the smoothest refresh rate you'll ever find on a thermal camera.

PROS: Smooth refresh rate, decent IR resolution.

CONS: No iOS version.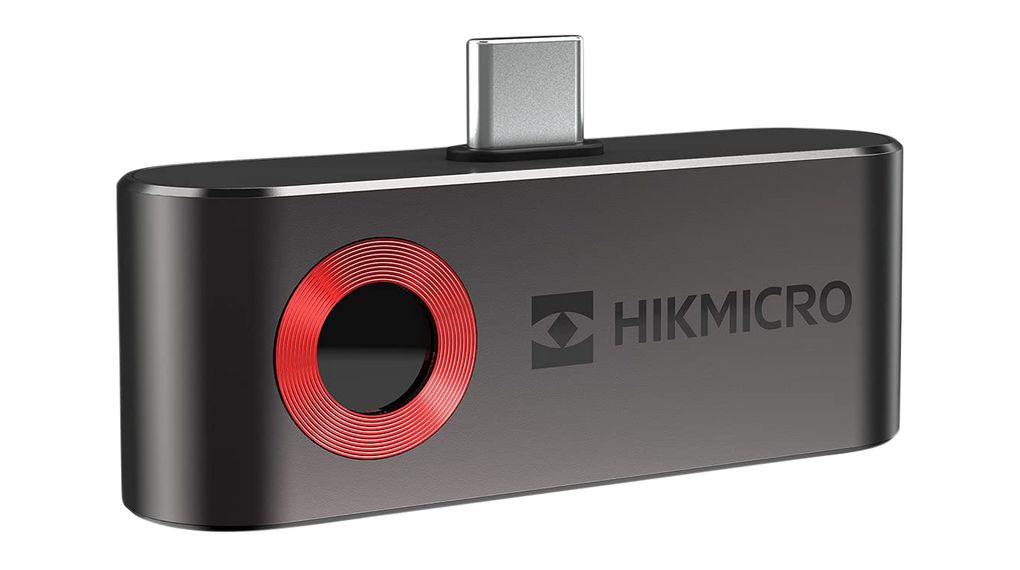 HIKMICRO Mini 1 Specifications
| | |
| --- | --- |
| Type | Smartphone |
| Resolution | 160 x 120 |
| Pixels | 19,200 pixels |
| Connectivity | USB-C |
| Temperature range | -4 to 662°F (-20 to 350°C) |
| Accuracy | +/- 2% / 2 C |
| Thermal sensitivity | 0.04° C |
| Distance | |
| Storage Type | Uses Smartphone storage |
| Battery capacity | Uses Smartphone battery |
| Dimensions | |
| LCD screen | Uses Smartphone screen |
| Refresh rate | 25 Hz |
| Applications | Home, Cars Inspections, Electrical Panels Check, HVAC Problems, Water Damage |
| View Angle | 50° x 38° |
HIKMICRO Mini 1 – Specs & Review
The Hikmicro Mini1 thermal imaging camera was designed to be a device which you can attach to your smartphone via its USB Type-c interface (For the moment this is exclusively a thermal imaging camera for android, no iOS option available) and turn your smartphone into a full-fledged thermal camera. Instead of paying for a handheld standalone device where you have to pay for the screen, batteries, large enclosure, buttons and other components, here you only pay for the thermal sensor or IR camera as it may be called and a powerful smartphone app. That's it, a tiny package.
Now the concept is great, but there's other competitors in the market and mainly the Flir One Pro which is one of the most successful thermal cameras ever made and the Seek Thermal Compact. And that's just the competition from the US because in the Pacific you've got the HTI-301.
The first thing we notice is that this is a pure thermal camera, there is no visual camera mounted on it. This is the same approach that Seek and Hti have taken but not Flir.
Everything is done through the Hikmicro Viewer app, after you've connected the camera you should see the thermal image in the app and be able to capture photos. The app provides 4 color palettes: White hot, Black hot, Ironbow and Rainbow. You can capture not only photos but also record videos.
On the live feed you can get the measurement of the center spot but it also shows you the hottest and coldest points in the image.
HIKMICRO Mini 1 – Thermal imaging quality
The IR resolution is 160 x 120 (19,200 thermal pixels in total) which is more than you would get from a handheld camera but not more than what you can expect from a smartphone thermal camera.
But the spectactular part isn't in the resolution itself, it's actually in the 25 Hz refresh rate. Yes, this camera doesn't have to abide by EAR export regulations in the US because it doesn't come from there, it comes from mainland China.
The experience of 25 Hz fast image frequency versus the standard 9Hz is game changing. Once you use a 25Hz camera it is very hard to go back indeed. Now this is something which neither the One Pro nor the Seek Compact can offer.
HIKMICRO Mini 1 – Temperature Range, Accuracy
But let's also have a look at the temperature measurement capabilities of this thermal camera for android phones. The Hikmicro Mini1 claims to have a 0.04 C thermal sensitivity. Now we do say they "claim" and that is because this is a very bold number. Just to put things into context, the average thermal camera at this price usually has a 0.15 C sensitivity, so you can imagine our skepticism here. Also many times, chinese manufacturers can get away with slightly distorted numbers so take this one with a pinch of salt.
Another reason for this skepticism is that the entire Hikmicro products line seems to claim it has the same low sensitivity on at least 2 different sensors.
Meanwhile the temperature range is fairly decent because the object temperature range can be from -4 to 662 F (-20 to 350 C). Nothing spectacular here and also in the thermal accuracy which measures +/- 2 C. There is a high temperature alarm built into the app which is always a useful feature.
HIKMICRO Mini 1 – Battery life & Memory
There's no battery in the thermal camera, it uses the one on your smartphone which we personally believe is the better choice since it gives the user the ability to extend it by mounting it on a smartphone with a large battery. The same goes for the screen, no thermal camera screen can match the one on your phone in terms of resolution and sharpness, it's just better there.
You need to know that the device itself is not waterproof or dustproof so you need to be a bit more careful with it, but then again neither are the One Pro or the Seek. The Hikmicro Mini1 USB-C basically offers the same level of protection as any other smartphone thermal imager and that is none.
One of the things that is a bit bothersome is that the camera sticks out of the phone quite far through it's really long USB-C port. That can be annoying, however it isn't a deal breaker. But so many issues just fade away when it's connected and you get to experience that smooth framerate, it really is unique.
Hikmicro offers a 3-Year hassle free warranty for the device itself and a 10-Year warranty for the thermal sensor.