The Hti HT-19 has become a succesful handheld thermal camera in the online stores and has put up a good fight to the Flir line. Why is that? We go in-depth in our Hti HT-19 review.

PROS: Very high IR resolution, high thermal sensitivity and wide viewing angle.

CONS: Does not store thermal data in the images even though it uses the data in live view.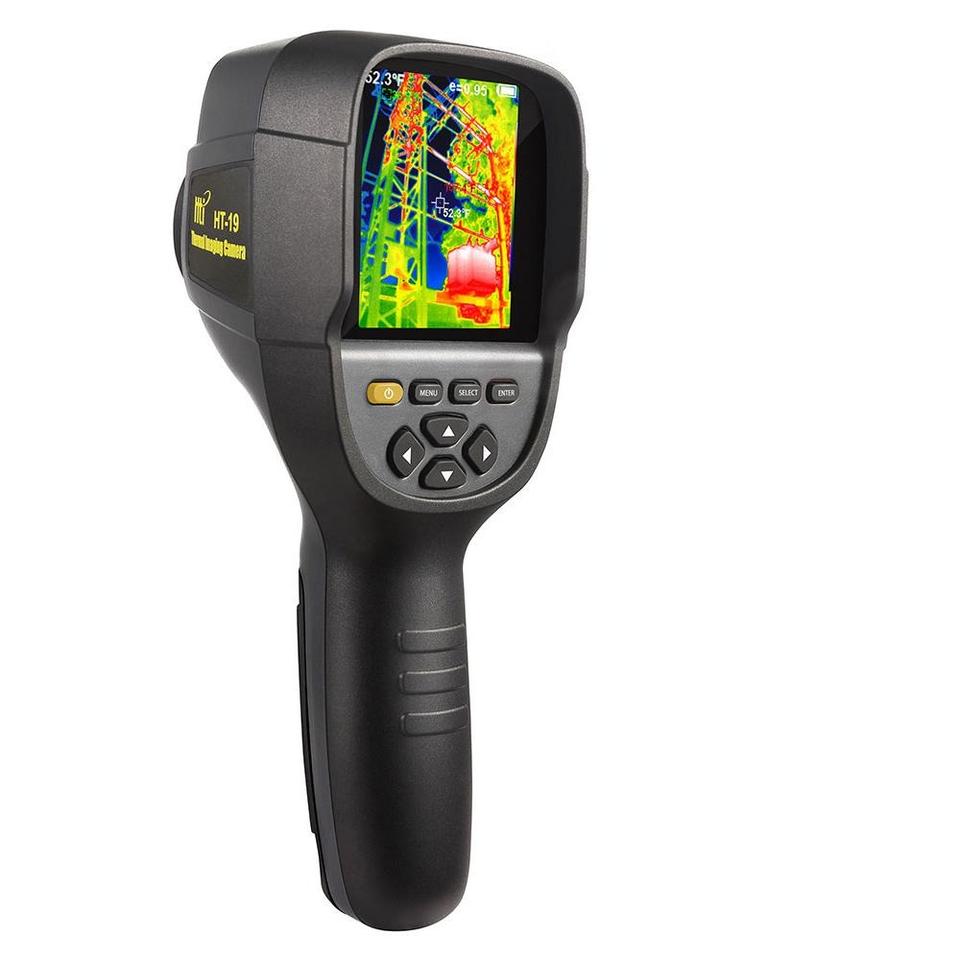 HTi HT-19 Specifications
| | |
| --- | --- |
| Type | Handheld |
| Resolution | 320 x 240 |
| Pixels | 76800 pixels |
| Connectivity | Micro USB 2.0 |
| Temperature range | -4°F to 572°F (-20 °C to +300 °C) |
| Accuracy | +/- 2 ° C |
| Thermal sensitivity | 0.07° C |
| Distance | |
| Storage Type | Internal 3 GB |
| Battery capacity | 3 hours |
| Dimensions | 8.8 x 3.6 x 3.3 inches |
| LCD screen | 3.2″ |
| Refresh rate | 9Hz |
| Applications | HVAC, Electric, Auto repair, Pipeline, Roofing, Electrical Inspection, Automotive diagnostics |
| View Angle | 56°x 42° |
HTi HT-19 – Specs & Review
The Hti HT-19 is a handheld thermal camera that has an infrared sensor and a visible light camera. You may have seen this device in somewhere else but not under the Hti brand and you're right, there is at least another version that looks identical, called the Vividia HT-19.
The device has a micro USB port which you can use for charging and for transfering the images via a USB cable. One thing that we like is that Hti Xintai have put a cap to cover the IR sensor and camera lens, so you don't get any dust, dirt or scratches on them.
The front of the thermal imaging camera shows an LCD screen and an array of no less than 8 buttons together with the trigger to capture images.
If we have a more in-depth look in our Hti HT-19 review, we can see that during the live view you get 3 spot thermal measurements. One for the hot spot, cold spot and center spot.
The camera gives you a choice of five color palettes: Rainbow (Spectra), Iron Oxide Red, Cold Color (Cool), White heat and Black heat. Normally, for spotting the coldest or warmest points, the grayscale palettes tend to perform better while rainbow provides you with a more diverse picture showing you where the warmth areas are.
The camera has several image enhancement modes. You can just view the image from the visible light camera or blend it to a certain degree with the infrared image (25%, 50%, 75%). Alternatively you can just use only the infrared vision.
The camera lets you adjust the emissivity. Why would you want to do that and not just let it on default? It is because you get a more accurate reading if you know the emissivity value of your material and help the camera by providing it. As a rule of thumb, the shinier the object, the lower the emissivity, but you can find tables online for any material.
When you go into the settings menu, you'll find more or less the standard options for a handheld thermal camera. There is an auto-shutdown feature that can be configured for 5 or 20 minutes, you can also adjust the brightness for low, medium or high. Of course you can change the language and the temperature unit between Celsius and Fahrenheit together with the date and time. If you want, you can turn off the spot measurement.
There is also a picture gallery where you can view the thermal images that you took and delete them. There is no option to edit them like you would get on a Flir device.
HTi HT-19 – Thermal imaging quality
Let's have a look in our thermal camera review at the image quality of this infrared camera. First of all, the Infrared Sensor has an IR resolution of 320 x 240 pixels totaling a number of 76,800 pixels. For those of you who are researching your first thermal camera this will sound like a joke and for those of you who are already familiar with infrared cameras, you will know that this is actually a high-resolution device. Most thermal cameras at the HT-19's price point will only offer about 32,000 pixels.
The thermal images are stored in JPG format, but you need to know that this is not a radiometric model, it only stores the image without the temperature data for each pixel. I don't really understand why it doesn't store that data, because it can do that, it is capable of showing you the hottest and coldest pixel in live viewing, so why would it not just transfer that data at least to a CSV file? Either they don't trust the data or they just didn't bother? As a software developer I can certainly say that this is not a complicated algorithm given you already have the thermographic data.
The HT-19 also has the bigges possible legal frame rate, a 9Hz refresh rate however there is no manual focus mode, this is a fixed focus thermal camera.
HTi HT-19 – Temperature Range, Accuracy
In our Hti HT-19 review we also want to look at temperature measurement accuracy and sensitivity. This particular thermal camera has a 0.07° C sensitivity, something that is common when you are spending this amount on a camera, so it's not necessarily a particular advantage. That being said, it is a good value because many other thermal imaging devices usually go between 0.10 and 0.15.
The temperature range that it can measure is between -20 and 300 celsius. This should be good for most applications, allowing you to tell if your freezer is working properly but also for troubleshooting heating appliances or proper insulation on ovens. Remember that the working tenmperature is between 0 and 45 celsius, so you can't use it in sub-zero environments for long.
As far as the temperature accuracy goes, it provides a reasonable accuracy of +/- 2° C and The field of view is wide enough with a viewing angle of 56°x 42°.
HTi HT-19 – Battery life & Memory
Hti equipped this thermal imager with an internal memory of 3GB which they say should store approximately 20,000 images. Even if their estimation is not very accurate, you still should be able to store more than 15,000 which is certainly much more than Flir cameras offer.
It uses a built-in rechargeable 18650 Li-Ion battery that has the capacity to power the device for 2-3 hours of thermal imaging.
Hti hasn't provided any kind of IP rating for the Hti 19, so it is safe to assume that it is not waterproof nor dustproof. Now you wouldn't tell by looking at the enclosure because it is pretty well built.
This thermal device is equipped with a color screen in the form of a 3.2″ LCD screen with a 320 x 240 pixels resolution.
You can use this camera for building inspections, HVAC, insulation issues, you can troubleshoot electrical faults to find where fuses overheat or use it for temperature screening.