The InfiRay P2 is an Android smartphone thermal camera takes low-cost to a whole new level. You get a high thermal resolution, great refresh rate and the ability to capture images, record video and all of these for an extremely low price.

PROS: 256 x 192 IR resolution, 25Hz refresh rate, Low price.

CONS: Narrow temperature range.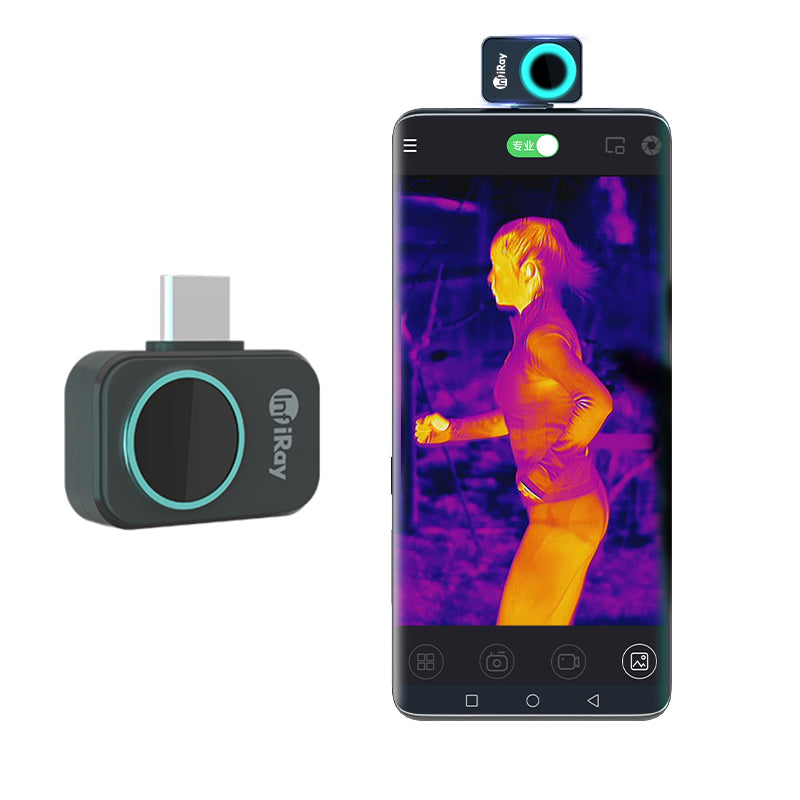 | Product | Type | Resolution | Battery capacity | Waterproof | LCD screen | Price |
| --- | --- | --- | --- | --- | --- | --- |
| InfiRay P2 | Smartphone | 256 x 192 pixels | Uses Smartphone Battery (350 mW consumption) | No | Uses Smartphone Display | Click for more info |
| TOPDON TC001 | Smartphone | 256 x 192 | Uses Smartphone Battery (4-7 hours for phones with battery between 3000-5000 mAh) | No | Uses Smartphone Display | Click for more info |
| FLIR ONE Pro | Smartphone (2 different versions – Android & iOS) | 160 x 120 | 45 minutes | No | Uses Smartphone screen | Click for more info |
InfiRay P2 Specifications
| | |
| --- | --- |
| Type | Smartphone |
| Resolution | 256 x 192 pixels |
| Pixels | 49152 |
| Connectivity | USB-C (Android only) |
| Temperature range | -4 F to 338 F (-20 C to 170 C) |
| Accuracy | 2 C |
| Thermal sensitivity | 50 mK NETD |
| Distance | |
| Storage Type | Uses Smartphone Storage |
| Battery capacity | Uses Smartphone Battery (350 mW consumption) |
| Dimensions | |
| LCD screen | Uses Smartphone Display |
| Refresh rate | 25 Hz |
| Applications | HVAC inspection, Electrical inspections, Plumbing, Roofing, Automotive Diagnostics |
| View Angle | 56 x 42 |
InfiRay P2 – Specs & Review
Right after I reviewed the TOPDON TC001, a thermal camera for smartphones which offers so much for so little, I find this: The InfiRay P2. One that offers a lot for even less, a full 50$ less.
So what is this InfiRay p2 thermal camera? This is a piece of thermal imaging equipment that connects to your Android phone via the USB-C port. Notice I did not include iOS and that is because at the moment it is not compatible with iPhones and iPads. It only includes a thermal sensor and that's it. The advantage is that you don't have to pay for storage, a display, battery, buttons, visual camera and other components which you'll normally find on a handheld thermal camera because everything that you need is already in your phone. You're only paying for what matters and that is the infrared detector.
What is impressive about the design is how small the device is. It is tiny compared to other smartphone thermal imaging cameras. Another interesting fact is that the camera has a metallic body.
InfiRay P2 – Thermal imaging quality
Now let's look at this camera's most impressive spec: An infrared resolution of 256 x 192 totalling 49,152 thermal pixels. Now here's a trivia question: What do you think is the average number of pixels that you get from a camera that costs 250$? 4,800 pixels. That's it, no more. Let that sink in. And you maybe asking yourself: What's the catch here? Well the images look great. This is not some kind of interpolation or anything, the captured images really look inline with the data, at least in terms of the number of pixels.
Then there's also the issue of framerate: Right out of the bat, you'll notice how smooth the picture is and that's because it has a 25 Hz refresh rate. If I had written this review two years ago then I would have just said that this beats out any thermal camera however times have changed and as more and more chinese manufacturers pop up in the landscape, this is becoming the standard. I honestly do not understand how US manufacturers are going to adapt to this because they are limited to 9 Hz by EAR regulations not by technology.
The InfiRay app allows you capture thermal images but also record video. There's the White / Black hot palettes together with 6 other options to choose from and the app (Night Vision Go) is compatible with any Android device from 6.0 upwards.
InfiRay P2 – Temperature Range, Accuracy
There's also the issue of thermal sensitivity. If the resolution tells us about how many pixels the image will have, the sensitivity tells us how much details we'll find in those pixels because the level of detail in a thermal is mainly influenced by how sensitive the camera is to differences in temperature. Now here, they claim a 50 mK NETD sensitivity. While it is hard to put that claim to the test, the pictures do look quite detailed.
The temperature measurement range spans from -4 F to 338 F (-20 C to 170 C) so it is notably narrower than what the average thermal camera in this price range provides. It is actually 50% narrower. The accuracy that is specified for this thermal camera is +/- 2 C and the viewing angle is 56 x 42. Both these numbers are inline with expectations.
InfiRay P2 – Battery life & Memory
There's no internal storage, instead the captured images will be stored on the phone. There's no display because you already have a much better one than any infrared thermal imaging camera can provide and the same goes for the battery. Now this uses 0.35 watts of power every hour which puts it on the higher end of the power consumption chart since the Seek CompactPro uses 0.28W and the TOPDON TC001 uses 0.25W.
The case is not waterproof and neither are the other smartphone attachments.