The Lectron V-Box is one of the best looking Home EV Charging Stations ever made. Not only that, but it also delivers fast charging speeds and has an IP55 weatherproof rating, though it does lack smart features. 40-Amp & 48-Amp versions available

PROS: Sleek Design, Fast charging speeds, LCD Display, IP55 rating.

CONS: No smart features, charging cable is a bit short.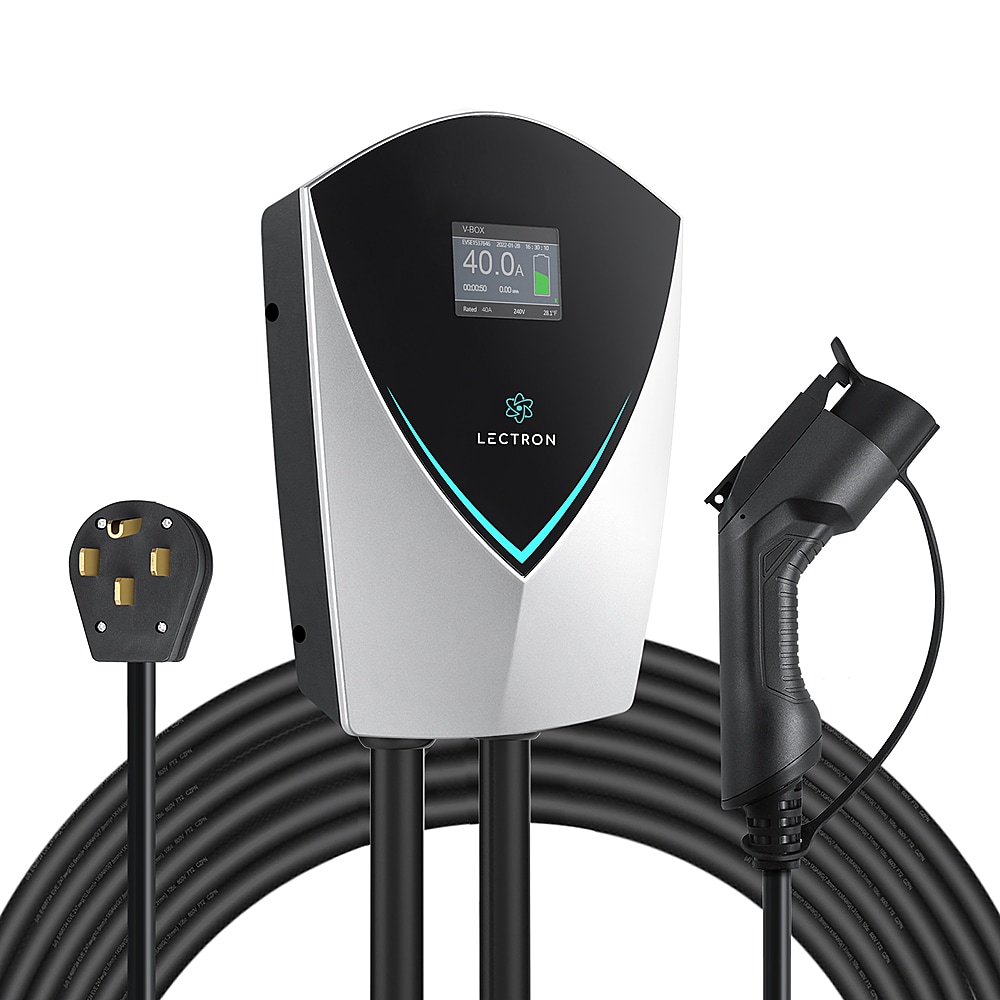 Lectron V-Box – EV Charging Station (40 & 48 Amp) Specifications
| | |
| --- | --- |
| Amp rating | 40 Amp & 48 Amp versions available |
| Level | Level 2 |
| Type | EV Charging Station |
| Cable Length | 20 feet |
| Nema | NEMA 14-50 |
| Power | Up to 11.5 kW (48-Amp version) |
| Voltage | 240V |
| Connector | Type 1 (J1772) |
| Connectivity | No |
| IP Rating | IP55 |
| Display | LCD Display |
| Warranty | 1-Year |
| Features | |
| What's in the box | |
| Weight | 15.92 lbs (Total package) |
Lectron V-Box – EV Charging Station (40 & 48 Amp) Charging specifications
The Lectron V-Box is this new EV Charging Station for your home that boasts a very sleek design and futuristic look and is supposed to charge your EV at home in record time. To achieve that, they provide two versions, one which has a maximum output of 40 Amps and one which can provide 48 Amps. The price difference between them is about 70$.
We love the design and the combination between that metallic color and glossy panel, not to mention that V-shaped LED light and the screen which seems to integrate seamlessly on that black panel. At this point, it might just be the EV charger with the best design out there. That doesn't mean the best materials, just the best looking.
Now what is very interesting is that Lectron do not disclose the amount of power delivered by the charger, the reasons for that being unknown however we do know that the 40-Amp should be able to deliver up to 9.6 kW which puts it very much inline with other EV chargers and the 48-Amp should be able to get up at around 11.5 kW.
So what do these numbers mean in terms of charging speeds? Well for a Long Range Tesla Model 3 which boasts a large 82 kWh battery pack it should take about 8 hours to charge it from 20% to 100% using the 40-Amp charger and about 6-7 hours using the 48-Amp Lectron V-Box. The reason we chose the Model 3 in this example is because its on-board charger can take much more power through AC charging. Many EVs are still limited even these days to 7.4 kW by their on-board charger (Of course, we're reffering to AC not DC fast charging).
Lectron V-Box – EV Charging Station (40 & 48 Amp) Cable types and connectors
Now one of the areas where the Lectron V-Box lags behind a bit is in cable length because it only measures 20 feet, a full 5 feet shorter than most cables on the market. I don't know why they call it "extra-long 20-foot cable". But you can buy an extension cord if needed, they're all over Amazon. Just make sure it can take the right amount of power through it.
To connect to your car, it uses a J1772 connector and so it is compatible with all vehicles from North America including Tesla cars since they now come with an adapter. If for some reason you don't have the Tesla adapter, Lectron actually sells Tesla to J1772 adapters as well.
To plug it in, you can use the NEMA 14-50 connector which is provided, however you do need to be aware that the 48-Amp will require for it to be hardwired to at least a 60-Amp circuit breaker in order to max out its power. If you plug it into a 14-50 then the Lectron EV Charging Station it will only deliver 40 Amps.
Lectron V-Box – EV Charging Station (40 & 48 Amp) Features
Even though the V-Box Charging Station looks futuristic and sleek, it is actually not a smart charger because there's no connectivity and no smartphone app. It does however have that LCD display on which you can get real-time data on the charging status like the battery level, actual amperage at which it is working, voltage, power, unit temperature and charging timer. More than enough to get a good read of the situation.
But there is no charge scheduling, so you will need to rely on your car's built-in function for that. The unit itself is IP55 rated and it comes with a 1-Year warranty.