The j+ Booster 2 is the north-american version of the highly successful portable EV Charger from Switzerland. It provides fast charging speeds, a fairly long cable and it is most likely the toughest portable charger on the market.

PROS: Fast charging speeds, IP67 waterproof, can be run over by a car and still work, multiple NEMA adapters available.

CONS: No smart features.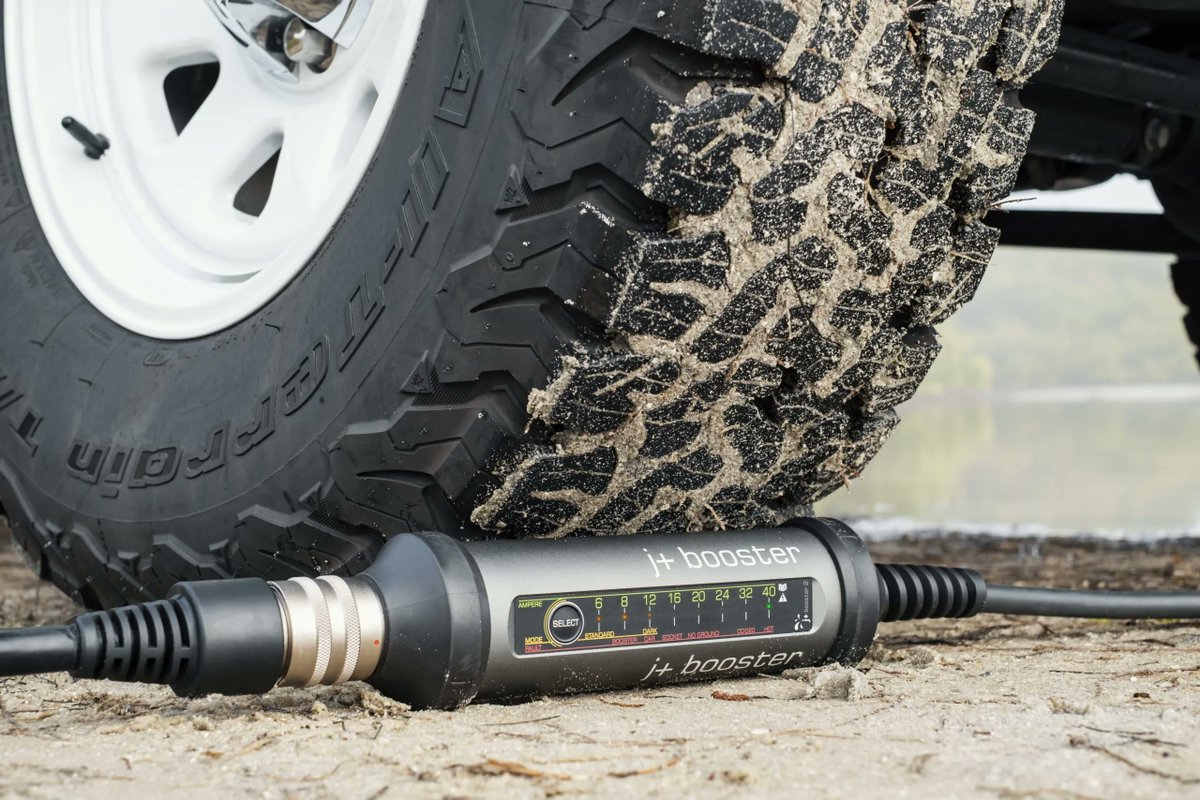 j+ Booster 2 – Portable EV Charger (40 Amp) Specifications
| | |
| --- | --- |
| Amp rating | 40 Amp |
| Level | Level 2 |
| Type | Portable EV Charger |
| Cable Length | 21 feet |
| Nema | NEMA 5-15 & 14-50 plugs included. 6-15, 5-20, 6-20, TT-30, 14-30 and 6-50 available as optional extras. |
| Power | 9.6 kW |
| Voltage | 240V |
| Connector | Type 1 (J1772) |
| Connectivity | No |
| IP Rating | IP67 |
| Display | LED indicators |
| Warranty | 2-Year |
| Features | |
| What's in the box | |
| Weight | 7.7 lbs |
j+ Booster 2 – Portable EV Charger (40 Amp) Charging specifications
The j+ Booster 2 is a highly-resistant Portable EV Charger with the ability to deliver up to 40 Amps of electric current to your electric vehicle. Obviously this is a Level 2 charger since it connects to a 240V outlet and can deliver 9.6 kW of power to your car.
So what do these figures all mean? As usual for these high-speed portable ev chargers, we'll take the Long Range Tesla Model 3 as the reference since that one uses an on-board charger which can take more than 7.4 kW of power during AC Charging.
So the j+ Booster 2 will charge the Model 3's 82 kWh battery from 20% to 100% in about 8 hours. That is a pretty short charging time considering the fact that 82 kWh is considered to be a large battery size.
Now the j+ Booster 2 is basically the North-American version of the Juice Booster and Juice Americas inc. represents that specific north-american division of the Juice Technology AG company from Switzerland. They first made the Juice Booster which has been highly successful in terms of sales and customer reviews. Apart from that, they also do software for electric vehicle charging stations.
j+ Booster 2 – Portable EV Charger (40 Amp) Cable types and connectors
Now in terms of cable length, the Juice Charger lacks a bit because its cable only measures 21 feet compared to the standard 25 feet that you would get from most mobile chargers, especially at this price level because this is not a cheap product. As is customary in the US, this is a tethered electric vehicle mobile charger which means that you can't replace the charging cable, but if you want to make it longer you can just buy an extension cable from Amazon.
It uses the standard SAE J1772 connector which will fit most electric vehicles in the North American market.
Now let's talk about the other side, the connector that plugs into the wall. As standard, you'll get a NEMA 14-50 and a 5-15 plug. But there's also some optional ones to choose from, like the 6-15, 5-20, 6-20, TT-30, 14-30 and 6-50. A carrying case is also included with the charger together with a wall bracket.
j+ Booster 2 – Portable EV Charger (40 Amp) Features
Now in terms of connectivity and smart features, the j+ Booster 2 lacks in every aspect. There's no Wi-fi, no smartphone app and not even a delayed charging feature. Now fortunately, your EV will most likely have a charge scheduling feature built-in. The reason why you may want to use that is to program the charger to deliver power to the vehicle only when off-peak prices for energy kick in late at night and also to avoid peak demand.
So it may not be smart, but it is tough and here is where it really shines. It weighs just about 2.2 lbs (The weight that you see in the table is the total weight of the system with cables and adapters) but it is made out of military-grade aluminum and according to the manufacturer, it can literally be run over by a tank and still work. However, I wouldn't take that at face value, rather more be sure that if I run it over with my car then it won't break. The device itself is IP67 which means it is waterproof to the point where you can literally submerge it underwater for at least 30 minutes and it is also dustproof.
There's smart safety features too, like a temperature sensor on the plug pins which can detect if the socket is overheating and shut down the charger. The device comes with a 2-Year warranty.