We'll try to explain and illustrate the differences between Level 1 vs Level 2 EV Chargers by comparing the best-selling Level 1 charger to the best-selling Level 2 charger

What you'll notice is that the differences represent more than just the charging speed.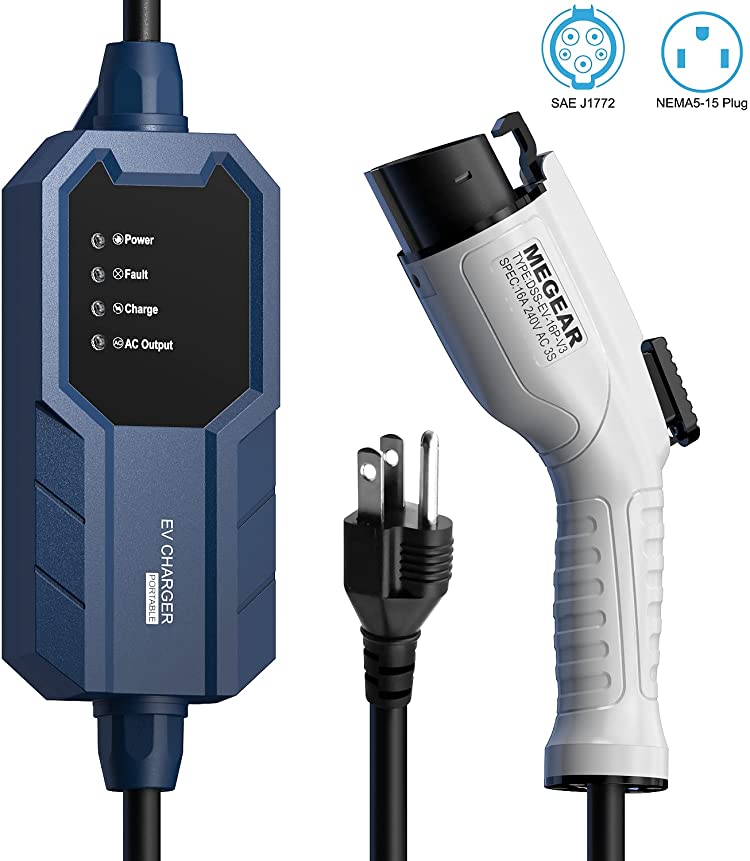 Let's have a look at each product in particular.
ChargePoint Home Flex – Level 2 EV Charging Station (16-50 Amp)
If we were to define the ultimate Level 2 charger, it would have to be the ChargePoint, the most succesful out of all Level 1 & Level 2 chargers.
Now this is a Level 2 charger and you need to know that basically any charger that is capable of outputting more than 2.4kW of power output is considered a Level 2 charger. Now the ChargePoint can deliver 12 kW so you can understand why this is the benchmark of any Level 2 charging station.
Now just for comparison sake, let's take a car with a 62 kWh battery size, the same size as the Tesla Model 3. By our estimations, this particular charger at full power (wired to a 60-Amp circuit breaker) would take about 6 hours to fully charge it. A Level 1 charger working at 1.9 kW would take 36 hours. That's how big of a difference it is between Level 1 and Level 2. Now obviously we've compared the best of Level 2 with the best of Level 1, not all EV charging stations are as powerful as the ChargePoint, but you can still expect 3x-4x faster charging times.
Level 2 EV chargers always work on a 240V outlet and this one is no exception. You can plug it into a NEMA 14-50 or a NEMA 6-50 outlet but you can also hardwire it.
Another aspect that you'll only find on Level 2 chargers is WiFi connectivity and a smartphone app. Now these features do not define a charger as being Level 2, however you will only find them on these electric vehicle charging stations. Level 1 chargers sold today were built to be cheap and work at a 110V voltage without you having to install any extra outlet.
So what kind of features does a Level 2 charger with a smartphone app provide that a Level 1 can't? Well you can schedule charging times so that you use as much off-peak electricity. In terms of that a Level 2 charger will end up being cheaper because off-peak hours are limited time-wise so basically a faster charger than grab in more cheap energy in the same amount of time than a slower one.
The app also gives you extensive and detailed reports of how each charging session went, how much charge was added to the electric vehicle and at what cost. This can help you keep track of things and put you in control of your budget. It can also remind you to plug in if you haven't and also tell you when the car is ready to use.
There is also real-time data about the charging level, how many miles of range per hour of charge are added to the car, amperage, voltage and other info that might be useful to know.
MEGEAR – Level 1 Portable EV Charger (16 Amp)
So let's now have a look at what is the best-selling Level 1 charger on the market, the Megear Skysword. What are the differences between this and the ChargePoint?
Well first of all, this electric vehicle supply equipment plugs into a 110V standard 5-15 outlet. One of the main reasons that people will go for a Level 1 charger like this is the fact that they already have a 5-15 outlet in their garage and they don't want to have to upgrade it or install new ones which is perfectly understandable.
The Level 1 charger uses the same kind of SAE J1772 connector to plug into the electric car, no differences there. Now at this point in time all of the Level 1 chargers that are sold on the market in North America are portable chargers, meaning you don't need to install them on the wall, you just carry them in your trunk and plug them into any outlet that you can find and you're good to go. The control box in this case is IP55 rated so it's going to be moderately tough, waterproof and dustproof. You also get a 1-Year warranty for it.
To help you better understand the differences in costs associated with Level 1 vs Level 2 chargers, if you were to buy a ChargePoint then you would have to pay for the Charger itself which costs 3-4 times more, having a new household outlet installed and having the home charger mounted on the wall while with the Level 1 Megear, you would only have to pay for the charger and plug it in yourself to the existing 5-15 outlet. Now obviously, if you do some of these things yourself that will save you some money.
But now if you just want this Level 1 charger, the only costs are with the charger because you most likely already have the outlet and this one has no installation costs.
What about smart features? None. You get 4 indicating lights telling you whether it is plugged in, charging or if there is a fault.
Do I need a Level 2 charger? If you drive a plug-in hybrid then you can get away with a Level 1 charger since the EV battery pack is going to be small enough so that the car can fully charge throughout the night. If however you drive an EV then it is going to be extremely useful to have a Level 2 charger.

What is level 1 charging? Any kind of AC charging of an electric vehicle that happens at a rate of under 2.4 kW, usually at a 120V voltage which provides up to 5 miles of range per hour of charge to the EV.

What is Level 2 charging? Level 2 charging is the process of AC charging of an electric car at a rate of over 2.4 kW, usually through a 240V outlet or directly by hardwiring which will provide more than 5 miles of range per hour of charge to your car.

What is Level 3 charging? Level 3 is widely considered to be the process of DC charging which usually happens at a 480V voltage. If Level 2 can go up to 80 Amps, DC Charging can get up to 300 Amps. As an example, Tesla Superchargers are DC Chargers.

Can you convert a Level 1 charger to Level 2? Not really. There is a difference in the key components that are used in Level 1 and Level 2 chargers. The Level 2 chargers are designed to be able to withstand much higher amounts of electrical energy.