Today we'll be comparing a 16 Amp vs 32 Amp vs 40 Amp vs 50 Amp charger. We selected the charger that best represents each Amp category

We'll be comparing them based on charging speed in order to illustrate the differences between them but also features and durability.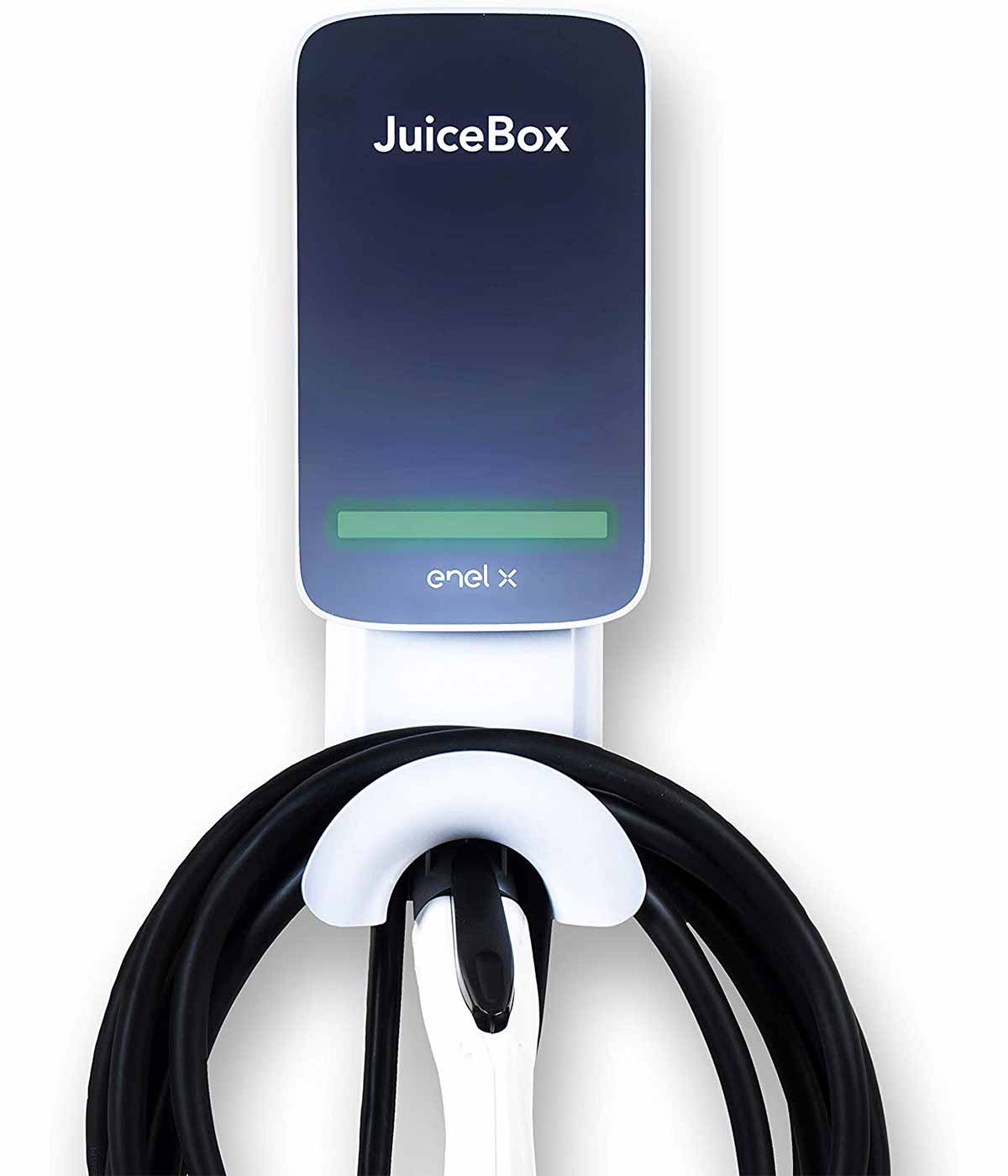 Let's have a look at each product in particular.
MEGEAR – Level 1-2 Portable EV Charger (16 Amp)
The Megear Level 1-2 portable charger is the one that best represents 16-Amp charging. All chargers up to 16 Amps are basically portable chargers which you do not have to install. You can just plug this into either a 5-15 or a 6-20 outlet that most likely already exists in your garage.
So how long does it take to charge an electric vehicle with a 16-Amp charger? Our calculation today will be based on the 75 kWh Tesla Model Y. For a 16-Amp charger delivering a 3.84 kW charging rate which is exactly what this Megear charger is, it will take about 22 hours to fully charge it. Again, this is an estimation not an official figure. The way you should look at this is in context compared to the estimations for the 32, 40 and 50 Amp charger.
The EV charging cable uses a J1772 connector as all chargers presented here do, because this is the standard for North America. The only electric vehicles in the US that don't use this standard are Tesla cars, but they do come with a J1772 charging port adapter.
Now with 16-Amp chargers you don't really get any kind of smart features, these are devices which are built to be cheap and easy to use without having to install an extra outlet or an upgraded one.
The control box on this particular charger is IP55 rated and we did an analysis of more than 52 portable chargers and concluded that more than 85% of them have at least an IP54 rating or higher. This also applies to the standard 1-Year warranty that comes with most 16 Amp chargers because when we studied 22 chargers that can output 16 Amps we found that only 2 of them offered a 2-Year warranty.
ENEL X JuiceBox 32 – Level 2 EV Charging Station (32 Amp)
16 Amp vs 32 Amp Charger
The main difference here is that the 32 Amp Charger will double the charging speed. Your typical 16-Amp charger will provide 1.9 kW of power if it is a Level 1 device or 3.84 kW if it is a Level 2 charger while the 32-Amp will provide 7.68 kW.
So if we take our Tesla Model Y as an example: With a 16-Amp Level 2 charger it would take 22 hours but with our 32-Amp it would now only take about 11 hours. Now these are just estimations and there's plenty of things that can affect that including throttling from the on-board charger to protect the battery or for other reasons but the fact of the matter is that it should be twice as fast.
Another thing to mention here is that 32 Amp chargers always require a 240V outlet, because 16-Amp Level 1 chargers work on 120V outlets. From looking at the 32 Amp chargers on the market we noticed that they usually come with a NEMA 6-50 / 14-50 connector.
If 16-Amp chargers are almost all portable chargers, when it comes to the 32-Amp, our analysis of 26 electric car chargers showed that 10 models are charging stations (AKA Wall boxes) and 16 are portable. We've chosen this particular Enel X JuiceBox because it best represents what a 32-Amp charger should be: It has fast charging speeds, it is capable of power sharing, but you also get WiFi connectivity and a smartphone app and here is where things get significantly smarter, when you make the jump to the 32-Amp.
The smartphone app that you'll usually find on the smart chargers can let you schedule charging times so that you use as much off-peak electricity as possible but also provides you with detailed reports on how much energy you've used and how much you're spending on each charging session. It is a great tool to keep track of your costs but also provides you with real-time data on the charging process as well as allowing you to start it or stop it remotely just by using your voice.
This particular 32-Amp charging station is NEMA 4X rated which would be the equivalent of IP66 meaning it is waterproof and dustproof.
Wallbox Pulsar Plus – Level 2 EV Charging Station (40 Amp, 9.6 kW)
16-Amp charger vs 40 Amp charger
The main difference is in the charging speed. While a 16-Amp charger with a 3.84 kW output would roughly take 22 hours to charge a Model Y's 75kWh battery, a 40-Amp device which can output 9.6 kW would take just 9 hours.
40-Amp charging stations such as this Wallbox also come with smart features like Wifi connectivity and in this particular case, Bluetooth. Another thing to note is the extended warranty times on these higher-end home EV chargers because most of them offer a 3-Year warranty. 32-Amp chargers usually require a more powerful socket like the 6-50 / 14-50 outlet while 16-Amp devices work on 5-15 outlets (Level 1) or 6-20 / 10-30 (Level 2).
32-Amp charger vs 40 Amp charger
The difference in charging speed between these two isn't as big. For a car with a 75kWh battery size, the 32-Amp would take about 11 hours to charge it while the 40 Amp would take approximately 9. Both chargers are usually plugged into 6-50 / 14-50 outlets because they are the only ones capable of maxing out their power.
Just like with the 32-Amp devices, you get a variety of form factors because out of the models we've looked at, we found 11 portable chargers and 6 home charging stations.
This Wallbox is a perfect example of what a 40-Amp charger should be. It can deliver 9.6 kW of power, it has a 25ft long J1772 charging cable, all the smart features that you would ever need from Amazon Alexa & Google Assistant integration to the ability to tell it to only charge your EV when the solar panels on your roof are generating power.
It has an app with a great design, plenty of data visualization charts and all the functions that one would need. It is also IP54 rated and comes with a 3-Year warranty.
ChargePoint Home Flex – Level 2 EV Charging Station (16-50 Amp)
The last charger we'll be looking at is the 50-Amp rapid charger which in this case is represented by the ChargePoint Home Flex, probably the best-selling EV charger in the world.
16-Amp vs 50-Amp charger
There is a big difference in charging speed between the two because while a 16-Amp charger would take approximately 22 hours to charge a 75kWh battery while the 50-Amp version would take a little over 7 hours. Of course this is a calculation based on the assumption that the on-board charger of the car can take up to 11.5 kW of power and no software throttling is involved.
The 16-Amp can be plugged into regular household outlets while a 50-Amp charger like this one have to be hardwired to a 60-Amp circuit breaker in order to achieve their maximum charging capacity.
32-Amp vs 50-Amp charger
Charge speed is the main difference here. In reality you can expect a 32-Amp charger to take about 11 hours to charge an electric car with a 75kWh battery pack while a 50-Amp charger would take approximately 7 hours. The difference is not as big as with the 16-Amp, but still considerable. 32-Amp chargers are usually connected to 6-50 or 14-50 outlets while a 50-Amp should be hardwired.
50-Amp EV Home chargers like this one only exist in 1 form factor as an EV Charging station. This particular one is a WiFi enabled charger which also comes with a ChargePoint app (The one you use to find public charging points) and the ability to remote control it, check on past charging sessions and the unique feature which allows you to literally ask it "How much have I spent on charging my EV this month?".
40-Amp vs 50-Amp Charger
You will not notice a big difference in charging times between these two, however it is worth noting that a 40-Amp charger can fully charge a 75kWh battery in about 9 hours while a 50-Amp can do the same thing in approximately 7. If you're going to be charging at home overnight, both should be able to get the job done while you're home sleeping.
40-Amp chargers can usually reach their full power when connected to a 6-50 or a 14-50 outlet because of the 20% rule. 50 Amp chargers like the ChargePoint can be plugged into those outlets, but they will only run at 40 Amps. If you want to get 50 Amps out of it, you'll need to forget about the wall connector and hardwire it directly to a 60-Amp circuit breaker.