These are the 4 Home Chargers which we selected for the Mercedes EQC. We'll be reviewing every aspect of each from charging speed to smart features, plugs and connectors to help you decide which one is right for you.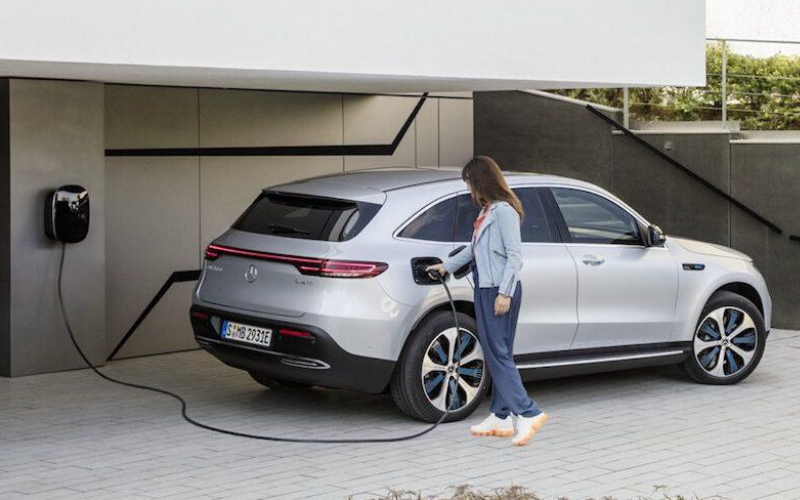 Let's have a look at each product in particular.
Wallbox Pulsar Plus – Level 2 EV Charging Station (48 Amp, 11 kW)
So here's our first Mercedes-Benz EQC Home Charger, the Wallbox Pulsar Plus. Now it is important to note that this one is available both in Europe and North America. The american version comes with a Type 1 J1772 connector while the european version will have the Type 2 Mennekes connector. We'll focus on the US version for now which comes in 2 versions: a 40-Amp which can deliver 9.6 kW of power and comes with a NEMA 14-50 connector and a 48-Amp version which can deliver up to 11.5 kW of power but can't be plugged into any outlet and thus needs to be hardwired.
One of the Wallbox's strongest points is the fact that it has a host of smart features including the ability to do power sharing, schedule charging times, charge only when your solar panels are producing excess unused energy and we didn't even get to the smartphone app. That one allows you to keep track of your costs, how much energy you have used but it also provides some real-time info on the current amperage, actual amount of power delivered together with the battery status. The charger comes with 2 types of connectivity, wifi and bluetooth.
Every Wallbox comes with a 3-Year warranty and it has an IP54 rating which means you can install it outside, it doesn't necessarily have to be in a garage. The charging won't stop because of heavy rain or snow.
Juice Booster 2 – Portable EV Charger (32 Amp)
Then there is our next Home Charger for the Mercedes Benz EQC which is the Juice Booster 2. Now this one is different, first because it is portable and second because it is an EU-charger only. You should focus on this one if you live in Europe and it is worth it because it is one of the best rated chargers on the continent. It can deliver 32 Amps of current and depending on whether it is plugged to a single-phase power source or a three-phase (For which it has a connector by default) it will deliver 11 kW respectively 22 kW to your EV. Now because the on-board charger of this Mercedes EV is limited to 11 kW, you won't be able to access its full potential.
The idea with the Juice Booster is that they wanted to make a charger which is highly durable. You can run it over with your car, it can sit in a puddle of rain or under heavy snow and it will still continue to charge because it has an IP67 rating. That's unheard of usually, very few EV chargers have this kind of capability. But it doesn't really fare well on the smart front because there is no connectivity or smart features. But the good news is that if you want to do things like charge scheduling, you should be able to do it from the Mercedes Me Connect platform.
Instead the manufacturer focused on another key aspect and that is flexibility and compatibility with mostly every outlet or every car out there. The idea is that you can order it with a host of outlet connectors or plugs and there are different bundles to choose from depending on your needs and budget. The most expensive package is the master traveler set which has so many charge connectors and adapters that you most likely can charge your Mercedes-Benz EQC anywhere on the planet. The Juice Booster 2 has extremely good customer ratings and fares well on the satisfaction front but it is backed up anyway by a 2-Year warranty.
Morec – EV Charging Station (32 Amp)
But now it's back to home chargers for the Mercedes EQC which are wall mounted and here we have the Morec Charging Station, one which you'll be able to find on Amazon in North America and Europe. It can deliver 32-Amps of current and thus 7.68 kW. Now this will max out the on-board charger's maximum charging rate for single-phase current but it is enough to charge the entire battery overnight in spite of its impressive 85 kWh battery capacity.
This EQC charging station comes with a Type 2 Mennekes connector in Europe and a J1772 connector in North America. Both versions come with a 20 ft. charging cable (6.1 meters). The european version can't be plugged into an outlet though and you need to hardwire it while the US version will come with a NEMA 14-50 plug. There are 2 versions, you can get the Morec with smart features which implies wifi connectivity and a smartphone app or the standard version which doesn't have any of these.
Every Morec wall charger is IP66 rated and is backed up by a 1-Year warranty.
ChargePoint Home Flex – Level 2 EV Charging Station (16-50 Amp)
So now let's look at the ChargePoint Home Flex. This is the last Mercedes EQC Home Charger which we'll be reviewing. This is a North-America only charger so only consider this if you live in US or Canada (At least at the time of writing). It is a Level 2 50-Amp charger which can deliver up to 12 kW to your electric vehicle. Indeed, you may have noticed that its specs far outweigh what the on-board charger can take on the Mercedes-Benz however it is worth considering because it has plenty of smart charging features, probably one of the most polished smartphone apps in the EV Charging space and very good customer ratings. For example, you can literally ask the phone using your voice how much it cost to charge the EQC last month. What is also interesting is that the same app used for home charging is also used to access the public networks that ChargePoint has installed all over the globe.
Because of its public charging network, ChargePoint might actually be the most recognizable brand in the field. Now to connect to your car, it uses a charging cable which is 23 feet long and has a J1772 connector. The downside with this one is that is recommended you install it only indoors since it only has a NEMA 3R rating so you don't get the best water protection. It does come with a 3-Year warranty and 24/7 customer service.
If you found this info useful, have a look at our other articles on the best chargers to use for the entire EQ Electric line like the EQS Sedan or the EQE suv.