Regardless if you live in the US or Europe, we've selected the 4 Best Mercedes EQA home chargers for you. 3 of them can be bought on both continents and one is only available in the US. We'll be looking at everything from charging speed to smart features to help you find the right charger for your Mercedes-Benz.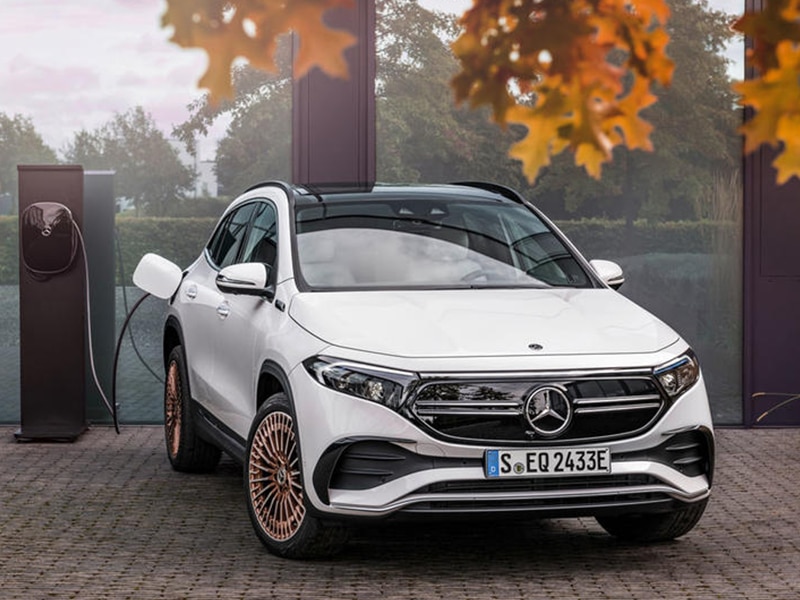 Let's have a look at each product in particular.
Juice Booster 2 – Portable EV Charger (32 Amp)
The first Mercedes EQA Home Charger I want to look at is the Juice Booster 2. This is one of the most successful EV chargers sold in Europe and you can tell why. First of all, this thing is incredibly tough because it has an IP67 rating. This means that you can do almost anything to it, submerse it in water for hours, drop it, even run it over with your car and it will withstand all of it and more. So if you want the toughest device, one that can charge while in a puddle or buried under heavy snow, don't even bother with the others because this is the one to get.
It can deliver 32 Amps to your electric vehicle and if you power it up using 3-phase current it can deliver up to 22 kW of power although mind you, the EQA's on-board AC charger is limited to 11 kWh, so that's the maximum charging rate the car can take, regardless of how powerful your EV charger is. The cable is a bit short measuring just 3.1 meters, but it does come with a host of plugs to connect it to literally any outlet on the planet. The device comes with different bundles of plugs and adapters with the Master Traveler set being the most expensive one of them. As standard, the device comes with a Type 2 plug to connect to your average electric vehicle sold in Europe and a Schuko EU plug together with a CEE32 one for three-phase current.
Since this is a portable EV Charger, it has no smart features built in, you just plug in and start charging. Some of the features found in smart chargers like scheduled charging can be found on the Mercedes Me Connect platforn. One of the Juice Booster 2's main advantages is compatibility with most power outlets giving you flexibility which can make you less dependent on public charging infrastructure. Now bear in mind and remember that this is a european electric car charger, so only consider this one if you live in Europe.
Autel MaxiCharger – Level 2 Charging Station (40/50 Amp)
Then there is the smart one, the Autel Maxicharger. This is the second Mercedes EQA home charger we'll be looking at. Now the Autel MaxiCharger is available in both a US version or european one. They are different products with different connector types so please bear that in mind. We'll focus on the US version for now but most of the stuff here applies to the EU version as well. It comes in 2 versions which can deliver either 40 Amps of current together with 9.6 kW of power to your Mercedes-Benz EQA or 50 Amps of current and 12 kW of power. Regardless which of these ones you choose, your EQA is sure to be fully charged overnight even with this car's 74 kWh battery capacity.
The connector that it uses in the US is a Type 1 J1772 plug but in the EU it will come with a Type 2 connector. Now when it comes to plugging it into an outlet, the 40-Amp version in the US comes with a NEMA 14-50 connector while the 50-Amp needs to be hardwired. for The great thing about this one is that it comes with full connectivity: Wireless, Bluetooth and even an Ethernet port. There's an app to keep track of how much it costs to charge your Mercedes EQA and get real-time data on how fast the electric vehicle is charging.
It also comes with a NEMA 4 rating which would be the equivalent of IP66 so it is guaranteed to be waterproof, maybe not as tough as the Juice Booster but most certainly durable. It should be able to charge when it's under heavy rain or snow without any issues. Autel also backs it up with a 3-Year warranty.
Wallbox Pulsar Plus – Level 2 EV Charging Station (48 Amp, 11 kW)
Then there is our third Mercedes-Benz EQA Home Charger which is the Wallbox Pulsar Plus. This EV Charger is also available in both the US and Europe. There's a 40-Amp and a 48-Amp version available and we'll focus on the 48-Amp since that one can max out the Mercedes EQA's on-board AC Charger. It can deliver 11.5 kW which is on par with the 11 kW maximum charging rate that the on-board charger can take.
It comes with a 25 ft. long charging cable which uses a Type 1 J1772 connector to plug into your EV. This kind of connector is only compatible with US vehicles but the european version will come with a Type 2 plug. The Wallbox has an IP54 rating which means it can be installed outside but it is certainly more fragile than the Juice Booster. It is also backed up by a 3-Year warranty.
Now when it comes to smart features, there's no shortage of that because this Mercedes EQA charging system can do charge scheduling, power sharing and also has the ability to use excess solar energy coming from the solar panels on your roof so that you basically never have to pay for charging your EV.
There's wifi and Bluetooth connectivity which allows you to connect to it using your smartphone and get detailed charging logs along with key real-time data.
ChargePoint Home Flex – Level 2 EV Charging Station (16-50 Amp)
Last but most certainly not least, there's the ChargePoint Home Flex, probably the most popular EV Charging station there is and a perfect smart home charger for your Mercedes EQA. What makes the ChargePoint so great is that it can deliver up to 50 Amps of current and 12 kW of power to your Mercedes, meaning that the car will easily charge overnight. If you want anything faster than this, you'll need to turn to public DC charging which is usually found in public charging places. It also fares extremely well in terms of customer satisfaction because the product delivers on everything it promises including great build quality, a cable that can withstand freezing temperatures and still be able to bend properly together with a smartphone app that is arguably one of the best out there.
One of its downsides is that it only has a NEMA 3R rating which means that it is advisable you install it indoor rather than outdoor. The ChargePoint is backed up by the same 3-Year warranty that you'll find on the other professional home chargers here.