We look at the low-cost but surprisingly good Milwaukee 2257 thermal camera.

Pros: Very easy to operate, minimalistic design, great build quality, low price. Perfect for everyday usage.

Cons: Low screen resolution, could have a bit better accuracy and refresh rate, but they are not a deal-breaker.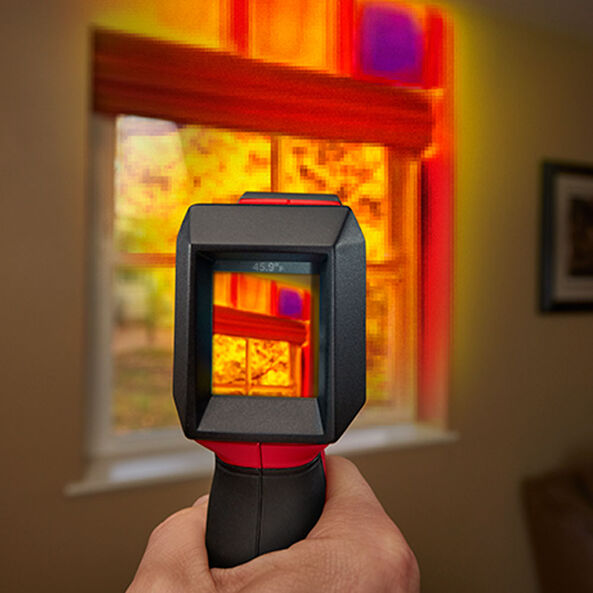 Milwaukee 2257 Specifications
| | |
| --- | --- |
| Type | Handheld |
| Resolution | 102 x 77 |
| Pixels | 7854 |
| Connectivity | |
| Temperature range | 14°F – 626°F (-10°C to 330°C) |
| Accuracy | '+/-5°C |
| Thermal sensitivity | 0.1°C |
| Distance | |
| Storage Type | |
| Battery capacity | 1 9V Alkaline |
| Dimensions | 3.00 x 5.00 x 9.00 inches |
| LCD screen | 1.8″ TFT |
| Refresh rate | 8 Hz |
| Applications | |
| View Angle | 26.8° x 35.4° |
| Features | Waterproof, Dustproof, Manual Focus, Visual Camera |
Milwaukee 2257 – Specs & Review
Milwaukee are known for making electric tools, that's why the company is called Milwaukee Tool. They make mostly everything from power tools, hand tools, detection tools, clamp meters to safety vests and outdoor power equipment.
This thermal imaging camera doesn't have any kind of SD Card or USB connection and that is because it cannot take any pictures. This is a big disadvantage, but you can supposedly find a workaround by taking a photo of the screen with your phone. That means it is not compatible with Milwaukee thermal imager reporting software either, you can only do that with the M12 system.
The way you use it is simple, you point it at what you want to measure and just check the on-screen temperature. It measures a single spot in the center of the image.
The spot spot infrared imager doesn't have a laser so that you can pinpoint where you took the spot temperature. Now because the thermal sensitivity is so fine, you can literally just use your finger and just rub it on the surface and the camera will spot the difference in temperature. That's how good the thermal camera is.
This milwaukee infrared camera has instant start-up so you can get right to work and an ironbow color pallete so it makes it easy for you to distinguish between cold and hot areas.
Milwaukee 2257 – Thermal imaging quality
At this price, the IR resolution of the Milwaukee infrared thermal imaging camera is not the best. So smaller details are going to be harder to spot. If you need a higher resolution, you will need to look at models with a higher resolution. In this price range you can find thermal cameras that offer 4 times as many pixels.
The refresh rate is also not the best at just 8hz with the average infrared camera for this price having a refresh rate of 9hz. Still, if you are doing building inspection, you're not going to need a super high refresh rate because most of what you are measuring is static.
There is also no manual focus feature. Milwaukee created this product with the idea of it being cheap and very easy to use.
Milwaukee says that the device uses something called Dual Sense Pixel technology which basically optimizes the pixels in the image so that you don't get a lot of blur in hot and cold areas. This 102×77 spot infrared imager can hold the static image for 15 seconds and it also has a 56:1 distance to spot ratio. The image hold function is ok because it gives you some time for test and measurement procedures. Of course it has the option to switch between celsius or fahrenheit and that option is located in the battery compartment.
Milwaukee 2257 – Temperature Range, Accuracy
As far as the thermal sensitivity goes, it fares average, as the other infrared cameras in its price range will bring a thermal sensitivity of 0.07 C, so more sensitive. Here the lower, the better because it means it can spot even smaller differences in temperature which generally is going to benefit you.
As far as the range of temperature measurement that this infrared imager can spot, that too is not on the high end. It doesn't do as well on lower temperatures, so you can't use it below -10 degrees Celsius and there are many other cameras that will go down to -20. So for cooling issues, you might want to go for a camera with a wider temperature range on the low-end. For heating issues no problem. All other ones like plumbing installation, roofing, electrical installation inspection and HVAC inspection, water leaks will work just fine.
The temperature reading accuracy of the infrared thermometer of this thermal imaging device is +/- 5 degrees Celsius. On the spec-side that's also not the best because at this level of price you can easily get a camera with a 3 degree accuracy.
The viewing angle on this infrared camera kit is on par though, with a standard 26.8 x 35.4 viewing angle.
Milwaukee 2257 – Battery life & Memory
The build quality is great on this imager. It uses a simple 9V alkaline battery pack that is replaceable. It is very easy to open the cover and take out the 9v battery and you can find plenty of batteries and battery chargers on Amazon for less than 15 USD. The camera itself is not waterproof or dustproof so you need to be careful when using it and especially where you leave it and store it.
The LCD screen on this compact thermal imager kit is a small one, it only has a 1.8″ TFT screen and since the camera can't capture digital images, there is no type of on-board storage.
The Milwaukee 2257 is backed up by a 5-year warranty.
As far as applications are concerned, this kind of device should easily be a part of an electrician's tools kit and also an inspector's HVAC tools kit and you can also use it with drain cleaning and plumbing and that is where it has to absolutely be a part of the tool box. One use case would be to measure the efficiency of your heat transfer pump.
Milwaukee 2257 vs Milwaukee M12 2258
There are some significant differences between the Milwaukee 2257 vs Milwaukee 2258. The M12 2258 model has a the same infrared resolution of 102 x 77 pixels, but a larger 2.4″ LCD screen and most important, the ability to capture thermal images, store them and transfer them via USB Cable.
The M12 battery is different, it is a lithium-ion (Redlithium) rechargeable battery pack.
If you are looking for a thermal camera that attaches to a smartphone, check out the Flir One Pro.