We reviewed the very impressive Acegmet thermal camera. A device that obliterates its competition in terms of the specs that it has at this price point.

PROS: High IR Resolution, Very fine thermal sensitivity, extremely good battery, IP65 rating (Yes, it is waterproof)

CONS: It only has thermal imaging, no image fusion.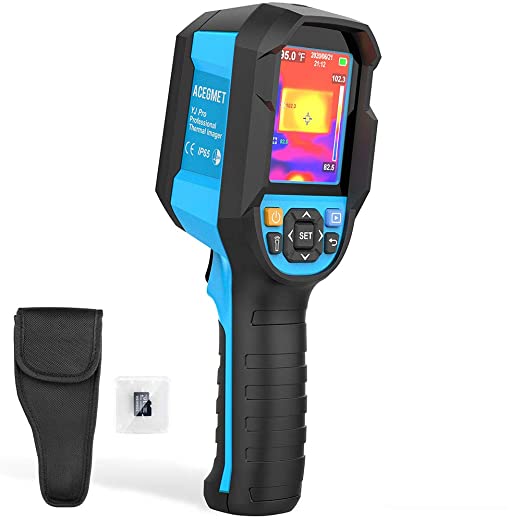 Acegmet Specifications
| | |
| --- | --- |
| Type | Handheld |
| Resolution | 160 x 120 |
| Pixels | 19200 pixels |
| Connectivity | USB |
| Temperature range | 17 -> 752 F |
| Accuracy | +/- 2 C |
| Thermal sensitivity | 0.15 |
| Distance | |
| Storage Type | SD Card |
| Battery capacity | 6 hours |
| Dimensions | |
| LCD screen | 2.8″ |
| Refresh rate | 9Hz |
| Applications | Simultaneous Measurement of Multiple Points |
| View Angle | |
| Features | Waterproof, Dustproof, Manual Focus, Visual Camera |
Acegmet – Specs & Review
Acegmet is known as a company that makes tools for laser measure or infrared thermometers. But they did try their hand at making an infrared thermal camera. And it's quite good too. The price is on the lower end, this being an entry-level camera.
The first thing you notice is the bright color design and that comfortable grip.
It has USB connectivity so you can download the thermal images on the computer. And it is not just any kind of USB port, it is a USB-C port and it comes with a USB Type-C cable.
The menu has the standard options, to change the unit of measurement between Celsius and Fahrenheit. You can switch between color palettes: Cool, Iron Red, Rainbow and black & white. Even though the rainbow is more spectacular, it is often the black & white palette that lets you more easily spot differences.
What we like is that on the rainbow spectrum on the right it also displays the values at each end of the spectrum so you know which is the highest temperature in the image and the lowest, without it cluttering your screen.
Whenever you want to capture a thermal image, you just press the trigger.
Acegmet – Thermal imaging quality
The Acegmet has an incredibly high IR resolution for its price tag. The IR sensor can capture thermal images of 160 x 120, which makes this a 19,200 pixels thermal imager, which is what you should get in professional grade thermal cameras. The amount of pixels that you get is 4 times as large as the standard camera that competes on price with the Acegmet.
This thermal imager camera is also backed up by a 9Hz refresh rate which will update the temperature and image faster. This infrared camera doesn't have manual focus mode.
The thermal pictures are stored in BMP format and it stores a few parameters with them: Emissivity, Date and Time, the temperature in the center, the highest and lowest in the image and the resolution at which it was captured, which is 240 x 320.
Acegmet – Temperature Range, Accuracy
It has a thermal sensitivity which is the standard in this price class, 0.15° C.
In the issue of temperature range, the camera can go from -10 to 400 degrees Celsius. The lower end of the temperature measurement range makes it unusable for applications in insulation where freezers are involved. However the higher end makes it great for thermal applications where high heat is involved like ovens. It will perform perfectly in all the standard applications: HVAC inspections, Electrical inspection, Plumbing, Roofing or Checking body temperature.
This compact thermal imaging camera also beats out the competition on accuracy with a temperature measurement accuracy of +/- 2 degrees Celsius. This is much better because the other infrared thermal cameras which are priced the same have an accuracy of +/- 4.
Acegmet – Battery life & Memory
In terms of storage it beats out everything in its class with a 16GB SD card included. That's not to say you can't buy another thermal imaging device which has SD card support and just buy larger memory card, but if it is included we have to give them credit.
The battery included on this high-resolution infrared thermal imager is miles above what you get in the market with more than 6 hours of continuous thermal imaging. Spec-wise, this camera is the superior product in its class. It takes about 4 hours for the battery to fully charge.
And one of our favorite parts? This is an infrared thermal imaging camera with IP65 waterproof rating. Most competitor cameras have an IP57 rating or lower. That means this camera is completely waterproof and can survive a 2-meter drop.
The LCD screen is of a generous size too, it is a 2.8″ inch color display screen.
Along with the thermal camera, in the bag you get the micro SD card, a USB charging cable, a protective bag (which is not very protective because it is not a hard case, lucky for the IP65 rating) and the User Manual.
So what about the warranty and return policy? Acegmet offers you an 18-month warranty and a 60-day no questions asked return policy.
If you need a spot thermal camera for smartphone, then have a look at the Flir One Pro LT (available in 3 versions: android usb-c & micro USB together with Lightning for iOS) with MSX image enhancement technology or Seek Thermal CompactPro.