The Parrot Anafi is a 4K thermal drone that combnines the power of thermal imaging sensors from Flir and the flying cability of a Parrot drone. But how good is it? Find out in our in-depth review of the Flir Anafi 4K thermal drone.

PROS: 4K video recording, high resolution thermal sensor, great Cineshots and Piloting modes, everything is adjustable.

CONS: The smartphone app is slow and laggy.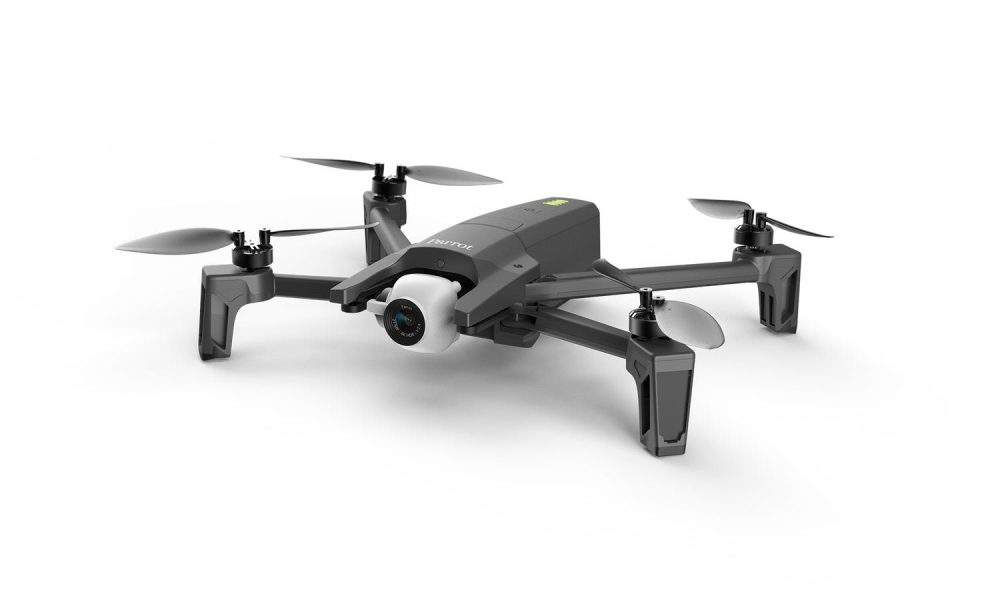 Parrot Anafi 4K Thermal Drone Specifications
| | |
| --- | --- |
| Type | Drone |
| Resolution | 160 x 120 |
| Pixels | 19200 pixels |
| Connectivity | USB-C or Lightning |
| Temperature range | 14°F to 752°F (-10°C to 400°C) |
| Accuracy | +/-5°C |
| Thermal sensitivity | |
| Distance | 1000 feet |
| Storage Type | SD Card |
| Battery capacity | 25 minutes |
| Dimensions | 12.24 x 9.09 x 5.94 |
| LCD screen | No |
| Refresh rate | |
| Applications | Thermal Losses for Constructions, Safety Industries, Energy Sector, Hunting |
| View Angle | 180° |
| Features | Waterproof, Dustproof, Manual Focus, Visual Camera |
Parrot Anafi 4K Thermal Drone – Specs & Review
The Parrot Anafi is a thermal Drone that can shoot video in 4K UHD and is also equipped with a thermal sensor.
The controller is nice and easy to use, it comes with a phone holder and a tablet holder. The build quality is ok, but when you shake the controller you can hear the buttons flapping around.
You fly the drone using the smartphone app. Inside the app you can adjust the temperature scale manually if you want and also how much blending of thermal and visual you want. As far as video recording goes, you can switch between standard and cinema mode and also record hyperlapse and slow motion video. Like handheld cameras, it shows you the spot thermal measurement in the middle of the image along with the highest and lowest temperature recorded in the frame.
You can use cineshots, which are automated movements of the camera and its zooming feature which take cool shots and there are 4 that you can do: 360, Reveal, Spiral and Epic.
You can pilot the drone in different flight modes like Manual Flight, Cameraman, Follow me, SmartDronies, Touch & Fly and Flight plan. All of these modes are unlocked and you don't have to pay extra for the follow me mode like on other drones. There is a 3x digital zoom if you need to zoom in on objects.
Let's have a look at the thermal options that you can set. There are 3 units of measurement (Fahrenheit, Celsius and Kelvin), a few color palettes to choose from, a high temperature mode and adjustments for emissivity and reflected temperature.
When it comes to piloting, you can limit its altitude, the distance it can travel, the maximum inclination, vertical speed, rotation and tilt speed. These settings can be adjusted for two piloting modes depending on your use case: Sport and Film.
What needs to be improvement is the smartphone app because it is too slow and has too much lag which will annoy you when you are flying it.
Because it is compatible with Pix4Dcapture, you can use it as a drone mapping tool to capture images and create 3D models and maps.
Parrot Anafi 4K Thermal Drone – Thermal imaging quality
The Lepton 3.5 thermal sensor has an infrared resolution of 160 x 120 pixels, which works out at 19,200 thermal pixels in total. This is a fully radiometric model, so you get all the thermal data for each pixel embedded in the image so that you can measure and compare thermal images later because it is fully compatible with the Flir Tools reporting software.
While it may not be the most advanced sensor, it does overlay the thermal image over the visual image using the Flir MSX image enhancement feature. Out of all the thermal cameras that we reviewed, the algorithm for blending the thermal and visible images that Flir cameras use brings out the best results in terms of thermal imaging quality.
The best part about this drone is its video recording capability, since the Sony sensor for visible images can record 4K video, but also 2.7K and 1080p Full HD. By comparison, the DJI Mavic 2 Enterprise Dual can also shoot in the same image modes and costs 50% more, however you do need to factor in its many extra features, higher ascent speed and 8000 meter range.
In thermal view mode, you can record videos at 1440 x 1080 pixels at a 9Hz framerate (The refresh rate is limited by EAR export regulations in the US, not the camera's equipment) The video recording is stable and smooth because the camera is mounted on a 3-axis gimbal. There are some Pro settings like ISO adjustment, exposure, white balance and shutter speed, but you can leave it on Auto and it will output great results.
If you are thinking of comparing the DJI Mavic or Parrot Anafi with models like the DJI Phantom or Dji Zenmuse, there is no need because these are niche models created especially for thermal imagery. The 4k HDR camera can also capture still images, the photo resolution is up to 3264 x 2448 on a 4:3 aspect ratio.
Parrot Anafi 4K Thermal Drone – Temperature Range, Accuracy
With the Parrot Anafi thermal drone, the manufacturer adds a Lepton sensor that can achieve a 0.05° thermal sensitivity which is actually much better than what most handheld thermal cameras can offer.
It can measure a temperature range from 14°F to 752°F (-10°C to 400°C) which makes it usable even in freezing conditions and given that the high end of the thermal scope goes up to 752 Fahrenheit.
The accuracy of Flir's Lepton sensor is +/-5°C and this remains valid for the Dji Mavic Air too, since they both use the same thermal sensors.
Parrot Anafi 4K Thermal Drone – Battery life & Memory
The battery included with the Anafi Drone for thermal imaging can last for a 26 minute flight time compared to the 31 minute autonomy on the Mavic Dual Thermal Drone. We recommend buying an extra battery like you get in the Anafi extended pack as it will provide more flexibility.
The battery mechanism is a bit fiddly because when you replace it and mount the new one it is really easy to accidentally touch the power button and turn the drone on, but it can charge via a USB to USB-C cable, which is a very useful feature. Because the charging system is portable, you can basically charge the drone from a powerbank and the charging speed is 70% faster than your average phone charger because it supports the USB PD standard (3A Power Delivery). You can use the multi-port charger to charge 3 batteries simultaneously.
The drone itself is not waterproof nor is it dustproof so you need to be careful when and where you fly it.
All of the captured photos and videos are stored on a 16GB microSD Card, so you can extend the memory capacity to fit your needs.
Included in the package is the drone, a Parrot SkyController 3, the storage case, a USB-C cable, micro SD memory card, 8 additional propellers and a screwdriver.
This thermal drone can be used for many applications from search and rescue to wildlife spotting or fire prevention in forests. During search and rescue, the people will clearly show up in the thermal image and you'll be able to spot them much faster. One interesting use case is power line inspection in which you can just fly the drone next to the pole that you want to diagnose.
Other use cases include industrial inspections where you can for example measure the amount of corn in silos just because the corn will emit a different heat pattern. You can also inspect the solar panels on your roof to find out if they are damaged or functioning properly without ever having to climb up there.