A thermal camera for heat loss is a device that will help you detect exactly where your house is losing precious heat and help you save on the energy bill. In time, this device will pay for itself just because of its findings

We selected 4 thermal cameras to detect home heat loss quickly and accurately.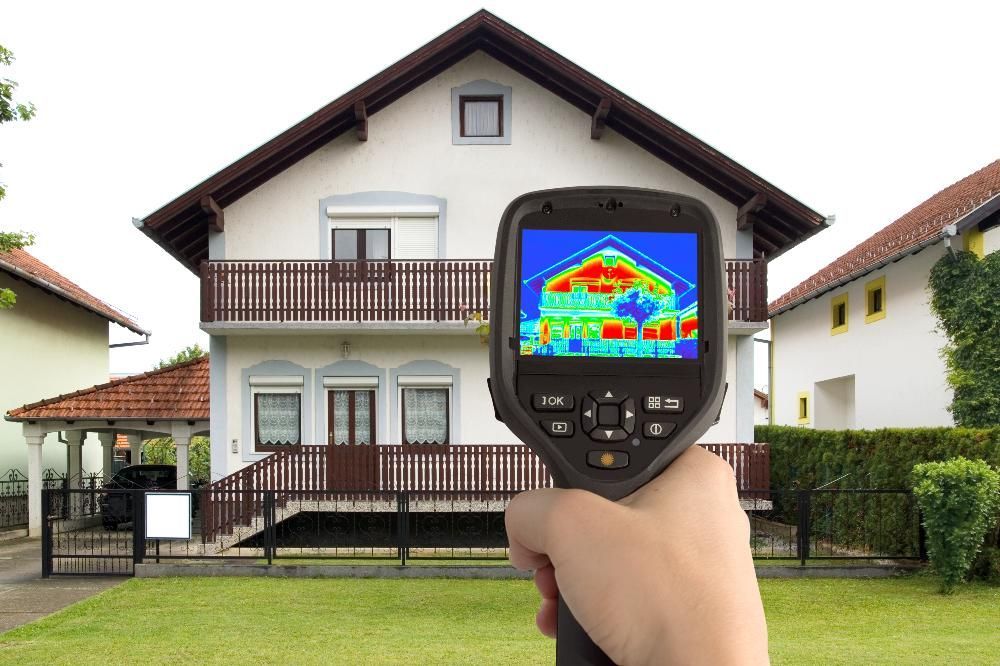 Let's have a look at each product in particular.
FLIR TG267
The Flir TG267 is a perfect thermal camera for heat loss, in fact it was built especially for HVAC inspectors with them in mind. It is one of the very few models to be equipped with a thermocouple probe in order to check the temperature in tight spaces where you can't get in with the thermal camera. This is actually very important when you are looking to reduce energy loss, because heat loss can occur in the ductwork where you have limited access. That is why the TG267 is one of the cameras of choice when it comes to building inspections and leak detection.
This thermal imaging camera can measure any temperature in a thermal scope from -13°F to 716°F(-25°C to 380°C ) with a +/- 3 ° C accuracy. The sensor outputs a 160 x 120 resolution and it is assisted by a visible light camera for MSX image enhancement (This is where the thermal layer and the visual image are intelligently overlapped). After you've captured the thermal images of the air leak or water leak, you can either store them on the 4GB internal memory or send them to your smartphone via Bluetooth.
One of the highlights of this specific infrared camera is that its enclosure is IP54 rated, so it is waterproof and dustproof. The TG267 is a higher-spec version of Flir's TG165 model which was not waterproof.
FLIR C5
The C5 is another thermal camera for home heat loss detection. This model is the more advanced version of the old Flir C2 compact thermal imaging system and the C3. Now this is a different form factor because it looks like a digital camera. It has a larger 3.5″ touchscreen, the software experience is different and this is more of a general use camera, not just for building diagnostics, but for plumbing, automotive, electrical inspections and other applications.
It features a 160 x 120 infrared sensor together with a 5MP visual camera for MSX. You can connect it to your PC, smartphone and the internet through USB, Wifi and Bluetooth. The enclosure is completely sealed and it is IP54 rated for being waterproof and dustproof.
One of the biggest additional features that this thermal imager camera bring is cloud connectivity through the Flir Ignite platform. The way it works is you capture thermal images with this camera and they get automatically uploaded to the Flir Cloud and you get 1GB of free storage for every Flir C5 that you purchase. Along with the C3-X, these are the only two Flir thermal imaging cameras which provide this feature. The Cloud feature also allows it to do OTA firmware updates.
As it is the case with most spot thermal cameras from Flir Systems, it is covered by the 2-10 warranty, 2 for the camera and 10 years for the Infrared IR sensor.
FLIR ONE Pro
| Product | Type | Resolution | Battery capacity | Waterproof | LCD screen | Price |
| --- | --- | --- | --- | --- | --- | --- |
| FLIR ONE Pro | Smartphone (2 different versions – Android & iOS) | 160 x 120 | 45 minutes | No | Uses Smartphone screen | Click for more info |
The Flir One Pro is a great thermal camera for heat loss detection in your home if you don't want to invest a large amount, especially if you are not a professional and you won't be using it on a daily basis. It is a little device that plugs into your phone and only has a thermal sensor, a visual camera and a small battery.
The way you use it is you connect it to your phone via the USB or Lightning port then you download a smartphone app that is compatible with it (Flir One App from the Play Store or App Store) and you're all set to go.
It can work just as well as other thermal detectors in detecting your home's energy leaks because its 160 x 120 resolution together with MSX image enhancement are more than enough to detect hot or cold spots.
The advantage to it is that you can buy a higher resolution device for less money and that you also get thermal video recording as a feature. The biggest drawback is its short battery life of only up to 45-60 minutes.
A great alternative to the Flir One Pro is the Seek Thermal Compact imager for iOS Apple and Android devices which works in a similar way, offers a higher thermal resolution but no MSX image enhancement.
FLIR E5-XT
The E5-XT is the extended temperature range version of the Flir E5 compact thermal imaging camera. This is the kind of device that you use if you are a professional and when you want to obtain highly accurate results. Given its higher price tag, it does not make financial sense to purchase this thermal camera to detect heat loss in your home. It has an infrared sensor which provides a 160 x 120 pixel thermal image which is accompanied by a high-resolution digital camera for MSX image enhancement.
The reason we mentioned accuracy is because this particular infrared thermal imaging camera can reach a +/-2°C accuracy and a 0.10°C thermal sensitivity on a thermal scope that ranges from 4°F to 752°F (-20°C to 400°C).
The entire camera is built inside an enclosure which is completely waterproof and it is IP54 rated. It also has a large 3.0″ LCD screen with a 320 x 240 pixel resolution but the internal memory is quite small because it is fixed and it can only hold 500 thermal images in full radiometric form with thermal data embedded in them.
There is no SD card support to expand its storage. The rechargeable battery should last for 4 hours of continuous imaging which should be enough for a professional that uses it on a daily basis.
Here is a full comparison of the
Flir E4 vs E5 vs E6 vs E8
.
Which thermal camera to use for heat loss?
The thermal camera of choice for HVAC inspections is the TG267, however if you don't want to make a large investment and use one just to improve insulation on your front door or loft hatch, then the Flir One Pro can be a perfectly suited device. If you work as a professional and you rely on thermal imaging on a weekly basis, then an E-series device like the E5-XT can be a great daily driver.


How do you detect heat loss using a thermal camera?
To detect heat loss in your house, we're going to start by pointing the thermal camera at the most likely places where poor insulation occurs. Cold air will show up on the thermal camera in a cold blue tint.

First you have to point it at the corners and joints of the windows. If they are too old, if they've not been installed properly, these things are going to show on the thermal camera.

Then there are the doors and here you need to look at the bottom and the top usually. Sometimes they are mounted with a large gap and that can drain heat. The duct work is another place where if you have leaks, you will be losing precious heat and thus increase your energy bill.

Then once we are done with these, we need to look at all the joints in the ceiling, where there might be poor insulation. Basically every corner of the house is worth inspecting so that you can understand where this loss of heat is occurring.

Thermal imaging also helps you understand how little insulation glass provides in contrast to brick walls. We found it to be superior to thermal leak detection kits like the one offered by Black and Decker.

By doing an inspection to find heat loss with thermal cameras not only will you get a better understanding of the wall insulation that you have in your house, but you will also do moisture detection. To more accurately detect moisture, HVAC inspectors use a moisture meter but you can detect it using the thermal camera too.