Today we're going to review the newest smartphone thermal imager one of our favorite manufacturers, the PerfectPrime IR202. It is an updated version of the old IR0102 and we have a quick look at what has changed and what was improved in the newer model.

PROS: Probably the cheapest thermal imaging device you can buy, 15 Hz refresh rate, wide temperature range and high accuracy.

CONS: We still need to wait for measurement data to find out if the accuracy and temperature ranges are as good as they claim them to be.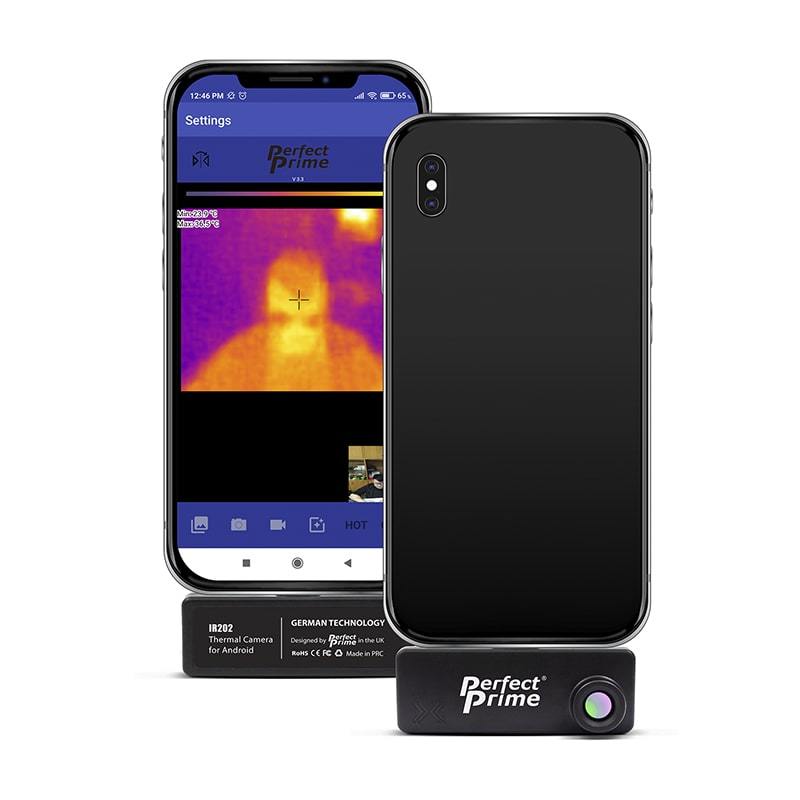 PerfectPrime IR202 Specifications
| | |
| --- | --- |
| Resolution | 80 x 60 |
| Pixels | 4800 pixels |
| Connectivity | USB-C + micro-USB adapter |
| Temperature range | -40°F to 1832°F (-40°C to 1000°C) |
| Accuracy | up to +/- 1°C |
| Thermal sensitivity | Not specified |
| Distance | Not specified |
| Storage Type | Uses Smartphone storage |
| Battery capacity | Uses Smartphone battery |
| Dimensions | 2.2 x 1.2 x 0.55 inches |
| LCD screen | Uses Smartphone screen |
| Refresh rate | 15 Hz |
| Applications | Electrical Inspections, Energy Loss, HVAC/R Inspections, Contractors, Inspectors, Engineers, DIY Homeowners |
| View Angle | 44 x 34° |
PerfectPrime IR202 – Specs & Review
The PerfectPrime IR202 is an updated version of the IR0102 that sells for a similar price. What you get is a smartphone thermal imager that attaches to your phone using a USB-C connector plus a micro USB adapter that comes in the package. This is one of the cheapest thermal imaging cameras that you can buy.
To use it, you download the PerfectPrime app from the Play Store and just plug in the camera into your phone's USB port. The smartphone app allows you capture photos and record video as well as to check the images and videos that you've captured.
On the screen you'll find the lowest and highest temperature along with the center spot measurement. There is also a temperature alarm, if the detect temperature rises above a certain value or gets lower. In terms of image quality, they fitted it with a filter option to reduce some of the noise in the image. You can switch between the thermal image or the visible camera image, but there is no overlap function like Flir's MSX image enhancement feature.
There are 16 color palettes to choose from, more than most infrared cameras offe. The list includes: HeatIron, BlackBody, CoolWarm, Grayscale, IronGlow, Rainbow, Autumn, Bone, Ocean, Cool, Hot, Magma, Inferno and Plasma.
You can manually adjust the emissivity, but you don't put in the exact value that you want, instead you are presented with a few easier to understand options: Glossy, Semi-Glossy, Semi-Matt, Matt and Human Skin.
The settings menu allows you to switch between temperature measurement units like Celsius, Fahrenheit and also Kelvin.
PerfectPrime IR202 – Thermal imaging quality
It comes with a 80 x 60 IR resolution, so you do get the same amount of thermal pixels that you would get with a Flir One Gen 3 for a slightly lower price, but you need to remember that the Gen 3 comes with a visual camera and a battery included. The approach that PerfectPrime takes with this camera in terms of battery we think is better because if you have an Android phone or an iPhone with long battery life, then you will benefit from that.
Because this is not a company from the US, it has a higher frame rate than the EAR export regulations allow, with a refresh rate of 15 Hz. There is no manual focus on this particular smartphone thermal camera.
PerfectPrime IR202 – Temperature Range, Accuracy
Now we get to the more controversial aspects of the IR202, first of all its claimed temperature range that varies from -40°F to 1832°F (-40°C to 1000°C). This is much wider than what 95% of cameras that cost much more offer and remember that this is a claim and has not been fully tested. If true, it would certainly position this thermal imaging device on the top of the list, but again we have no tests to confirm this.
Temperature range does not mean you can use it in extreme conditions, so you should be aware that the operating temperature varies between -4°F and 185°F (-20 to 85°C) and the storage temperature from -40°F to 185°F (-40 to 85°C).
Another bold claim is the "up to +/- 1°C accuracy" which you'll also find in the user manual that ships with the camera. As of now, we do not know of any thermal camera under 1000$ that can reach this kind of accuracy. There is the Flir TG-165X which is known to be one of the most accurate devices on the market, however even that has a +/- 1.5°C accuracy. Just like with the thermal scope, we need to wait for a test that proves this.
The manufacturer has not specified the thermal sensitivity of this camera, we only get an NETD measure of 150mk. In terms of field of view, its thermal sensor offers a 44 x 34 view angle.
PerfectPrime IR202 – Battery life & Memory
The approach to this infrared camera is to just put the infrared sensor inside and nothing else. So it relies on your phone's battery, display and storage.
It is not waterproof nor is it dustproof but then again neither are most smartphones, so you need to be slightly more careful when using it. In terms of warranty, they offer a 2-year warranty as standard and if you register your product you get an extra year.
What is impressive is that it only weighs 8.5g so it is extremely light and compact.
So where can you use the PerfectPrime IR202 infrared thermal imager? Its applications include home inspections where you can detect leaks and poor insulation in your home, electrical maintenance to check for overheating fuses, cables or devices and they claim it can also be used for wildlife.